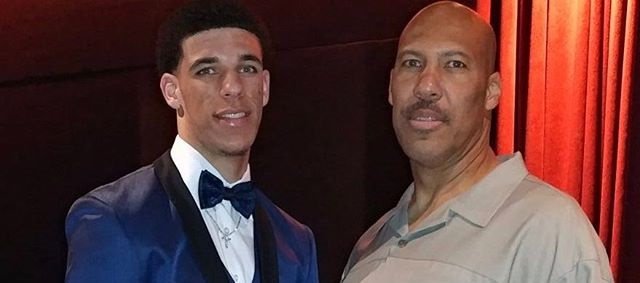 There is one way to get motor-mouth Lavar's Ball's blood boiling: compare his family to the Kardashians. 
Ball is clearly insulted by people calling his family the Kardashians of basketball. He stated vehemently that his clan of basketball playing wizards are nothing like the Kardashians — and he hates being compared to them on any level.
The patriarch was out in Los Angeles when a reporter asked him about the new Ball reality show, and if this officially makes his family the Kardashians of the hardwood.
"I ain't no Kardashain, I ain't Kris Jenner. We the Balls, welcome to the Ball era," he said.
On one hand, the Kardashian comparison is legitimate to some people. Each family has one ultra-famous kid, and boasts names that start with the same letter. And, like Kris Jenner, father Ball seems to be a branding genius. He has spent the past year keeping his eldest son, Lonzo, and his two other sensational basketball playing sons in the spotlight — all while hawking t-shirts and expensive tennis shoes.
Though Ball has attracted a legion of enemies and haters, there is no disputing that Ball is a ratings winner.
On the other hand, Ball hates the Kardashian comparison because Ball's three sons actually have viable, provable skills: all three are considered basketball standouts. As for the Kardashians and Jenners, not a single child of Kris Jenner's has demonstrated a marketable job skill in the decade or so that they've been in the spotlight.