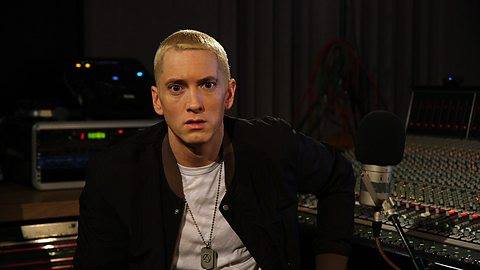 Eminem is working on a new album.
The 44-year-old rapper — whose last record was 2013's The Marshall Mathers LP 2 — is thought to be making a new LP after director Allen Hughes revealed Dr. Dre, a longtime collaborator of the 8 Mile star, is working on a track for the hitmaker's "latest album."
Speaking to Uproxx, he said: "Dre still records. People don't know this: Dre records every day.
"Literally, he's in there recording songs every day. He's like Picasso in that way. He's always painting. Right now he's producing, in the 11th hour, a track for Eminem's latest album. So Dre's still real[ly] active in music, you know?"
2 Chainz has also added fuel to such speculation, admitting he has recorded a song for Eminem's new record, but he didn't really believe the rap legend wanted to work with him when he first heard the rumor.
Speaking on DJ Drama's Shade 45 show, "Streetz Iz Watchin," he said: "I've heard it all, you know what I'm saying? I've heard it all. You know, this like rap talk. It's like, you see a rapper in the club and you're like, 'Let's do one.'
"It's cap, you know what I mean? So you know, he's like, 'The boy wanna do something with you.' And I'm like, 'Whatever.' "
The pair met up at producer Rick Rubin's house to team up on a song which was initially going to be a remix before 2 Chainz intervened.
"I tell him straight up … 'Eminem, what would you need a remix for? Remixes are used to carry records to number one spots. When have you ever did a remix for someone or for yourself?' That's cap at it's finest," he said.
2 Chainz feels he has finally made it in the genre now that Eminem — whose real name is Marshall Mathers — has asked to record a track with him.
"That's how I know I can rap," 2 Chainz said. "He didn't want to talk about nothing but rapping. That was a great phone call to get."
Eminem released his debut solo album Infinite in 1996, but he really hit the headlines in 1999 when he droppedThe Slim Shady LP, which spawned the Grammy Award-winning hit "My Name Is." The Marshall Mathers LP 2 was his eighth studio album.