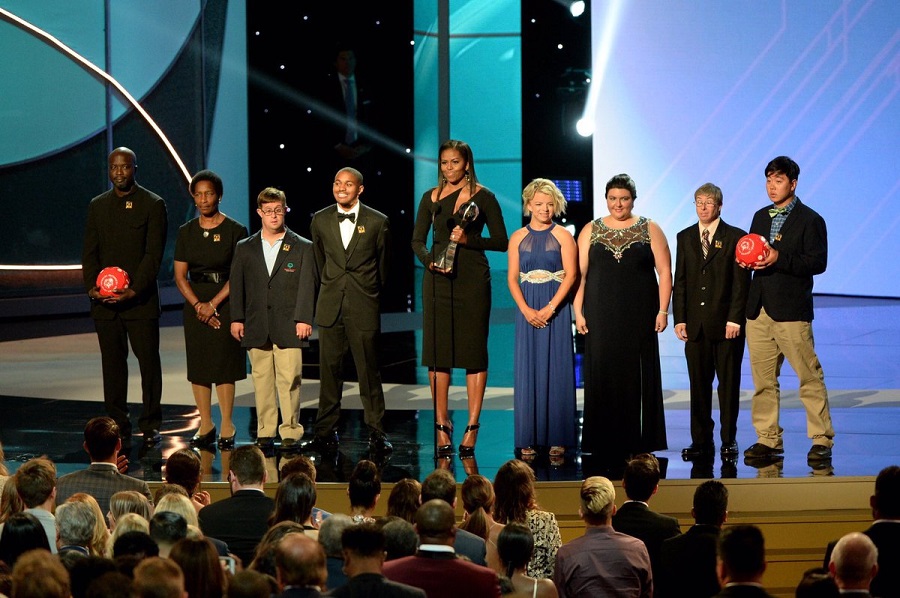 Michelle Obama honors late Special Olympics founder Eunice Kennedy Shriver.
On Wednesday, the former first lady took the stage at the 2017 ESPY Awards in Los Angeles, where she presented the Arthur Ashe Courage Award to Shriver's son, Timothy Shriver.
"I am here tonight to honor a remarkable woman, a woman who believed that everyone has something to contribute and everyone deserves a chance. When we give others the chance to fulfill their greatest potential, we all win," said Obama, before being joined by Special Olympians. "Through her passionate service, she made our world more welcoming, inclusive and fair."
"She wanted to be known as a great hero of sports, and tonight she got it," Timothy, who now chairs the Special Olympics, said of his late mother during his acceptance speech. "My mother knew one thing, that the athletes of Special Olympics deserve the same glory as any athlete around the world."
"She's here in the hearts and minds of millions of athletes," he continued. 'She's here in the hearts and minds of those who believe in inclusion and willing to act on it … This movement she created almost 50 years ago is not done yet."
In 2009, Eunice Kennedy Shriver, sister of President John F. Kennedy, died of a stroke. She was 88. In the late 1960s, she founded the Special Olympics games with the hope of empowering individuals with intellectual disabilities, like her own sister, Rosemary.
Ahead of the annual ceremony, Obama raved over Shriver's work in a statement, saying, "Eunice Kennedy Shriver was a passionate champion for those with developmental challenges, empowering them to fulfill their highest potential." She continued, "Her work to promote inclusion and acceptance transformed the lives of countless young athletes and inspired us all. I am incredibly honored to present this award to her son to celebrate her life's work," according to ABC News.
On Twitter, Obama added that "It was an honor to stand to stand with the incredible @SpecialOlympic athletes and celebrate Eunice Kennedy Shriver's legacy at tonight's @ESPYS."