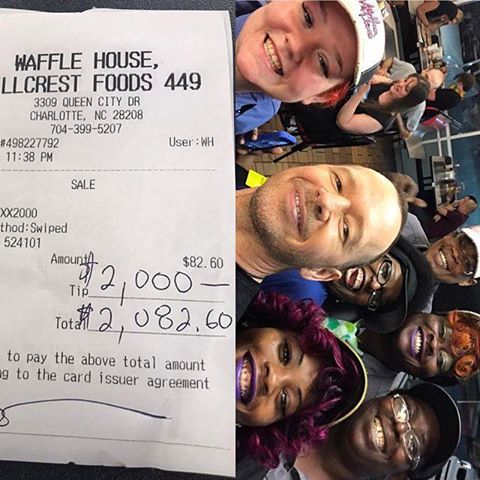 Donnie Wahlberg left a $2,000 tip for an $82 bill.
The 47-year-old singer and actor visited a branch of the popular Waffle House chain in Charlotte, North Carolina, on Wednesday, July 12, and was so impressed by the service he received from waitresses, he wanted to "treat them like queens" in return.
He wrote on Facebook: "My mom waited tables and my dad tended bars — for years! So when I walk into a #WaffleHouse and the staff treats me like a king, you better believe I treat them like queens. Thanks to the team at @wafflehouseofficial Charlotte, NC!"
The New Kids on the Block singer's generosity didn't stop there, as he also gave a fan in the restaurant tickets and backstage passes to his concert.
He said in a Facebook live post: "Who gets tickets and brings their mom? Only Jasmine!"
During his 11-minute video from inside the eatery, Wahlberg talked about his meal of steak, eggs, bacon and grits, discussed tour pranks, and reminisced about being the "good son" in the family, before leading a singalong with staff and fellow diners.
This isn't the first time Wahlberg -— who is married to Jenny McCarthy — has left a generous tip after visiting Waffle House. Last month he handed over $500 to the overnight staff at a branch on the East Coast.
The "Blue Bloods" star — who co-owns a restaurant chain, Wahlburgers, with his brothers Mark and Paul — tweeted at the time: "Great crew at @WaffleHouse in Edgewater, MD! Thanks for the awesome service! Night made! #WaffleHouse."