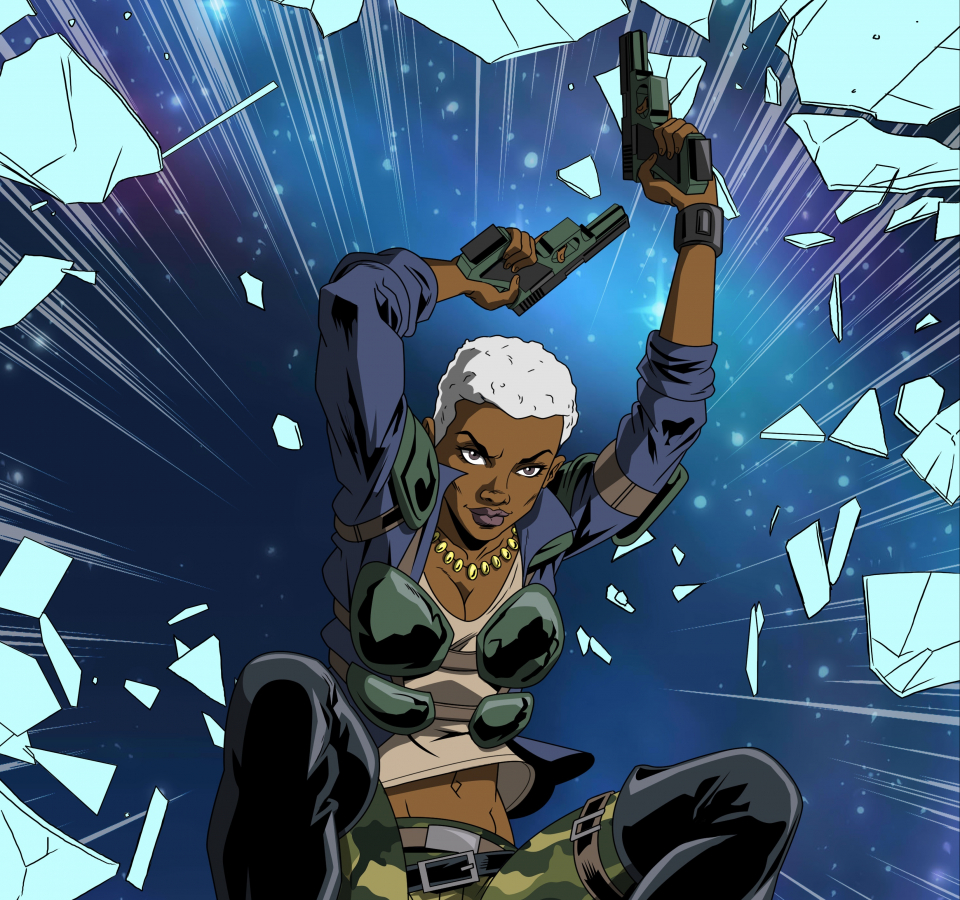 Carlton Hargro is having a year to remember. This past January, the culture curator returned to his roots at Atlanta alt-weekly Creative Loafing as its first Black editor-in-chief. Around that same time, another passion Hargro pursues in partnership with his brother, Darrick, bore fruit with the introduction of Nia Griggs & The Kemetic Sisterhood of Science #0 to comic book readers. To boot, this Sunday, the Hargro brothers and other members of their diverse creative team of illustrators, writers, promoters and comic book lovers at 20th Place Media will host a release party for Moses #0, the second installment in the three-part comic book series.
The Hargro brothers started their company, named after the street where they grew up in Gary, Ind., with a mission to counter the pervasive negative portrayals of people of color in pop culture. With this admirable mission in mind, at the center of the first comic book is Nia Griggs – a mild-mannered music journalist by day, but when called upon, summons superhuman strength and intelligence from her ancestors as her super alter-ego Isis. In the second book, Moses is a super-dope, intergalactic sci-fi heroine on the front lines of an operation to rescue victims of alien abduction, a la Harriet Tubman. Similarly, the lead character, Makossa, in the pulp comic detective story planned for release before Christmas, will also be based on real-life Black archetypes.
"When we see comic books and movies and TV shows, we only see a certain slice of life," said Hargro during our interview. "I want to show other types of us so people can understand we're not this monolithic people, and we have a lot a diversity, while still being very authentic and still being real Black folks … To say we're all just this one thing you see on television is doing a disservice."
Hargro is proud of the initial characterizations and origin stories of his protagonists in comparison to those of several classic comics re-emerging in recent movies and television series. Back when he and his brother were making up characters and writing comic book stories as children, they were already aware of the pervasive stereotypes finding their way from society into the pages of popular publications.
"Even as children, we saw the disparity in representations of people of color in the media. We saw that every Asian guy had to know karate, every Black guy was an ex-con, and that kind of thing," Hargro recalled. "Luke Cage and Falcon and all these characters that people really love, we hated them back then. Falcon was an ex-pimp. Luke Cage was an ex-con. Even Black Panther, although he was originally cool, for decades he was a scrub. He was not a competent character."
Though statistics reportedly show audiences respond more favorably to diverse casting, in many cases movie studios are slow to get the message. Some, such as the Razzie-nominated Gods of Egypt, even continue to employ the practice of whitewashing historical ethnicity from the screen. Hargro has seen the same happen to comic book characters, but he believes the character development and origin stories of his superheroes will be deeply rooted in the culture enough to protect them from that fate. He and his brother have years of comic writing experience to bolster his confidence.
"We wrote characters who were Black to the core, you know, to where the foundation of them is made so that you could never cast any other person in their role," said Hargro. "If you made a movie, you couldn't put Gwyneth Paltrow in the role of Moses. African-American history is built into the fabric of the storyline."
The 20th Place Media comic book release party for Moses #0 will take place from 6 p.m. to 8 p.m., Sunday, July 16, at Moods Music, 1131 Euclid Ave. NE, in Atlanta's Little Five Points neighborhood. Along with good music and refreshments, the Hargro brothers and some of their artistic collaborators will be on hand to sign purchased comic books. The comics will also be available for sale in digital format on the Peep Game Comix platform.