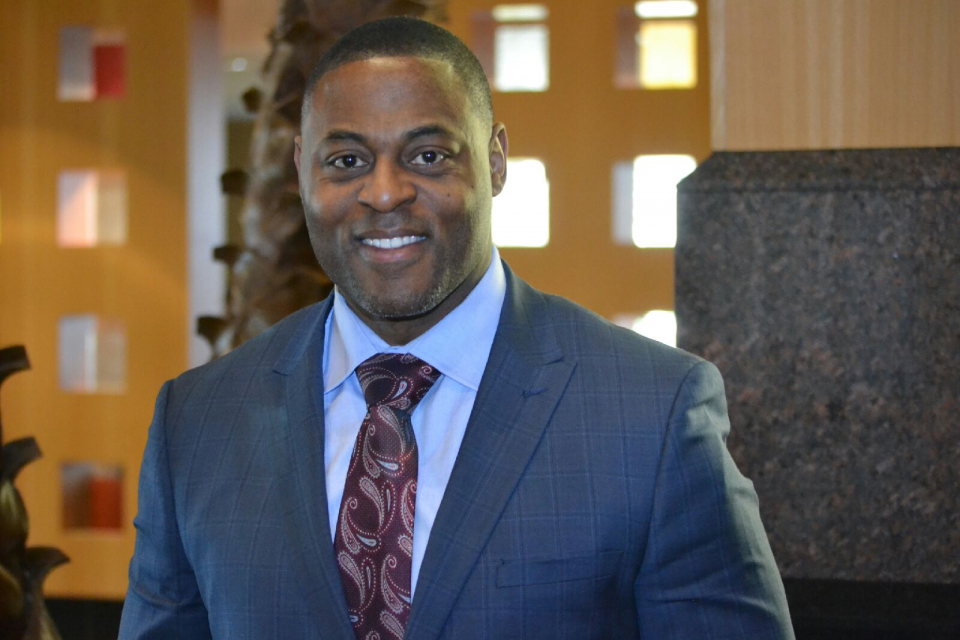 National speaker, author and educational consultant Robert Jackson was abused, grew up in poverty and never knew his dad. Today, the former NFL player is writing books, giving keynote speeches across the country and guiding his family.
Read what he has to say.
Tell us about your education, company and memberships.
I graduated with my BS in industrial technology from Western Kentucky University where I lettered four years in both football and track. After being cut from the NFL's Minnesota Vikings, I began my teaching career in Indianapolis Public Schools. I started my company Robert Jackson Consulting to provide workshops, keynote addresses and solutions for educators and administrators, parents and students. Too many of our youth are being kicked out of school, especially young men of color. Mass incarceration is real. My company is fighting against this by giving educators strategies to keep kids in school. I help these groups bridge the cultural gap through workshops. I'm currently a member of the NFL Players Association, 100 Black Men of Indianapolis, Kappa Alpha Psi Fraternity Inc, Bachelor Benedict Club and the National Alliance of Black School Educators.
What inspired you to become an entrepreneur?
I have always had an entrepreneurial spirit since I was a kid. I used to cut grass and carry papers By the time I was nine. I would rent my next door neighbors lawn mower and go out and cut yards to make money. As an entrepreneur, your success is dependent on your work ethic. The only place success comes before work is in the dictionary. As a student and teacher in public schools, I felt there was a cultural gap that was damaging our education system so I started my company to provide solutions and strategies that work through research and personal experience. God gave me a gift of inspiring people, so I use my gift to inspire and offer strategies to my clients that work. The results of my presentations and the feedback from educators, parents and students keep me inspired to continue this work. I love working for myself.
What has been the most challenging experience you have had this far?
The most challenging experience for me is working with adults who work with students of different races and cultures daily but refuse to change their biases and mental models toward the very young people they work with even after receiving strategies and solutions that have been proven to work. It's also tough watching students give up and turn to suicide or crime as a solution for their issues. Some parents refuse to get help with their shortcomings and pass that dysfunction down to their children unnecessarily and that's tough to handle for educators and presenters.
With all of the hard work you put into the youth, how do you know that it is having a true impact?
I see the results when I run into those same youth as they become young adults. Many of them stay in regular contact with me via email and social media. I mentored Lorenze Billups when he was in high school. He went through the Kappa League Mentoring program eight years ago, went to college and graduated and is now serving in the military in Germany. He just recently got married and is doing well. My wife and I took him and his wife out to dinner recently. There is power in mentorship. Because of his efforts, I was invited to Germany to present to his colleagues in the military. He, like many of the youth I speak to and mentor across the nation, stay in close contact with me to give me updates [on] how they are doing.
Tell us about your book(s) and their focus.
I wrote my first book to deal with my own pain of never knowing my father, growing up in poverty and experiencing abuse as a kid in hopes of blessing someone else by teaching them how to overcome abuse and family dysfunction.
No More Excuse: Black Men Stand Up challenges men young and old to be responsible, accountable and practice discipline in their everyday life.
No More Excuses: The Workbook for Boys gives strategies for Anger Management, Time Management, Smarter choices, Discipline, Job Readiness, Health Education, Character Development and Fatherhood Preparation for Men and Young Men.
No More Excuses: The Workbook for Girls helps young ladies with exercises on Building Confidence, Time Management, Making Smarter Choices, Discipline, Career Readiness, Health Education, Character Development and Teen Pregnancy Prevention.
No More Excuses: Educating Black and Latino Males gives educators strategies and solutions for working with black and Latino male students who are suffering the most in our school system today. Almost half are dropping out of high school. This book gives strategies and solutions to help retain these young men in school.
No More Excuses: Put a Stop to Bullying was written to help students and educators identify signs that students and others are being bullied. It also gives solutions for the ones doing the bullying.
If someone wanted to have you come speak, what should they expect from your involvement?
They should expect a high energy, [an] authentic presentation that would be tailored specifically for them and their audience. I pre plan for every presentation to meet the needs of my clients.
What are the best ways for you to be contacted?
via email: [email protected] or website: www.robertjacksonmotivates.com and click Book Rob
How do you find balance helping youth nationwide and raising your own children?
Because of technology and FaceTime, it makes it easier for me to be closer to my children. My priorities are God first, wife second, kids third then career fourth. My family is extremely important to me and the work-life balance is extremely important. My career is important also. My family and I spend time together, take vacations every year and take time out for ourselves to spend quality time together several times a year. I know when to turn my phone off and walk away from social media to spend that quality time with my family.
Where would you like to see your business in the next five years?
I would like to expand my business worldwide and hire more employees and finish my 501C3 to help others in our communities nationally and internationally. I have my first international speaking engagement in Germany in September 2017 and I'm looking forward to many more. I would like to continue to help people young and old overcome their pain to fulfill their potential through my keynotes and workshops for educators, parents and students.