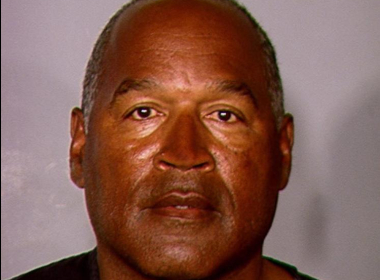 After serving nine years of a 33-year sentence, former NFL star O.J. Simpson will soon be a free man. Simpson's parole hearing was broadcast live today and the Nevada Department of Parole and Probation unanimously voted to free the former superstar athlete.The board felt that he had served enough time, was a low risk to commit another crime, and had community support. Simpson is expected to be freed from Lovelock Correctional Center sometime in October 2017.
It was felt that considering his age, time served and remorse over the incident, that he was most likely not to offend again. The board advised him that he could be returned to prison for violating any conditions of his parole. Simpson has requested to live in Florida with or near his family and as part of a compact between Nevada and Florida he will be allowed to do so.
Dressed in a light blue prison jumpsuit, Simpson bowed his head in relief when the board announced its decision. However, many feel that Simpson should remain behind bars for the 1994 murders of his ex-wife Nicole Brown-Simpson and Ron Goldman. Simpson was famously acquitted of the crime but lost a multimillion-dollar civil lawsuit brought by the family of Ron Goldman.