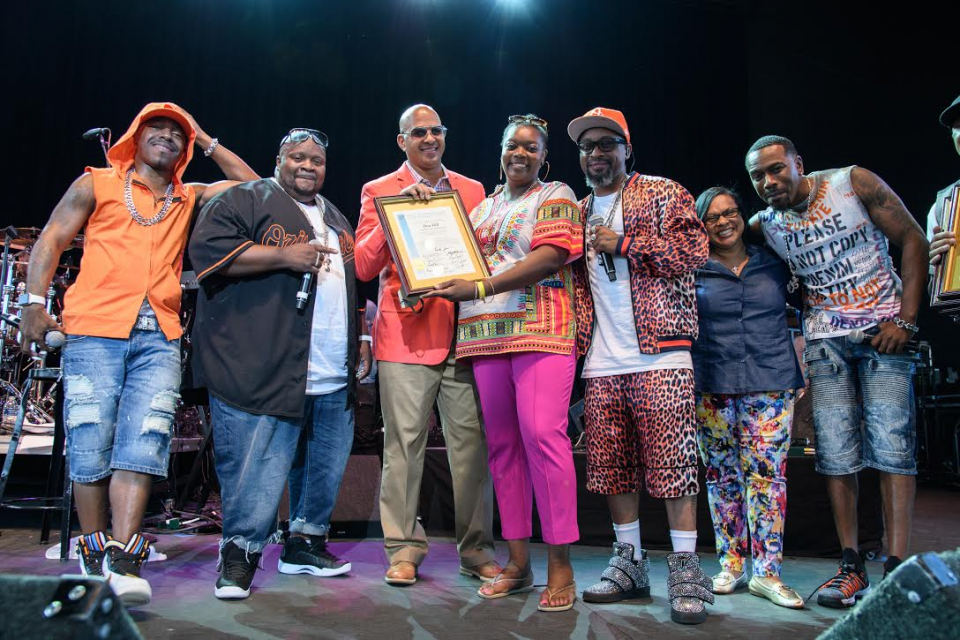 Dru Hill accepts the Spirit of Detroit Award from Detroit City Councilwoman Janeé Ayers
Photo Credit: Montez Miller
The '90s R&B groups continue to show us why summers are not the same without them. The recent Kiss fest in Detroit at the Michigan Lottery Amphitheatre featured Jagged Edge, Tony Toni Tone, After 7, Dave Hollister and Dru Hill. Presented by New Day Entertainment, grown and sexy vibes spread as each group aroused the crowd's nostalgia. With more than 20 years in the R&B game, Dru Hill's legacy is solid. The group's hypnotic harmonies, along with a bonus set from Sisqó, did not disappoint. The quartet performed many of their hits, including "Tell Me," "Five Steps," "In My Bed," "Never Make A Promise" and "Beauty."
Along with receiving mad love from their fans, Dru Hill was honored with the Spirit of Detroit Award from the Detroit City Council. Rolling out congratulated the group backstage and witnessed its members' undeniable chemistry. Nokio shared insight about Dru Hill's longevity, today's music and his exploration of rock music.
You guys obviously still have that energy. How does it feel when you're onstage and the fans are giving you their energy? Do you still get that same feeling as 20 years ago?
Aww, man, it's a charge up. In that moment, it feels like we're starting all over again. Girls screaming and running up to the stage – it's that energy we need along with the creativity. We love it. It's the same feeling in a lot of ways, but at the same time, it's a brand-new feeling. But now that we have slowed down a bit, we appreciate everything more.
You lost only one original member, so you're pretty much still the whole group. How do you explain your longevity?
Honestly, it's just been sticking to what we started out doing in the beginning, which is real singing, spending time on the craft and keeping your circle to a minimum. Sometimes you need the reminders from people who have known you the whole time. A lot of times, a lot of people come in and out and bring all kinds of energy. When you've been brothers for so long, it's hard to bring new people in. No new friends.
Today, it seems like the rappers are singing and the singers are rappers. What do you think about today's R&B? 
That's pretty much what it is. It's cool. It works. But our generation was used to singing different songs from different genres. Like in the early '90s, you might hear some Tribe Called Quest and some Phil Collins. Now it like, listen to this. If you're not a person who goes and finds music, or if terrestrial radio is your only source of getting new music, then you're in a box. People gotta understand that [there are] a lot of artists out here that are really singing and really doing it! I've been listening to that  H.E.R. EP and a lot of different music. We need to get that balance back. You can go to an R&B and hip-hop show and get the best of both worlds. People want more.
Tell us about your rock group Black Angel Down.
Spending a lot of time in this business, I've been fortunate enough to produce a lot of different genres. It was a challenge starting out. I had never done it, so I had to sit down and be a student. Go out to all the shows, all the bars, all the clubs where the famous rock acts went. It's been a journey, and it's cool to be able to go back and forth, 'cause I can bring the energy from one place to the other. You gotta respect the genres. It's cool to be able to do what you love and experiment and have a fan base that you can go back to.
Finish this sentence: I appreciate my fans because …
I mean, they keep me alive. Music started out as just a way for us to get away from stuff. To be a songwriter and producer and go out and have conversations with people about records that had something to do with their life or helped them get through something, you can't beat that.
Photo gallery credit: Montez Miller