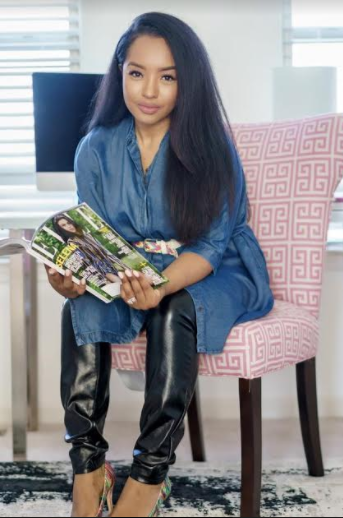 Meagan Ward is about to open up her next entrepreneurial venture in Detroit. The founder and CEO of Creatively Flawless recently joined forces with Ashleigh Brock to develop a first of its kind modern business lounge in Detroit, specifically designed for women to connect and support each other in business. As a result, FEMOLOGY was born.
FEMOLOGY is a membership-based business lounge that will help to mold, celebrate, and fuel over 100 dynamic women and women-owned businesses in downtown Detroit. It will house women-owned brands, host femininely crafted and curated business workshops, seminars, as well as socials for women in business.
"I noticed [the workplaces I had been to] had a masculine edge and didn't directly support the dynamics of women in business. With many women-owned-businesses growing within Detroit, it was time that we had a space that was dedicated to us, and for us," said Ward about why she decided to open a women-only business lounge.
Rolling out was able to speak with Ward about how she brought her vision to life her vision to life. Check out the exclusive interview below and drop a comment in the comments section.
You are dubbing FEMOLOGY as Detroit's first modern business lounge for women. Tell us about FEMOLOGY, the services that you provide and the amenities that you offer as well.
FEMOLOGY is community-based with a business lounge. We want to serve as the home for women-owned brands. Whether [it's] your personal brand or your corporate brand, we really want to support women in really leveling up and living the life of your dreams. Our story almost derives from a personal narrative of what I've experienced in business. I started out quitting my job a year after I had my first job in corporate America and I didn't get a raise, so I started this full-time business. So, I've been collaborating with women and taking on women clients and not necessarily having that go-to place or go-to community where we all feel supported. In terms of what we're going to be offering, we're going to be offering an array of things, that's why I'm so excited. We'll be supporting women not only in her business endeavors but also like her self-care and her social arenas. So, we really want to bring in that sisterhood aspect and self-care aspect and you know of course we'll be having business workshops, business seminars, but we'll also be having manicure and pedicure night, girl talk night, we'll be hosting things like a meditation event, we'll focus on all things that affect business as well.
Why did you decide to create this modern business lounge for women now?
You know what? I definitely think this is our time. I think what modern women are experiencing right now is a revolutionary shift, where we're understanding like, "Hey, I don't just have to work at nine-to-five, I can do a nine-to-five and a business,"  or "I can have a full-time business that is my true purpose and my true passion." Honestly, I think this is owed to us in a sense. You know, women we still make less than the man does and I think that we need a space where we can strategize together on how we're going to make pay equality or discrimination against women in the workplace or in business, how we're really going to level up to that and make it equal rights. So. FEMOLOGY ultimately is like the philosophy of modern women living, working, and thriving in collaborative society, and I think the word collaborative is so important because we don't have to do it alone. If you're that woman in corporate America and you want be a CEO, you don't have to climb that ladder by yourself. Another woman can help you get to that point or you can bring another woman along with you [to climb] that ladder. So, collaborative is huge right now.
The name FEMOLOGY is quite different. What does it mean and how did you come up with it?
We really wanted to create a name that we could define ourselves. We target modern millennial women, and I feel like with these type of women, we're shattering glass ceilings right now. Those kind of don't exist for us, and if we do sense a glass ceiling, we're like — we don't even care about it, I'm doing what I want to do anyway.  So, we really wanted something that was authentic, strong, powerful, but that was also reflective of what we're going through right now. I think with the modern woman, she really wants it all. She's not limited to what she can do or her thought process. If she wants to be a mom or she wants to be a wife, or she wants to have a business or wants a corporate career, she's going for all of those things; she's not limiting herself. So, like I said, the rise of women leaders directly aligns with what we do and really there's no stopping us. So whether you're a mom or a sister or a business woman, I definitely think that Femology is home for us, where we can talk about women's issues, where we can talk about our successes, where we can partner with another woman on an initiative or a movement.
I would say that Femology is not the place for a competition whatsoever. Just because we're all about, "Hey, your win is my win, and that's how we grow together."
Now, you worked in corporate America before, and you quit because you didn't receive a $3 raise. How did it feel after you made your "jump" into entrepreneurship?
Just from the way society's set up: you go to college, they really don't focus on entrepreneurship. It's kind of like get a nine-to-five after college. So, I went to school and got my degree, so I still kind of had that mindset. So shaping my mindset into entrepreneurship was the biggest process. I'll even say going into full-time entrepreneurship, just having that discipline, you know? [Do] you want to hit goals? You have to work for it.
How do you feel about networking as a female entrepreneur?
I think that networking can catapult us to where we want to be. I think that networking is symbolism in entrepreneurship. Any opportunity that I've had has come from relationships. And not only relationships, but relationships from a woman. I've had features in Vogue in Times Square and Essence Magazine, in Target in Rite Aid, and all these opportunities came from a woman because they believed in me. Honestly, I think it's a domino effect. Once you experience that, you want to give it to another woman. So, like even with experiencing that, I'm kind of like, I want to launch FEMOLOGY because I want women to experience this kind of energy with other women. So yeah, just from having those personal relationships with people it's transformed my entire life, from business to my womanhood, to these women inspiring me to be a wife and a mom as well. So, I definitely think there's a two way street to that. You know, if you give, you get back, and if you get back, you give.
Name three must-haves that women need in their arsenal for networking.
One, I definitely think that you need social media. Honestly, I wouldn't have the opportunities that I've had without social media. And not only social media, but a personal brand. So, like if someone goes to your Instagram or your Facebook, who are you, what do you do, what do you provide, what are you about? And I think it's important to make that clear. I could talk about branding all day. Even having a website is huge. I really think it's important to take yourself seriously so other people will take you seriously. I remember starting my business back in college and I started with nothing, like not a website or any of that, but now I think back like, "Wow, Megan, what if you would've had a website, and what if you would've had a logo and all your services listed you could've been a few years ahead of where you are now?" So yeah, I always recommend that initially.
[For the third one], honestly I'm going to say it's an open mind, and this may seem really simple but it's really important because we're going through this shift with millennial women. We really have to retrain how we think about connecting with other women because that foundation was set on "women [tend to] compete" and women don't collaborate. We have to retrain ourselves on all of that. Even like leaving your ego at the door…and that's the type of energy we want to bring to FEMOLOGY. Really, live your lifestyle. This is not the place to just come work and just to have client meetings, it's a community, and it's an experience and it's a lifestyle.
What advice would you give to budding entrepreneurs?
Don't be afraid to invest in yourself.