GRAMMY® and Stellar Award-winning artist Le'Andria had a standing room only album release party at the Gathering Spot in Atlanta on Thursday, July 20, which was more like a church revival. She gave fans a preview of her new album, Bigger Than Me, that released on Friday, July 21.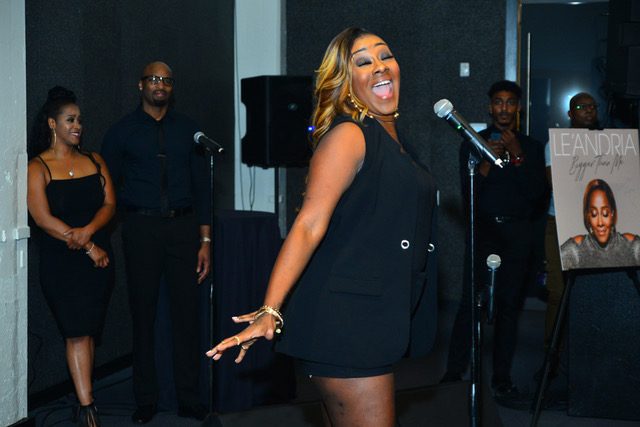 She performed her latest songs ("Bigger Than Me", "Change Is Now", and "All I Got") and the newest digital release, "Holy Ghost," a rollicking piano-driven celebration of faith. Just before Le'Andria joined her live band, we enjoyed a special treat: her new music video for her latest single "All I Got," which was directed by Derek Blanks and is now available on VEVO. Bigger Than Me was executive produced by Le'Andria, Chuck Harmony, Claude Kelly and Phil Thornton.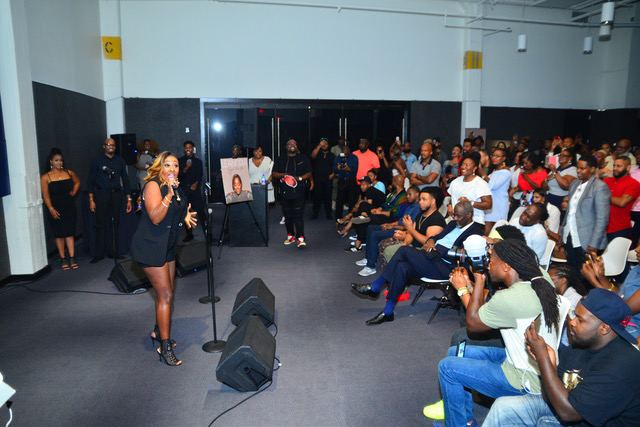 A poignant video, "All I Got," reflects on past sorrows, including the loss, and providing soothing encouragement. The song was inspired by her brother, Gregory Allen Johnson, Jr., who passed away a short time before she began recording. Le'Andria hopes that Bigger Than Me will uplift and encourage and help people understand that the things we experience, for better or worse, are much bigger than us. She says, "I want my listeners to never give up! To always know there is a sunny day and you can spread your wings beyond the box – beyond religion, beyond the music. You can live your life in a different way – with unity, loving more and developing your own relationship with God."
We caught up with Le'Andria the morning after the party. Here's what she had to say.
How do you feel the morning after your big night and the day of your big day?
This is actually an amazing moment. I was actually able to attend last night. I lost my voice a little. It was all worth it.
And to have your dad, who came to the city from your Florida hometown for it all …
It was a nice surprise. I had no idea he was coming.
What was important about making this particular album?
It's my first body of music where it is not what people expected. It is a part of my life: my past, my present and my future. I am so happy about this project and a lot of people are gravitating to the new sound.
It's been nearly a decade and a half since you were on "Sunday's Best."
I am grateful to be here and for everything God does. He died for my good and my bad. The "Sunday's Best" platform is something that I will never forget. I thank God for the platform because it allowed me to venture out and be me with no holds barred, and be transparent.
Where do you call home right now?
Right now, it's Atlanta, Georgia.
How did your roots in Pulaski, Florida impact and inform your career?
I moved to Atlanta and really loved living in Pearland, Texas. Wherever I am, I am able to express myself creatively. Atlanta is where I am supposed to be right now.
Le'Andria's Bigger Than Me is now available on iTunes and Amazon. To connect with Le'Andria, please visit:
Website: http://www.leandria.com/
Facebook: /LeAndriaJohnson
Twitter @LeAndriaJ
Instagram: /LeAndriaJ