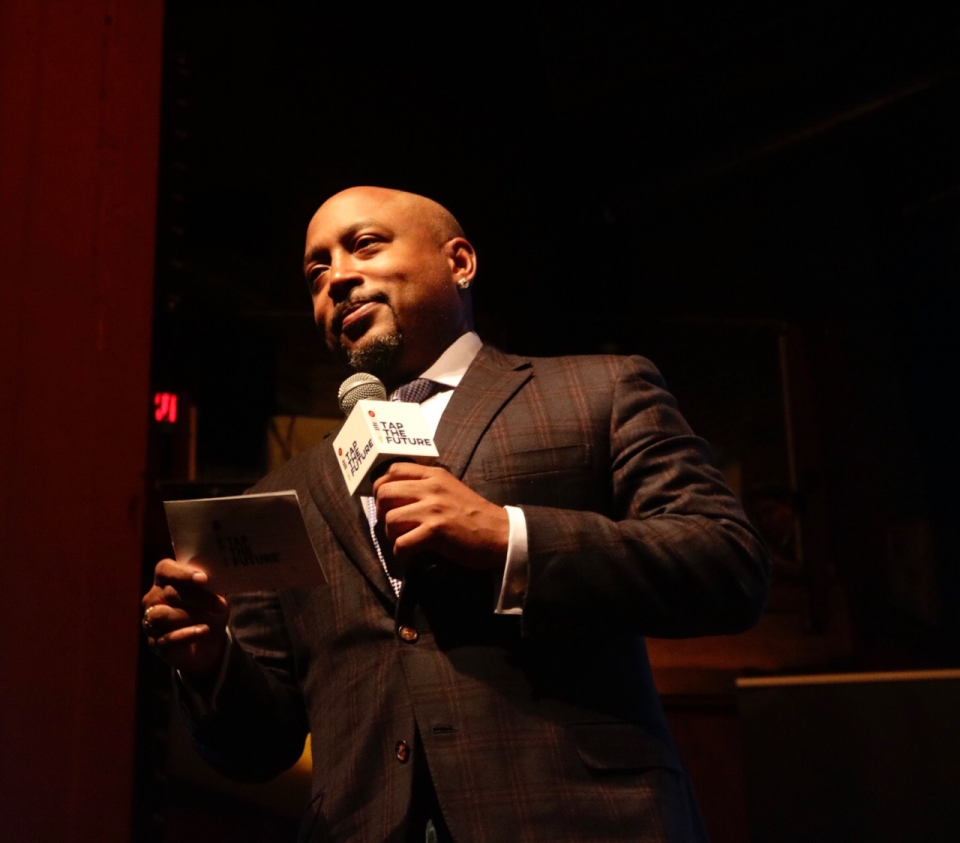 For the next two weeks, Miller Lite's Tap the Future competition will be traveling across the United States to give entrepreneurs in five major cities the chance to win startup capital toward their business ideas. The semi-finalists in each city compete for $20K toward their business venture, then the five finalists from each city go on to compete for a chance to win the grand prize of $100K The first Tap the Future event happened in New York last week, and on July 25, the contest came to its second stop — Atlanta.
Of the five companies that presented, the winner of the night was Jasmine Crowe with her app called Goodr. Goodr allows its users to create a network between restaurants and other large-scale food manufacturers so that they can donate their unused food to nearby food banks and homeless shelters to feed the thousands of people who go to bed hungry every night. During her pitch, Crowe, who has been working in the nonprofit and food security areas for many years, says that currently Goodr is focusing on enterprise clients but hopes to expand to smaller clients soon as well. "Right now we're focusing on airports, convention centers [and] arenas. What we're doing is we're actually going in at night, think of us a janitorial service — so, at the airport, we'll go at the end of the evening and collect surplus food from all 175 restaurants, so we're more so of a service. In the next 18 months, we're going to test a beta with the Uber model, which is really and truly how I started."
The panel of judges was composed of four seasoned entrepreneurs, including Daymond John, CEO of FUBU and best known as an investor on ABC's hit show "Shark Tank"; and Cameron Doody, president and chairman of Chattanooga-based moving company Bellhops. Doody and his company, of which he is a co-founder, won the $250K prize for Tap the Future back in Atlanta in 2014, and the night saw him returning to the same venue where he won the competition three years ago.
The biggest appeal of Miller Lite's annual event is that for entrepreneurs and startup innovators around the country, making a pitch to one of the panelist's on the critically acclaimed "Shark Tank" is truly a once in a lifetime event. John, who has been on "Shark Tank" since 2009, says, "I look for, not necessarily legacy companies, I look for somebody who is a great entrepreneur who is going to be a partner, so whether the company works out or not we can still do some things. And I also look for people who are solving a problem, who are passionate about the problem they're solving. As I get older, I look to meet more people who are solving problems, who are going to put a positive record [in] the world — whether it's saving animals, stopping human trafficking, or things of that nature, I look for more of those types of companies."
The Tap the Future competition continues in Houston on July 27, and the winner of the $100K grand prize will be announced in September – check out some pictures from the event's stop in Atlanta, hosted at the Opera Nightclub.
Photo gallery credit: Jeffery Lewis for Steed Media