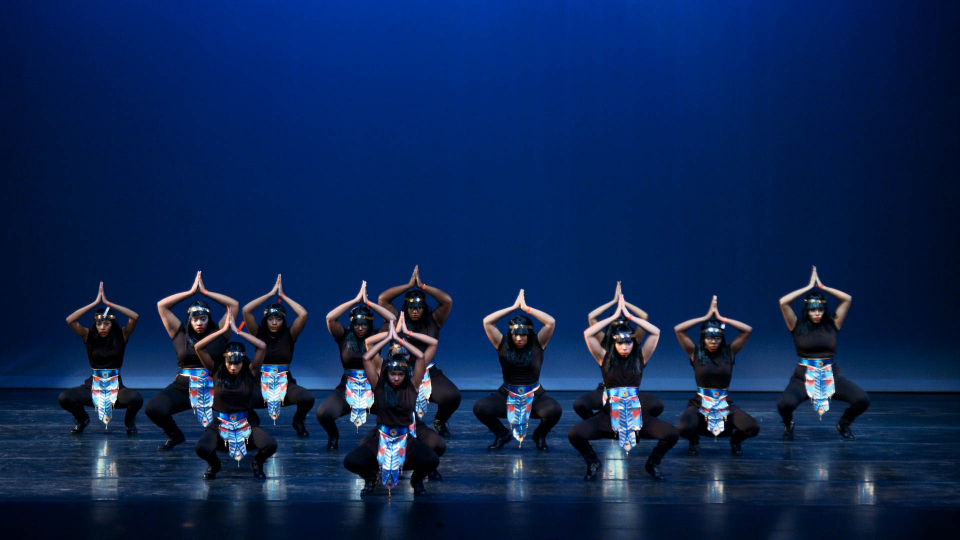 The Lethal Ladies step team
Photo courtesy of Fox Searchlight Pictures
In the new film Step, the Lethal Ladies of BLSYW (Baltimore Leadership School for Young Women) step team transform from caterpillars into butterflies. Directed by Amanda Lipitz, this riveting true story focuses on three outstanding teens: Blessin Giraldo, Cori Grainger and Tayla Solomon. Their youthful brilliance shines in a poignant depiction of determination, passion, sacrifice, failure and success. As members of the school's founding class, they are trailblazers.
Blessin's pioneering spirit led her to start the step team while they were in sixth grade. For her, "Step is life!" Calm, yet strong as a quiet storm, Cori is brave in her own way. Determined to pave her own path, Tayla says that she is just "a notch down from Beyoncé." The high school seniors share tears, laughter, stomps and shouts as they prepare for competitions and college.
Rolling out had the pleasure of chatting with these dynamic young ladies who all recently finished their first year of college. Blessin attends Coppin State University, Tayla attends Alabama A&M and Cori attends Johns Hopkin University. Check out what they revealed about their freshmen year, what they learned both in and out of the classroom, and how they are stepping into their futures.
How was your first year of college?
Blessin: For me, I just finished my Bridge EDU program; that was my entire first year of college. I did a lot of developmental courses in order for me to get to my credit courses. I finished up with a few credits, so I'm pretty proud of myself about that. I'm still living in my dorm and I'm enjoying that, as well as my freedom and being away from home. Going to school with boys—that was different and being in an HBCU, it's a different culture. Right now, I'm looking at multiple schools because a lot of schools want me to attend their universities, which is turning out to be amazing because of this experience. So I'm definitely looking forward to the future.
My major is business marketing, double minor in graphic design and communications, and with that I'll be a business mogul. Anything you need, from the logo to the creative director for your billboard, [or] your commercial. To getting you on radio stations, on TV, behind TV … I'm your girl.
Tayla: I attend Alabama Agricultural & Mechanical University. I'm an urban planning major with a minor in political science. My first semester, I wanted to come home because Huntsville [Alabama] is nothing like Baltimore. I can't take the bus or the subway, or Uber or Lyft everywhere I need to go. Everything is really far and spread out, so that was a change for me. Going to school with guys, it really wasn't that difficult for me. I don't pay attention to 'em no way.
I wasn't really social my first semester. My second semester, I made more friends. I learned how to balance my social life with my academics. I can't wait to go back in the fall.
Cori: The first year was a big adjustment for me academically. My major is computer science and international studies with a minor in Spanish. I didn't necessarily feel quite prepared for the academic switch-up. The second semester was a lot better than the first. I was able to get familiar with my resources and the different people in my corner. The first year, it was okay, but the second year is going to be better and the third even better and then I'll be graduating.
How did you learn how to filter out your family drama and focus on school and step?
Cori: For me, it wasn't really a learning process. Ever since I was little, I was into school. My mom always made education a big deal. You go through things. You can't say, "Oh my God, the lights are out, I can't do my homework." You tune it out and say, "Hey, Tayla, I'm coming to your house to use your Wi-Fi." And that's real. It wasn't really hard for me to focus because it was everyday life.
Tayla: For me, the family drama reflected when my grades did slip. I was going through a lot emotionally, it's not really portrayed in the movie. The movie focuses on the relationship that me and my mom has[sic]. Everybody has stuff going on in their life, so I wouldn't necessarily bring it where I was going. You know the saying, if you have an attitude, leave it at the door. I would definitely try to leave it at home.
Blessin: I've been dealing with my mom having depression ever since I was born, so it's nothing new to me. That's us; that's all I know. It was never an issue for me. I definitely had to be a little more independent, I had to do a lot on my own. I had a lot of freedom. It taught me a lot of about myself and I learned a lot pretty early. I went through more than what people tend to go through in their 20s. I think of it in a positive way, I'm ahead of the game. Family was not my issue, it was me focusing on what was important and making better decisions.
What did you learn about yourselves during this process?
Tayla: I learned that people go through more than what you know. I didn't know what these two (Blessin' and Cori) were going through. We all talk, but it's certain stuff that we don't talk about. I learned to be more empathetic towards people. My first year in college, I took time to think about how my actions reflect on others. I can definitely say from the movie and from the entire experience of step, that I see growth within myself.
Cori: The biggest thing I learned is how to become my own self advocate. I'm learning to use resources and take advantage of situations and people around me—in a positive way. I've always been a laid back go with the flow kind of person. This experience is teaching me to speak up for myself. I'm learning how to find that balance between just going with the flow and being in charge of things that pertain to me .
Blessin: I am confident; I am resilient; I am a proud Black girl. I also learned that if you don't open up and speak out and say what you need to say, nobody's gonna listen to you and that opportunity might pass you by. Respecting the process and loving the progress. I see how important it is to go with your heart, because now we got step, now we got a movie, now the whole world is paying attention to what we have to say.
Where do you envision yourself in 10 years?
Blessin: I will be on Broadway eventually and on the big screen again. And I plan on having a scholarship called Blessing the Community.
Tayla: I want to be an urban planner. I want to do transportation planning, housing planning and environmental planning.
Cori: I see myself working for some big tech company, traveling the world and speaking a bunch of languages.
Step opens in theaters August 4.