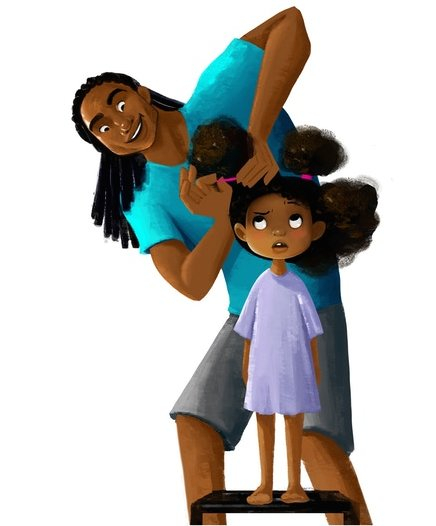 Filmmaker Matthew A. Cherry is leveraging social media to fund the animated short film, Hair Love.
Known for his colorful commentary on Twitter, Cherry recently launched a Kickstarter campaign in hopes of providing more African-American representation in mainstream animated projects. The film, which aims to shine a light on positive father-daughter relationships, uses the topic of Black hair to promote self-confidence in young women as well as battle the longstanding myth that Black fathers are not involved in their children's lives.
"This story was born out of seeing a lack of representation in mainstream animated projects, and also wanting to promote hair love among young men and women of color," Cherry stated in a recent press release. "I've been thinking about this project for a couple of years now, but it wasn't until I started coming across a lot of viral videos online of Black fathers interacting with their sons and daughters that I finally had the confidence to try and make this a real thing. You don't see the black family dynamic that often in mainstream animated projects. I hope that this film will help change that."
Within weeks, the campaign, which originally set a goal of $75,000, raised nearly $180,000. According to Black Enterprise, the five-minute animated short film centers around the relationship between a Black father, Stephen, his daughter, Zuri, and her full head of hair. Despite having long locks, Stephen's grown accustomed to his wife managing their daughter's hair. However, in her absence, Stephen must step in and figure it out on his own, ahead of a big event. Although it sounds simple enough, we soon come to find that Zuri's hair has a mind of its own.
"I think the biggest thing about being a filmmaker is being able to have empathy and relate to scenarios that you may not find yourself in but can still find the humanity in. I don't have a daughter or any kids myself, but I have a lot of friends who are young fathers that are all, for the most part, involved in their kids' lives, even if they're not married to the mom. For me, I just think it was really important to shine a light on black fathers doing domestic things with their kids because I think mainstream media would lead you to believe that fathers aren't a part of their kids' lives," Cherry recently told "News One Now."
"I think that fathers doing their daughter's hair is just a more normal thing that you're seeing nowadays. We really want to show more representation in the animated film space. If a little girl sees this project and she gets more confidence by seeing Zuri and her natural, kinky Afro, I think that'll be a huge thing. We're just hoping that kids move forward with self-confidence in their natural hair — that no matter what you look like you have confidence in your appearance and being able to move forward and just have a lot of hair love for yourself," he added