Cam Newton found himself all over the web this weekend when the NFL MVP posted an inspiring message on Instagram in which he quoted the poem "Living In The Shadows" from Jay Z's now famous mother, Gloria Carter. Ever since then, rumors have been floating around the internet saying that the NFL superstar has allegedly come out of the closet.
The rumors all started yesterday when Newton posted a photo of himself on Instagram smiling during what appears to be a Panthers press meeting. Under the photo, he captioned the image with the now-famous poem "Living In The Shadows," which Carter reads at the end of Jay's noteworthy 4:44 track "Smile," in which he reveals that his mother is a lesbian and allows her to open up about her struggles with her sexuality.
Carter's poem reads:
"Living in the shadow
Can you imagine what kind of life it is to live?
In the shadows people see you as happy and free
Because that's what you want them to see
Living two lives, happy, but not free
You live in the shadows for fear of someone hurting your family or the person you love
The world is changing and they say it's time to be free
But you live with the fear of just being me
Living in the shadow feels like the safe place to be
No harm for them, no harm for me
But life is short, and it's time to be free
Love who you love, because life isn't guaranteed."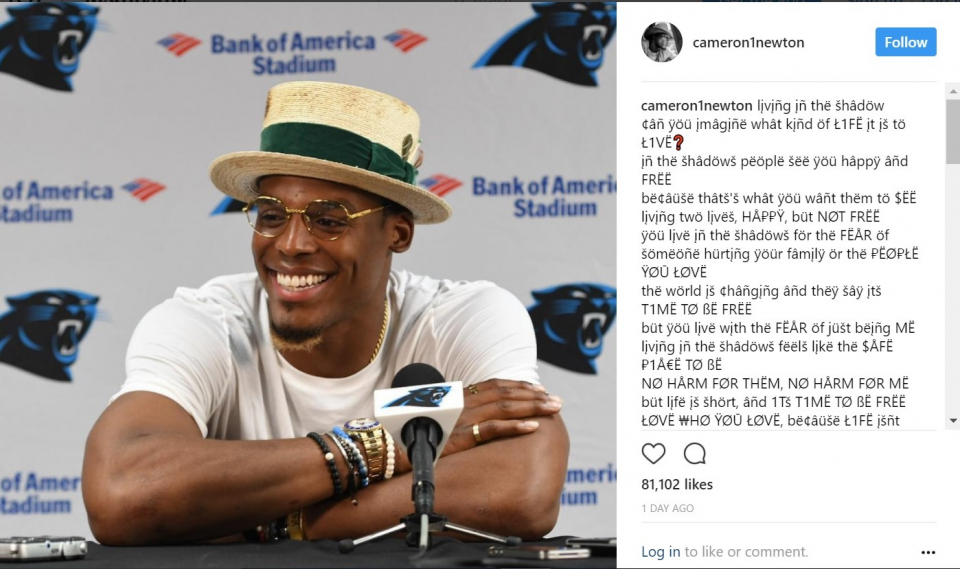 It's unclear why Newton shared the poem and he's not spoken again about the post. Perhaps he just loved it and related to it or perhaps he was showing his appreciation for Jay's song? However, many posts online from fans are suggesting that perhaps he was trying to come out of the closet.
What do you think? Do you think he was trying to come out of the closet or was he just simply quoting lines from a song that he presumably likes? Let us know in the comments.