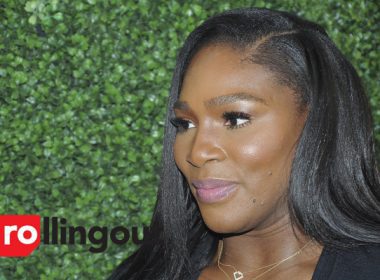 Serena Williams has penned a letter advocating for equal pay for Black women in America and has claimed to have been a victim of racist remarks by her male colleagues in the past.
The 35-year-old professional tennis player opened up about the gender pay gap to mark Black Women's Equal Pay Day on Monday, July 31, 2017, and she has claimed the issue hits American "women of color the hardest" as they receive "37 cents" per dollar less than men.
The sportswoman, who is expecting her first child with Alexis Ohanian, wrote on Fortune.com: "Today is Black Women's Equal Pay Day. This day shines a light on the long-neglected fact that the gender pay gap hits women of color the hardest. Black women are 37 cents behind men in the pay gap, in other words, for every dollar a man makes, Black women make 63 cents."
The Wimbledon winner also revealed a Black female is forced to work "eight months longer" than a male to be able to pocket as much money as them over 12 months, regardless if they have a university degree.
Her emotive letter continued: "I'd like to acknowledge the many realities black women face every day. To recognize that women of color have to work — on average — eight months longer to earn the same as their male counterparts do in one year. Even Black women who have earned graduate degrees get paid less at every level. This is as true in inner cities as it is in Silicon Valley."
Although Williams has been crowned the champion of the singles and doubles Olympics four times, won seven Grand Slams, and is the five-time winner of the WTA Tour Championships, she has revealed she has often been on the receiving end of "racist remarks" from her male colleagues.
She wrote: "I have been treated unfairly, I've been disrespected by my male colleagues and — in the most painful times — I've been the subject of racist remarks on and off the tennis court. Luckily, I am blessed with an inner drive and a support system of family and friends that encourage me to move forward. But these injustices still hurt."
But Williams has encouraged fellow black women to be thick-skinned and fight to close the pay gap because she has been able to boast a successful career despite her race and gender.
She wrote: "Together, we will change the story — but we are going to have to fight for every penny. Growing up, I was told I couldn't accomplish my dreams because I was a woman and, more so, because of the color of my skin. In every stage of my life, I've had to learn to stand up for myself and speak out.
"I am in the rare position to be financially successful beyond my imagination. I had talent, I worked like crazy and I was lucky enough to break through.
"Unfair pay has prevailed for far too long with no consequence.
"I want to bring my perspective and experiences as an athlete, an entrepreneur and a black woman to the boardroom and help create a more inclusive environment in this white, male-dominated industry. And I want every woman of color to do the same. Every step forward you take is two steps of progress for womankind. 
Let today serve as a reminder that we have a voice. We deserve equal pay for our mothers, our wives, our daughters, our nieces, friends, and colleagues — but mostly, for ourselves.
"Black women: Be fearless. Speak out for equal pay. Let's get back those 37 cents."