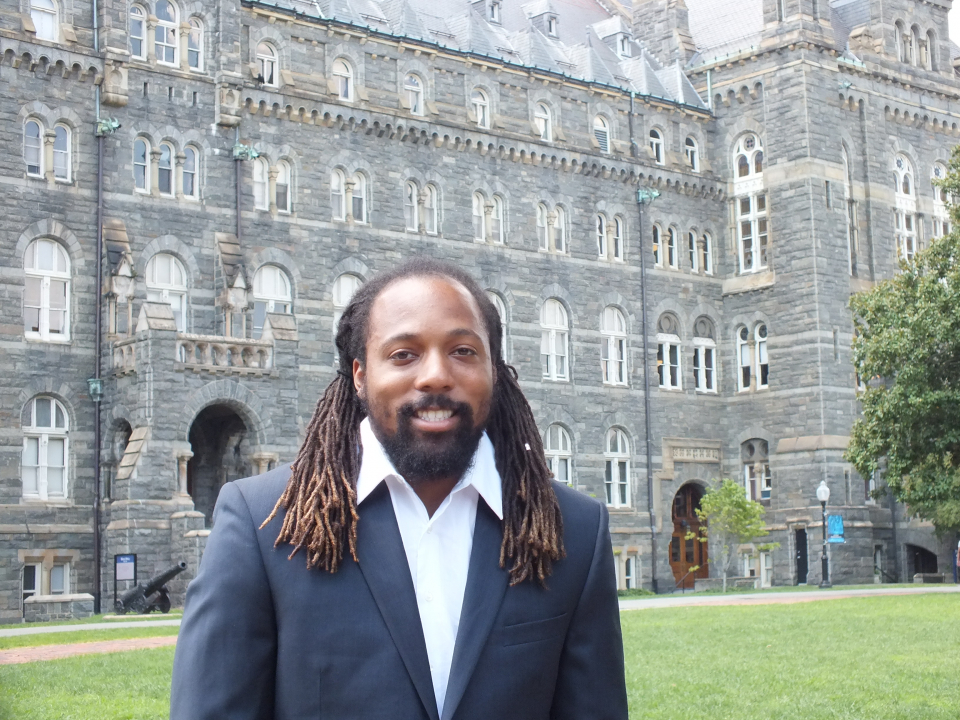 Tell us about your career at Georgetown University.
My job at Georgetown focuses on serving as an educator by developing the leadership of students and creating as well as sustaining community. The program focuses on marginalized first generation and low-income students at Georgetown University which has historically been Black and Brown students.
What is your formal educational background?
I was educated at Wilkinson County High School, which instilled a great sense of responsibility to giving back to Black communities. Wilco High instilled a strong sense of Black pride in me. I graduated No. 7 out of my class. I then attended and graduated a small private liberal arts institution named LaGrange College, in Lagrange, Georgia. I graduated magna cum laude with a degree in early childhood education and achieved the most prestigious award bestowed upon a student, The Weights G. Henry Leadership Award. Currently, I am in my final year of my master's program at the University of Alabama. I am majoring in higher education administration.
What was your most valuable experience growing up in the South?
The most valuable experience of growing up in the South for me was seeing people working 40 to 60 hours a week and barely making ends meet. This taught me that I needed to do something different if I wanted a different result.
Why are you so passionate when it comes to empowering African American males?
My passion for empowering African American males stems from my love for my people. I was blessed with the opportunity to walk through the doorway of opportunity and I understand it is a privilege to help empower future generations.
What inspired you to be an avid reader?
I am inspired to be an avid reader because I spent six years not reading a book. Once I found the Secrets to a Millionaire Mind by Harv T. Eker, I found that I did not like to read because I was reading the wrong type of books. I continue to be inspired to read because I love enhancing my mind and feeding my brain positive information.
How have you been able to process race in America?
You have to understand that growing up in the South in Toomsboro, Georgia, profoundly impacted the way I processed race. Literally, there is a train track down the middle of my city that is a divider. In addition to seeing that divider, I went to an all-Black high school. Teachers such as Mrs. Pryer and coach Hagins instilled a sense of Black pride in me. Also, growing up a preachers kid from C.O.G.I.C. created a belief in myself that Black people are necessary in America. Everything in America has been built [on] the labor of Black men and women.
Who is your mentor and why?
My mentor[s] [are] Brad Copeland and Marc Shook. Both of these individuals are my mentors because they taught me to get good stuff worth getting good at. They showed me it was possible to accomplish anything in life if you plan, prepare and take calculated risks. They also placed faith in me before I had faith in myself.
What's next for you professionally?
Next, I will be traveling the world inspiring Black and Brown people around the world and helping them to participate in their own rescue. I plan to be a public speaker as well as a community builder and sustainer in Black and Brown communities.
What would you want your legacy to be?
I want my legacy to be, just a kid from Toomsboro, Georgia, who was crazy enough to believe that he could leave everyone he came in touch with better than when he found them. I want people to remember me as someone who was a server amongst the people.
To date, what is your most proud moment?
I do not have one single proud moment that stands out amongst the rest. The most proud moments of my life stem from being able to help people as well as make my ma smile.
What has been the most difficult thing you had to overcome?
The most difficult thing that I had to overcome was realizing that I am a Reynolds and there has always been a different expectation of me. Being the grandson and son of preachers automatically creates expectations on me that I did not choose to create. Because of decisions my family made, I had to learn how to accept and embrace my own means and view of Christianity and my relationship with God.
Where do you see yourself in the next five years?
In the next five years, I see myself traveling and speaking on stages helping other people reach their ideal of success mentally, physically, socially, financially [and] spiritually, etc. I see myself continuing to be an agent of increase. I also see myself impacting thousands of young Black men and helping them understand the importance of reading and changing their mind so they can change their life.