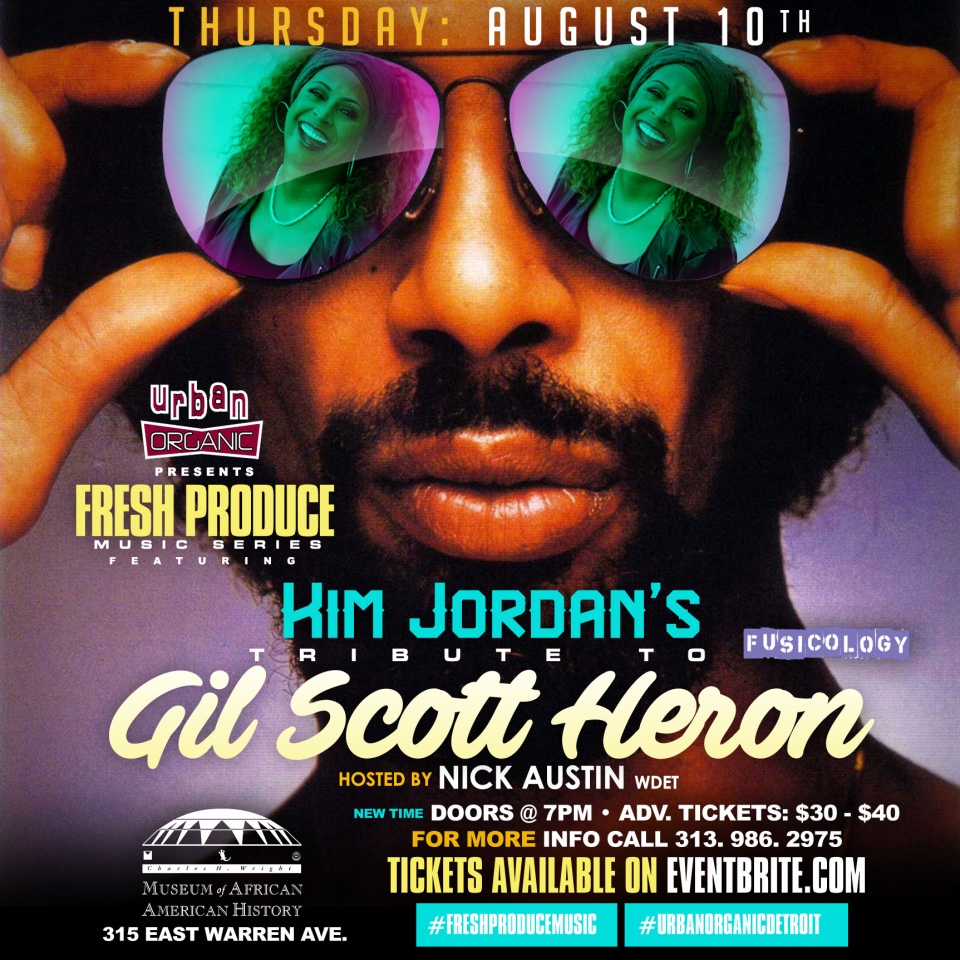 The Fresh Produce Music Series is wrapping up its last concert of the summer with a tribute to Gil Scott-Heron on Thursday, Aug. 10, 2017, at the Charles H. Wright Museum of African American History in Midtown Detroit. Scott-Heron gained popularity in the 1970s and 1980s for his work as a spoken-word performer, as well as an author and musician known for his socially and politically laced lyrical content. Produced by Urban Organic Lifestyle Marketing of Detroit, headed up by Drake Phifer, this last concert will be curated by Kim Jordan, Scott-Heron's former musical director for close to three decades — until his untimely death in 2011. When asked why it's important to do a tribute for Scott-Heron, Phifer had this to say: "This is an important tribute for several reasons. Number one: it's the homecoming of Kim Jordan, former music director for Gil Scott-Heron and current national musical director for Delta Sigma Theta Sorority, Inc. And number two: we're also celebrating the 50th anniversary of the Detroit Riot's and much of the music Scott-Heron wrote was in the wake of that era. It's sort of like a time capsule, and all the music that will be featured is [Scott-Heron's] music. You can actually take a snapshot of the times back then and look at what's currently going on now, and you'll find that there are a lot of similarities. So, his messages are still relevant to this day."
Jordan, who played an integral role in Scott-Heron's career, hopes that Scott-Heron's music will rekindle the call for justice and freedom to his die-hard fans as well as spark a flame in the new generation of socially conscious music listeners. Jordan is optimistic that this will be achieved by exposing the man and his music to all people, uniting them in a spirit of unity, oneness and love.
The multi-media tribute will feature audio and video footage of live performances, allowing audience members to experience the spirit of Scott-Heron's music in a unique and exciting way. It will also highlight the relevance of Scott-Heron's music, as it continues to speak to many of the social ills that currently plague our society today.
The Fresh Produce Music Series began with new, fresh and unflinchingly independent and emerging musical acts. The acts that were showcased were microcosmic representatives of a very steady and strong pipeline of performers who honors the history, the ethos and the dynamism of their musical elders. These dynamic acts are the road warriors who performed on stages around the world, and studio nerds who continuously push the envelope of creativity. These acts are the contemporary fresh faces, yet classic faces, of the sometimes overshadowed R&B acts, hence the name Fresh Produce.
Previous Fresh Produce Music Series acts included Chantae Cann, Collective Peace, Moonchild and Zo! This last session will culminate with Heron's tribute for being a poet, singer-songwriter as well as a "Bluesologist."
For more information on the music series, please visit Urban-Organic.net.