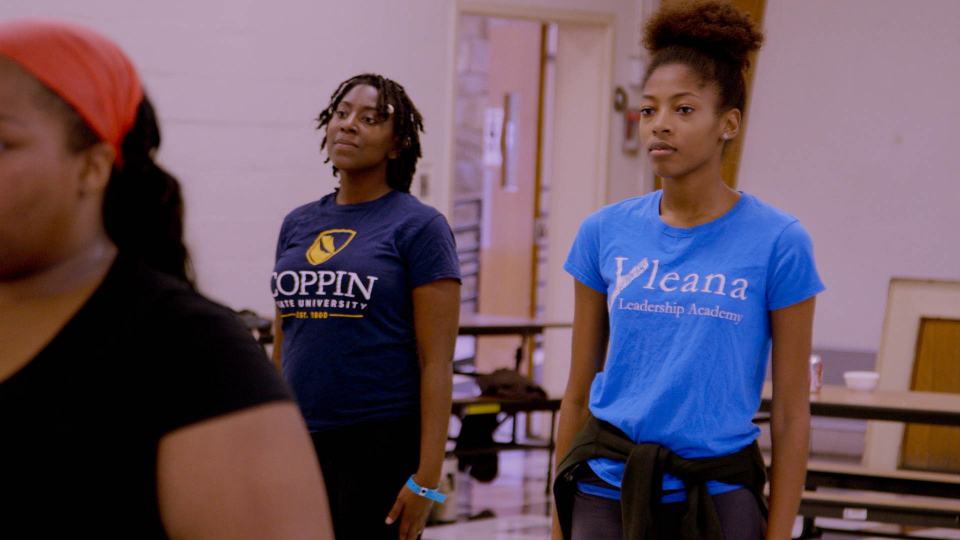 Step coach Gari McIntyre invites you to step into the lives of all girl step team the Lethal Ladies of Baltimore Leadership School for Young Women (BLSYW) in the documentary STEP, which is now playing in theaters. This inspirational documentary follows the Lethal Ladies as they journey from surviving their senior year to winning a step championship and being accepted into college.
Under the guidance of caring staff members Paula Dofat, director of counseling and Step Team coach Gari "Coach G" McIntyre, the girls use step as a means to escape less than ideal home situations while overcoming their own doubts and fears of achieving success. Thanks to her experiences stepping in middle school, high school and as a member of Delta Sigma Theta Sorority, Coach G was able to understand step not only as a sport but as a medium to encourage excellence, not only inside the classroom but also in real life.
"Me being 11 years old on a step team, struggling academically and having that [desire] to go to step practice also made me want to go to school everyday. I think that having my own personal experiences directly relate to these young ladies because they started stepping the same age as me," McIntyre revealed. "We have a lot of the same socioeconomic struggles, socioemotional struggles and family dynamics. We're all from Baltimore [not the elite neighborhoods but not necessarily destitute neighborhoods]. We have a lot of the same things in common. Most of my childhood/adolescent experiences with step shaped what kind of coach I would become."
Rolling out caught up with McIntyre after a private screening of STEP to talk Black Lives Matter and stepping into success despite your failures.
How did you use your experience as a high school dropout, who later achieved success, to inspire the young ladies to reach for their dreams and not give up?
I dropped out of college, not high school. I did get put out of school though. I had struggles because I went to four different high schools. I dropped out in my head a few times. Like Blessin says [in the movie STEP], "I was there but not there." In college, I was a serial transfer and serial major changer. I continually ran around the fact that I wanted to go into education. Every single educator I knew said don't go into education … I knew I wanted to invest in people and make money but [people] were like "Education is not the way to do it." You need to do it: be a lawyer, a doctor — anything but a teacher. I realized it was my calling. It took awhile but I think me not being in school made me see that school is important. Messing up allowed me to see how important it was for me to be successful. I was watching everyone around me be successful and achieve their goals. I had goals of my own. I've always wanted to get a bachelor's degree, a master's degree and a PhD. School has always been important to me, but my focus wasn't always there like how Blessin felt when she was in school seeing other people around her progress and reach their goals.
In the movie, why did you feel incorporating a step routine surrounding the death of Freddie Gray and the Black Lives Matter movement was so important?
I'm from Baltimore and I live in the neighborhood where Freddie Gray was murdered. I incorporated the Black Lives Matter movement as a whole, which is not just the death of Freddie Gray. He is a casualty of what drives the movement. I was vacationing in Miami when Trayvon Martin was killed and I stayed on my vacation because I couldn't believe what was going on. These things just hit home because I have brothers and a father who are Black. To go to the store or be outside standing in your neighborhood and your child never comes back. To be in the custody of someone who is supposed to protect and serve and your child never comes back. The pain those parents [must feel]. I incorporated it into the step routine because its a platform. I never knew this movie was going to be as big as it is but it's a major platform for these young women to have empathy for that situation because they are women. Women are always on the forefront of major movements. The girls have been really sheltered because they were in such a loving environment where people went above and beyond to make sure they were well taken care of. In the real world, that's not the reality. I needed them to see to some people out there your life doesn't matter to them. There will be people out there that you'll do right by them, treat them nice and they do not care. There are also some nice people out there too but the reality is that Black lives DO matter.
What do you want the audience to take away from seeing STEP in theaters?
I'm hoping when people see the movie they understand that mentoring matters. Not just talking about it but being about it. Start small or big. Invest in someone else's mentoring group but definitely just try. It's not limited to just step, basketball, football or dance; there are so many things out there you can mentor somebody in. Lastly, I would say, it's never too late. Young ladies in school messing up, young ladies who have dropped out, it's never too late. It's never too late for anyone. You mess up on a job or you're in trouble for something, it's never too late. It's always time for a turn around.
Watch Coach G lead the Lethal Ladies of Baltimore Leadership School for Young Women in a battle for their education and bragging rights in the Sundance award winning documentary in theaters now. To live the "step life," visit https://www.impactpartnersfilm.com/films/step or follow the movement on Twitter @stepthemovie