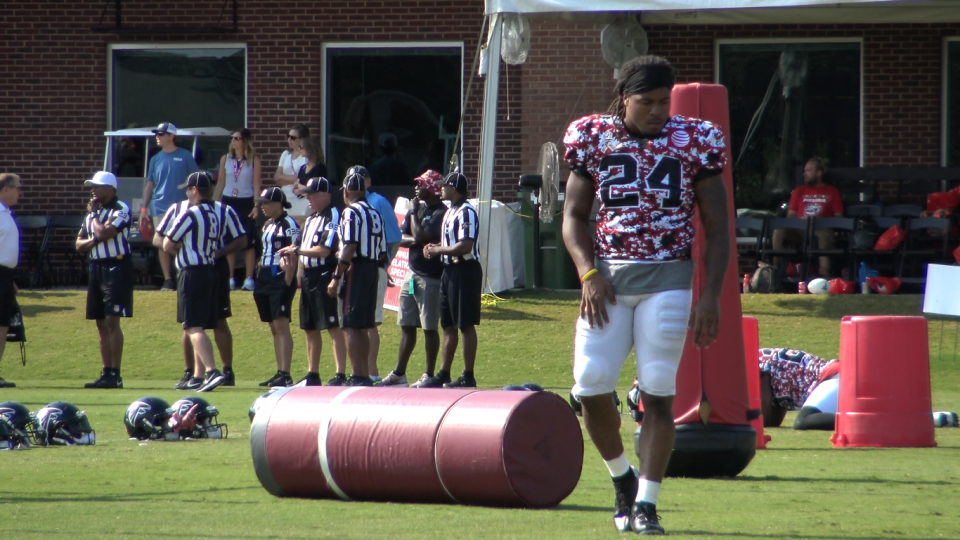 Last season, Atlanta Falcons running back Devonta Freeman emerged as one of the best at his position. He finished the year with two fewer fumbles than he had in 2015 and started all 16 games for the reigning NFC Champions. He accounted for 161 total yards and ran for the game's opening touchdown of Super Bowl LI.
However, in the same Super Bowl, Freeman missed a block on Dont'a Hightower that led to a Matt Ryan fumble in a momentum-swinging play during the New England Patriots historic comeback. Here are two reasons the Falcons didn't make the best investment in this new deal with Freeman.
He isn't the best running back in the NFL
Freeman signed a five-year, $41.2 million contract extension with the Falcons, making him the highest-paid running back in the league. While he's arguably a top five talent in the league at the position, he isn't better than the Pittsburgh Steelers' Le'Veon Bell. Nor is he better than Arizona Cardinals running back David Johnson. Bell is currently holding out of Steelers camp waiting for a new deal of his own to get done. Freeman attended training camp through negotiations with Atlanta.
The history of the running back position
Running back is a position that is known for not having a long prime. Former New Orleans Saints running back Duece McAllister is known as of the best running backs of the 2000s, but his career only lasted for eight seasons. McAllister's prime spanned from 2002-2006, where he rushed for over 1,000 yards in four out of five seasons.
Freeman's enjoying his prime now and he could get better in the next two years and have a great next five seasons. However, as history has shown, even in the best case scenarios, the prime of a running back's career lasts for a maximum of eight seasons and he's already entering season three of his best production.