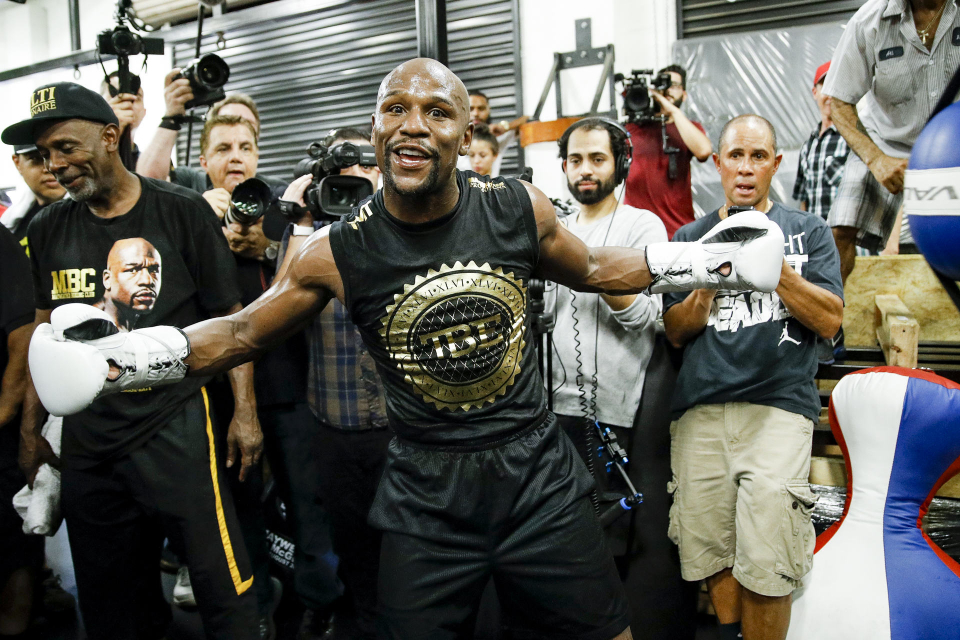 Money and a perfect 50-0 record are certainly factors in Floyd Mayweather deciding to cash in by fighting UFC champion Conor McGregor, but an equal factor was revealed yesterday: the Mayweather Promotions undercard for the potentially record-breaking fight on Saturday, Aug. 26.
Though it was long speculated that 22-year-old Baltimore native Gervonta Davis would headline the co-main event for Mayweather versus McGregor, his opponent, as well as the remaining undercard, was revealed yesterday in what will be an enormous showcase for Mayweather Promotions.
Dubbed "America's youngest world champion," Davis will defend his IBF super featherweight title against unbeaten Francisco Fonseca. Once "Money" Mayweather has cashed in his last payday as a fighter, ringside is where the Mayweather Promotions founder and president will make his future millions, with "Tank" Davis being the foundation.
Mayweather intelligently laid the foundation during his Barclays Center stop of the MayMac World Tour. He said, "This is the youngest world champion in boxing and this is the next pay-per-view superstar.  Believe me when I tell you this. Gervonta 'Tank' Davis!"
In an exclusive interview with rolling out, Mayweather Promotions CEO Leonard Ellerbe discussed the explosiveness of Tank Davis. Ellerbe said "'Tank' is must-see TV. 'Tank' looks to knock your head off every time he steps into the ring. He has that scowl about him. He has that look. It's like he turns into a different person when he enters the ring. He has this mean streak that's something I've never seen before. He's a bad dude."
The Mayweather Promotions undercard also features its star Badou Jack taking on Nathan Cleverly in his light heavyweight debut, as well as Andrew "The Beast" Tabiti matching up against Steve Cunningham.
When the dust settles in the desert of Las Vegas on Saturday, Aug. 26, 2017, Floyd Mayweather will have battled in the top-four highest grossing pay-per-view fights of all time, totally well over one billion buys. But his future millions from boxing will come from those fighting that night on the undercard for his Mayweather Promotions, with Gervonta "Tank" Davis as its star.
See Floyd Mayweather take on Conor McGregor in a 12-round super welterweight matchup on Saturday, Aug. 26 at T-Mobile Arena in Las Vegas and only on Showtime PPV, and in theaters like AMC 25 in New York City or Buckhead Backlot 6 in Atlanta. Visit https://www.fathomevents.com/events/mayweather-vs-mcgregor for locations in your area.
See Mayweather wax poetic about Davis here.