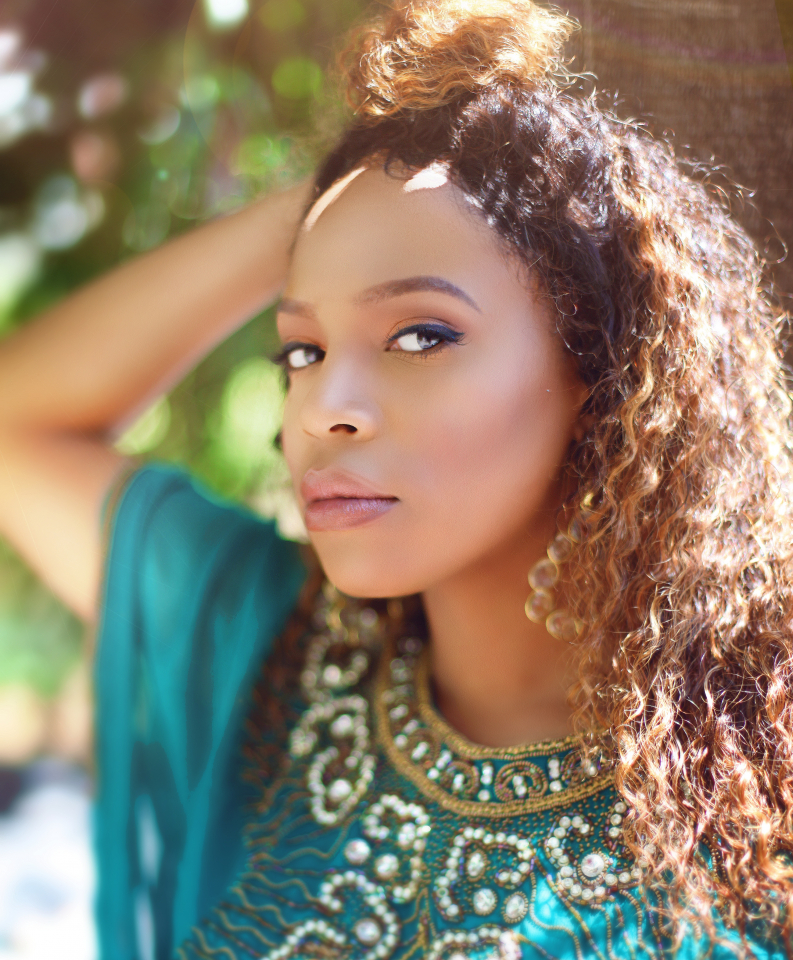 Everyone has a purpose. For many, they can go a life time never discovering their purpose. Ashley Perrymond always knew she was a singer. She goes on to say, "It was birthed in me and I did not know it until I tried to run away from it." This writer first met Perrymond one night during the recording of the radio show, "Soulful Sunday's A Place Called Soulsville." It did not take long for me to witness a person passionate about God, life, family and music.
Breaking into the music industry is a journey that can consume a person's life. Compound the mission with raising two children and the task is even more daunting. Through conversation it became more evident Perrymond is hard-working, driven by purpose, passionate, a giver, and, of course, a singer.  Perrymond's goal is to empower, motivate, and share agape love through music. "I love what I do but if no one is affected in a positive way then all the work is in vain," she said.
What led you to music?
I have always been a singer. I grew up in the church. My uncle was a renowned minister, singer and musician so we grew up with real singers. The feeling I used to feel when I'd hear my Uncle Charles Chambers, Auntie Anniebelle, my cousins LuLu (Yolanda) and Cynt (Cynthia) sing at church and My cousin Amp (Anthony) on the drums is what made me love music. It was birthed in me. I was [also] a writer at heart. I'd always write poems and make up my own fiction stories. Sometimes, my cousin, LuLu would read my poems aloud in church because I'd be too shy. Years went by … I attended college in North Carolina and I met some people at Abundant Life COGIC church who pulled this gift out of me. I could sing, I could write and it was just like a light bulb went off and after recording my first song that I wrote in 2005, I knew this was what I was born to do. Music and I have been in love ever since!!!
Do you actively seek inspiration or does it find you?
It is seldom I have to seek inspiration because I experience so much in my life that it is like a love song at times, and then a party anthem, and even a breakup ballad. My biggest thing is having quiet time so that I can channel and focus. I love going by the water because it reminds me of how greater God is and that there is nothing impossible for me!
Your latest project Waiting, what was the inspiration behind the project?
The inspiration behind Waiting came from me feeling like I was being left out, skipped over and overlooked. I was doing everything I felt was right and I was living a life I felt was pleasing to God, but so many oppositions kept pushing me back — knocking me down. One day I saw my friend Khrystina post a picture and her hashtag read "#waitinginthewings." … It struck me and I realized that a lot of times, we can see ourselves on the big stage, under the bright lights, living our dream. But oftentimes we are still in process, life seems more behind the curtains, yet we are really waiting in the wings, making sure we are in the right spot so once the curtains open we are ready and it will be the perfect timing. The song was birthed on a tour bus in 2016, singing background for other artists. I was hoping one of those artists would sing the song but obviously, this song was meant for me. It may not look like it right now, but I know that I am on a journey and I know I am supported by the greatest power and my life is a living testimony of "Waiting in the Wings."
How much did you rely on faith for this project?
This entire experience was faith-driven. I realized that faith without works is dead. So in order to properly have faith, you have to put some action somewhere.
What affirmations do you repeat?
I actually have a daily affirmation I say with my two children Khloe and Joshua every day and that is Proverbs 3:5-7 "Trust in the Lord with all thine heart and lean not to thy own understanding. In all thy ways acknowledge him and he shall direct the path." I chose this because He is our ultimate source and I want my children to have that embedded in them so when things do not go as seem, they will remember to trust in God.