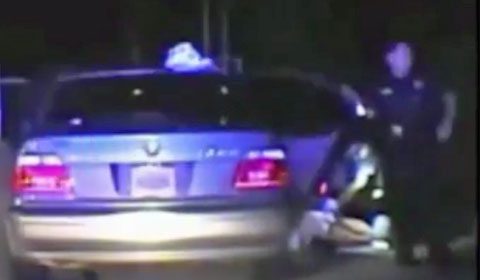 A little over two years ago, Charnesia Corley was a college student who was never in trouble when a traffic stop turned ugly. Two deputies with the Harris County, Texas Sheriff's Office pulled over the vehicle she was in along with two of her friends. The deputies felt there was a reason to detain and search the occupants and Corley's night soon turned into what some are a calling a public rape by police. The incident was caught on police dash cam video and has caused outrage.
Corley's lawyer, Sam Cammack, told media outlet FOX-5 in Houston, Texas, during the tape, "One of the officers on the tape, he was talking to a passenger who was already in custody in the officer's car and you could hear him telling that individual 'Oh we are going to find something, even if we have to put our hands on her."
An officer searches Corley and finds no drugs on her person, but this does not satisfy him. According to Cammack, "This same officer body slammed Miss Corley, stuck her head underneath the vehicle and completely pulled her pants off, leaving her naked and exposed in that Texaco parking lot. They then took Miss Corley and placed both ankles behind her ears spread eagle position and started to search for something in Miss Corley's cavity in her vaginal area."
The video shows that the officers penetrated and aggressively searched Corley's vagina for at least 11 minutes before they let her up from the ground and allowed her to put on her clothes. Police allege they found 0.02 ounces of marijuana, but Corley denied she had any drugs. She was charged with resisting arrest and possession of marijuana, both misdemeanors, but the Harris County District Attorney's Office later dropped the charges.
Corley filed a complaint against the two officers involved, identified as William Strong and Ronaldine Pierre. Both of those officers were charged with official oppression and were indicted in June 2016 by a grand jury. However, on Aug. 4, 2017, on the day Strong and Pierre where to begin their trial, the County District Attorney's Office dismissed the charges against them unexpectedly. According to the DA, there is new evidence that must remain secret and re-presented to another grand jury.
A spokesman for current Sheriff Ed Gonzalez said the dismissals back up the original Internal Affairs investigation that found the deputies violated no policies. They have been on administrative duty since last year and may return to regular duty soon. Corley has filed a multimillion dollar lawsuit against the sheriff's office and the deputies involved.
The video can be seen after the page break. Warning: it is graphic and not safe for a work environment.