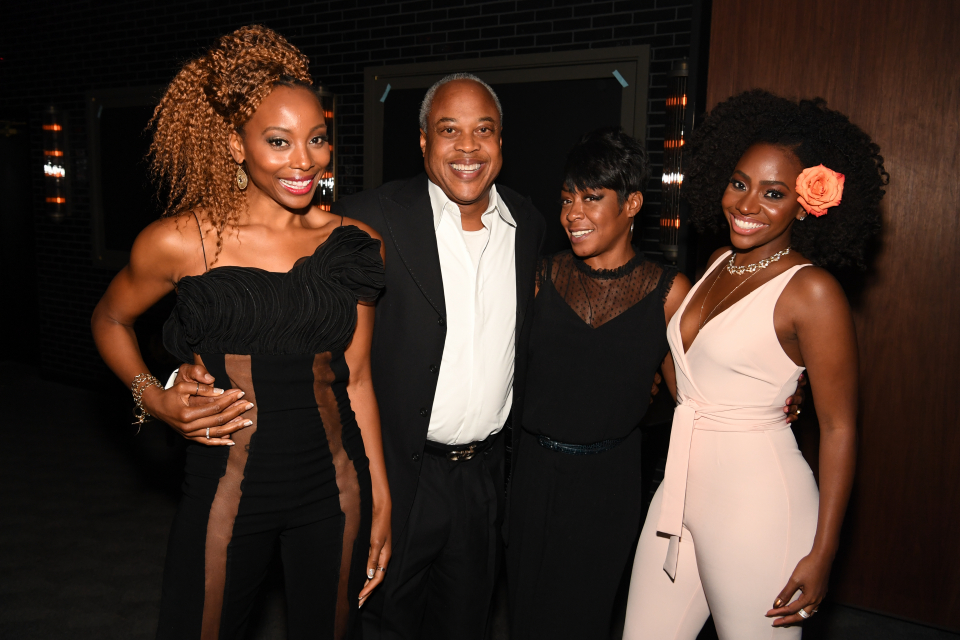 Upscale magazine and Starz recently hosted the "Champions Table,"  a private tastemaker dinner in celebration of Upscale's latest cover featuring Tichina Arnold, Erica Ash and Teyonah Parris of the Starz comedy "Survivor's Remorse." All three honorees were in attendance and were joined by their co-stars Jessie T. Usher and RonReaco Lee.
Held at American Cut in Buckhead, the event celebrated both Upscale's August cover and the season four premiere of "Survivor's Remorse" later this month. The Mike O'Malley-created comedy series about a basketball star (Jessie T. Usher) who signs a multimillion-dollar contract with a team in Atlanta — and brings his family from one of the toughest neighborhoods in Boston along for the wild ride — features such guest stars as Isaiah Washington, Vanessa Bell Calloway, Neal McDonough and DJ Khaled in the new season, which includes 10 episodes.
Season three concluded with Cassie (Tichina Arnold) finally being embraced by the parents of Chen (Robert Wu) during a visit to China, M-Chuck (Erica Ash) learning that she is a child of rape, Reggie (RonReaco Lee) reconnecting with his now-sober father and Cam going to visit his father in prison. Starz promises that the new season will reveal "unintended and far-reaching consequences," as "the past that Cam has been desperately trying to avoid comes rushing back with a vengeance and family secrets threaten to destroy everything he has worked so hard to achieve."
"We're picking up from where we left off on season three and you're going to get a lot of questions answered," Ash said at the start of the event. "The questions that everyone was asking about M-Chuck's father, there will be closure on that within the first three episodes."
Similar to M-Chuck, Cam and Reggie also undergo immense personal growth in season four. Fatherhood and self-discovery play major themes this season but the show is still packed with laughs, social commentary and sharp (often far-out) humor.
"All my scenes with [Teyonah Parris] are just fun to do, we have a good time, and this year, we have a business venture that I bring to her. We team up and we enter into a business venture together which is interesting for husbands and wives to do such a thing because things do get tricky," Lee hints.
During the event, Satchel B. Jester of Upscale Magazine presented a series of special toasts to Arnold, Ash and Parris. The three are featured on Upscale's most coveted and most seen cover as Upscale celebrates 28 years of publishing and 70 years of excellence in beauty with the Bronner Bros. International Beauty Show this August. The dinner was proceeded by a cocktail hour complete with open bar, signature cocktails and posing for photos. A variety of Starz execs and Atlanta elite came to celebrate the women of the hour.
The event was an oasis of excitement for both the cover and the new season. Dope, bold, thrilling and show-stopping are words that the cast used to describe the coming season.
"Our writers are crazy, they are really crazy, they write us epic stuff each season. Each season always tops the last," Ash said.
"It is beautiful that [the show's characters] are able to explore their own journeys and find their paths knowing that they are basically radiating from this core of family," Ash said. "You're going to see everybody doing their own self-exploration but you will always see the core of the family, you always feel that."
Season four of "Survivor's Remorse" premieres Aug. 20 at 10 p.m. EST on STARZ.