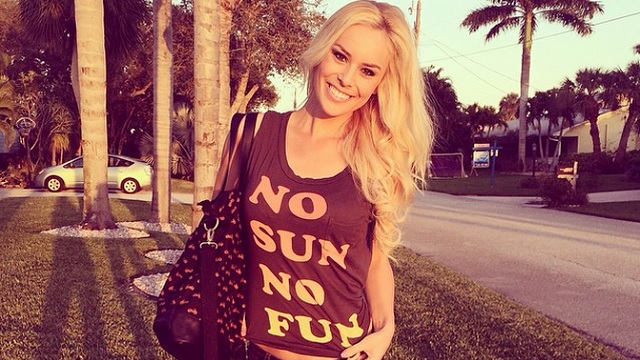 Even though disgraced former ESPN reporter Britt McHenry does absolutely nothing to improve race relations in America, she has a lot to say about athletes who try to.
McHenry, the self-proclaimed conservative voice of reason, who is also vacuous and an opportunist, continued doing battle with socially conscious athletes on Friday when she challenged NBA superstar Kevin Durant for not wanting to visit Donald Trump at the White House.
The Golden State Warrior MVP told ESPN this week he refuses to attend the NBA championship ceremony if the team is invited because "I don't respect who's in office right now.
"I don't agree with what he agrees with, so my voice is going to be heard by not doing that," Durant said. "That's just me personally, but if I know my guys well enough, they'll all agree with me."
McHenry Tweeted her opinion on the matter, writing,
If issue (fairly) is divisiveness in the USA, then use celebrity & platform to come together. Great leaders meet, not shun invitations to WH

— Britt McHenry (@BrittMcHenry) August 18, 2017
Durant clapped back, "boo hoo. Sad story…..keep tellin me more," with a sleepy head emoji.
"Ok let's discuss how a successful man such as yourself can show unity meeting w/ WH just 20 minutes from PG County," McHenry responded. "Your presence can inspire."
Durant, who was celebrated with a parade in Prince George County (Md.) Thursday, wasn't buying her argument.
"By doing the opposite, I am inspiring more people."
McHenry, the disgraced former ESPN reporter who was laid off earlier this year and is famous only because she teed off on a parking lot attendant two years ago, has been trashing athletes on social media who she doesn't agree with politically. She has also railed against her former employer and reasoned the only reason she lost her job is because of her right-leaning political views.
Last month, McHenry lit into Colin Kaepernick when the excommunicated QB questioned how people celebrate Independence Day on a day that "intentionally robbed our ancestors of theirs."
"I'll tell you how, Colin. Americans can celebrate the official birth of this nation because despite all its flaws, for one day, there's a reminder of unity no matter how many efforts you make to dismantle it," McHenry wrote.
McHenry has turned her attention to social and political issues more since she lost her job. She told The Federalist this week, "I'd rather do something that I believe and I love than just take a job reading copy or doing a sideline report. I feel like I've done that already … I want to enter a new arena."
While McHenry has no problem popping off about politics, she believes athletes should stick to sports.
"I think there's a disconnect with the viewers," she told the conservative publication. "I think that when you go on too much of a pioneering social justice stand, that's great … but sports fans just want to watch sports."