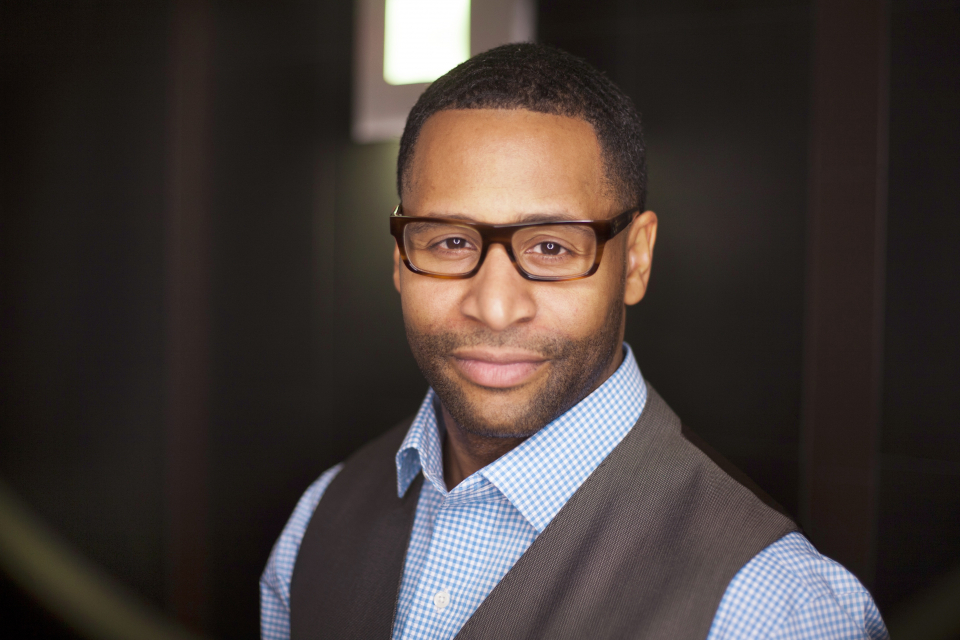 Mwata Dyson, M.D. started his career as an anesthesiologist. After finishing his residency at the University of Illinois, he worked a s a medical director in private practice for a decade and as an assistant professor in an academic medical center. "I started my exodus from seeing patients to studying health care systems … after completing my Masters in Health Policy and Management at Columbia University," says Dyson. " Since that time I've worked as a management consultant, public speaker and entrepreneur focusing my efforts on building sustainable, healthy habits and designing strategies that improve quality of care."
Here Dyson shares why he established NutriLounge, why healthy habits matter and the effects stress management and personalized care have on the mind and body.
What soured you to practicing medicine?
As I began to study health care systems, I became frustrated with the poor job we were doing keeping people out of hospitals. One of the most critical aspects of this failed system was the medical community's approach to disease management. It just wasn't driving the positive results I was hoping to see. There was too much focus on managing diseases with life long medications instead of engaging in discussions and developing action plans to design a healthier life. It wasn't a recipe for success to me. I wanted to find a more efficient and healthier option, so I focused my attention on the role nutrition, stress management, and personalized care had on creating healthy living.
What inspired you to become an entrepreneur with the NutriLounge?
I've always been entrepreneurial. I owned businesses throughout college, medical school and during my medical career. I started NutriLounge because I wanted a healthcare destination make-over. Doctors offices are often unfriendly, poorly decorated and people feel rushed in and out. Our mission was to create a destination that paralleled the ambiance of a luxury hotel. We designed an experience that invigorates the senses and accommodates socializing. So when you enter NurtiLounge you feel the tranquility of a spa combined with the atmosphere of a bar at happy hour, offering natural healing therapies where clients can escape the stress of their everyday lives.

Give an example of the results of someone using your services.
We've had great success helping clients lose weight, boost energy, and recover quickly from high-intensity workouts. One client comes to mind that lost nine pounds, kicked her diet soda addiction, sustained a high energy level at work without daily caffeinated drinks, and experienced less pain and soreness after tough workouts within the first month of working with us. These types of stories fuel us to continue our work of providing optimal cellular nutrition and meal plans that move beyond just weight loss but also help to revitalize the mind and body.
What is the biggest challenge educating people about their health?
We haven't had many challenges educating people on the importance of nutrition. I think most people understand the premise on eating healthy but what we add that's unique is our approach to help clients relieve toxins and revitalize the cells. Our diagnostic micronutrient testing, IV therapies, proprietary supplements, and meal plans are created to produce fast short term gains and long lasting healthy habits.
Why is health care so expensive?
The are numerous factors that inflate the costs of health care in the U.S. One of the factors readers can greatly influence is preventable conditions and avoidable care. Obesity, for example, accounts for over $200B a year in spending. The best way to get the spending under control is to get to weight gain under control. We hope to do just that. Engaging clients weekly for three months gives us the opportunity to understand the individual needs of each person and customize the best approach to help them get results.
How can people find out more about the services at NutriLounge?
You can learn more and make a reservation online with NutriLounge at www.nutri-lounge.com, call us direct at (888) 407-8883, and follow us on Instagram @nutrilounge_
Where do you see your business in the next five years?
In the next five years, we hope to have a significant impact on empowering groups of people to sustain healthy habits in neighborhoods, cities, and businesses. We plan on scaling this social movement with our growing list of nutritional supplements, workshops, lectures, demos, and nutritional consultations.