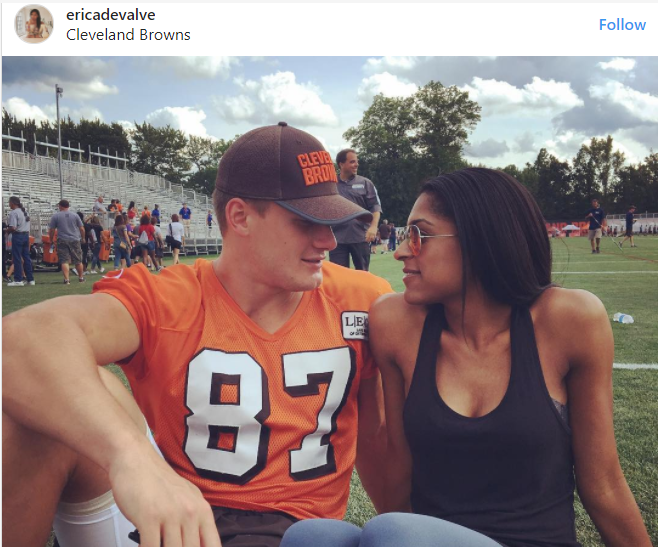 Caucasian Americans expressed self-righteous indignation at Colin Kaepernick for allegedly "disrespecting" the American flag last season. This season, however, not only have more Blacks been kneeling and sitting, some Whites have taken part in the rebellion on one level or another, to show their sympathy for Black Americans' plight in a racist nation.
On Monday night, 12 Cleveland Browns players took a knee during the national anthem prior to their game against the New York Giants.
"There [are] a lot of racial and social injustices in the world that are going on right now," rookie safety Jabrill Peppers said after the Browns' second win in two preseason games. "We just decided to take a knee and pray for the people who have been affected and just pray for the world in general."
Black players taking a knee might not be so surprising to people these days, but what Americans did take notice of was the first White NFL player joining his Black teammates in kneeling.
Seth DeValve joined his 11 teammates for a couple of reasons. One, the events of Charlottesville, Virginia, moved him. Secondly, his wife Erica is a Black woman and his children will obviously be biracial.
"I myself will be raising children that don't look like me, and I want to do my part as well to do everything I can to raise them in a better environment than we have right now," said DeValve. "So I wanted to take the opportunity with my teammates during the anthem to pray for our country and also to draw attention to the fact that we have work to do."
The Browns proceeded with the demonstration even though the head coach expressed his hope that no players would take a symbolic kneel during the playing of the anthem. But it was heartening to see, finally, a White player understanding and participating in the rebellion.