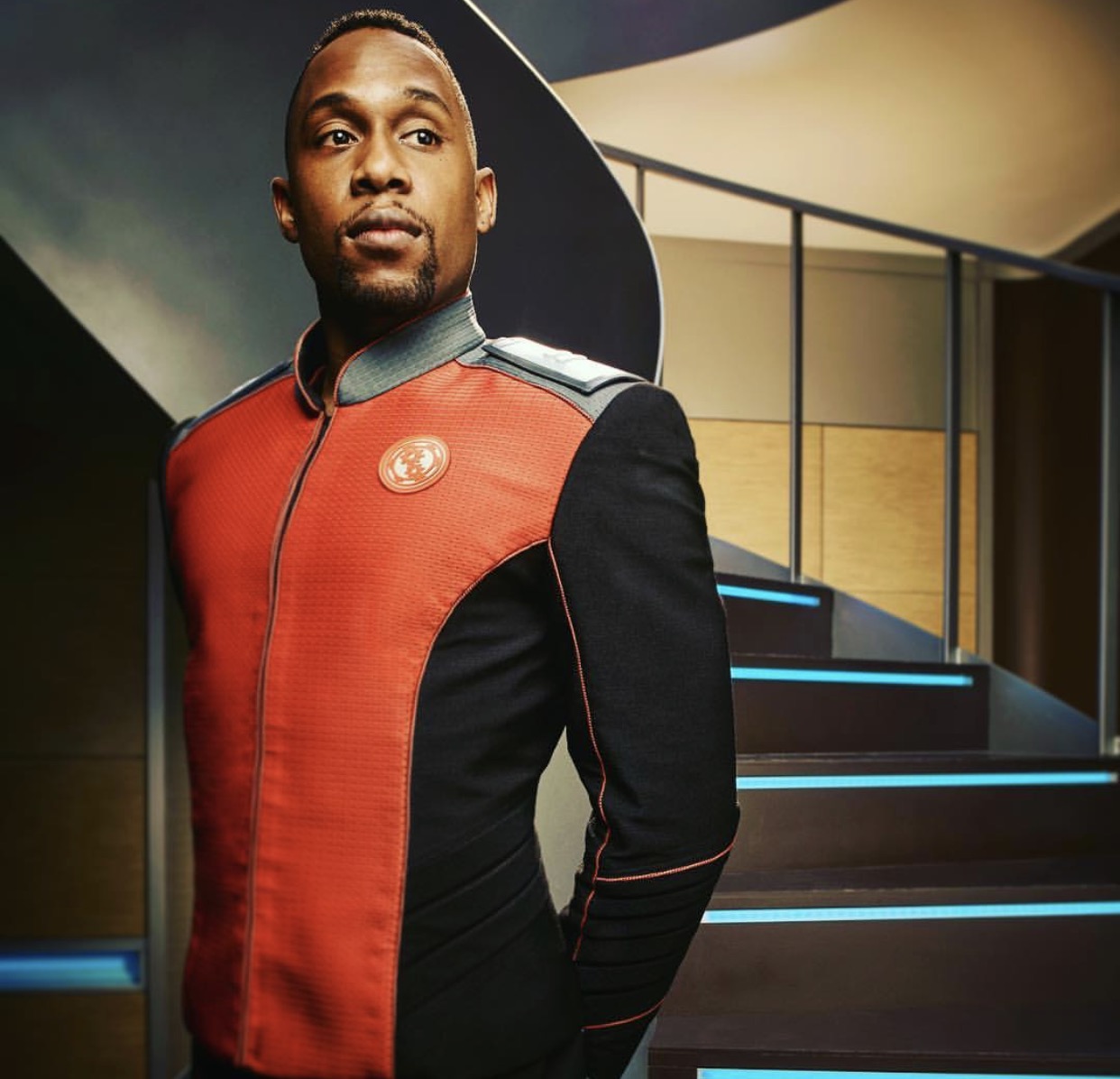 J Lee has spent the last 12 years navigating Seth McFarlane's world, from being a receptionist for the "Family Guy" show to starring in McFarlane's latest project, "The Orville."
Since taking a leap of faith and moving to Los Angeles with $200 in his pocket, the St. Louis native and accomplished pianist has lent his talents to not one but three of McFarlane's animated series. Lee worked as a writer for "The Cleveland Show" and supplied his vocals to "Family Guy," "The Cleveland Show" and "American Dad."
Set 300 years in the future, "The Orville" follows the adventures of the Orville, a not-so-top-of-the-line exploratory ship in Earth's interstellar fleet. Facing obstacles from without and within, Orville's motley crew of space explorers boldly go where no comedic drama has gone before.
Lee sat down with rolling out to talk about his artistry and new series. 
When did you become an artist?
I think I've been an artist, probably, my whole life. I started playing classical piano when I was 3. I did that all throughout my youth and in high school. I played at Carnegie Hall when I was 12 or 13. I went to college for classical piano at Indiana University and while I was there I started acting, got to the theater department and then came to L.A. after I graduated. I feel like I've been an artist my entire life.
Are you an actor who writes or a writer who acts?
Neither. I think I would just say I'm a creator. I like to create art whether that's playing piano or writing scripts or creating a character as an actor or producing shows or creating ideas. A lot of artists are multifaceted and they have different ways and different things to stimulate them so it's hard to say what I would consider myself. 
Tell us about "The Orville" and what we can expect from your character.
"The Orville" is a show coming out on Fox on Sept. 10 [that was] created by Seth McFarlane. It's [a show set] in the future in space. It's a show about people going to work that just so happen to be on a ship and we deal with issues and problems and family things we would deal with now. It's a dramedy [and] it's an hour, which is different for Seth. He's "Family Guy" and "American Dad" and "The Cleveland Show" in the half hour space so this is a new area for him. It's great! It's funny but it also has a lot of heart. I play Lieutenant Commander John Lamar, who's a navigator and engineer and my character was a part of the crew when Seth's character [Ed] gets the ship. When I first meet Ed, the new captain of the ship, I sort of take him in and size him up a little but then he quickly shows how great of a captain he is. I think it's going to be a really exciting and visually beautiful show.  I'm excited. I love going to work with everybody. The scripts are amazing. I used to write for "The Cleveland Show" and if I wasn't acting in the show, I would want to write for this show.
Your voice has been heard on some pretty iconic shows. What has it been like transitioning from animation to live action?
Well, when I used to work at "Family Guy" as a receptionist, one day they just came up to me and said, "Do you want to play this role?" It was for a Black leprechaun. I never considered myself a voice-over artist because I've seen what those really talented voice-over artists can do. [After I agreed to the character], they threw me in the booth and I just started doing that. That was completely unexpected but that just goes back to moving to L.A. You gotta go where you can find opportunities, you know? I never would've considered myself a writer had I not come to L.A. I never would've been doing voice-over work. I never would've opened and expanded a lot of talents that I have now had it not been for coming to L.A. and failing. I use that word "fail" loosely because there is no fail, you either learn or you win. But the transition is easy. If [the] scripts are good, it makes it much easier to act. I would say it starts with the page, so I think it's pretty easy.
From being a receptionist to playing a lead role, it seems like it has all come full circle for you. What do you want viewers to take away from "The Orville"?
I think just having a good hour of television. We live in a world now where you're binge watching everything and the future looks very dark and bleak. One thing with this show is it shows the future in a way that is [how it would be] if we figured some stuff out now so it's not just sort of a dark dystopia. As Seth says "fighting for food." I can't see another project where people are fighting for food in the future. ["The Orville"] gives some light and hope to the future. Hopefully, people can sit down for an hour and watch it, see a storyline that makes you think, makes you learn something and just have an overall good time watching television.
"The Orville" premieres Sunday, Sept. 10 on Fox.