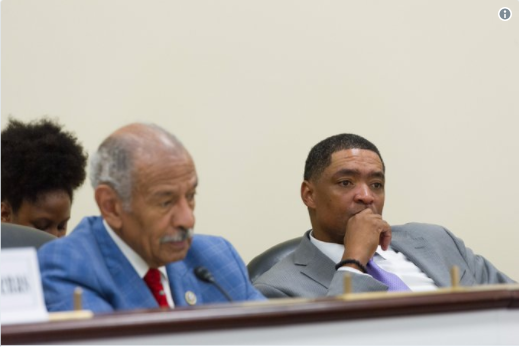 Congressional Black Caucus members have had it with President Donald Trump and his allegedly racist administration.
The CBC is enraged at Trump's lukewarm, disingenuous and morally equivalent response to the hate crimes against Blacks and Jews in Charlottesville, Virginia recently.
After an emergency meeting was called, the CBC is doubling-down on their efforts to #RootOutRacism in the White House and any other branch of the federal government.
CBC chairman Cedric Richmond is spearheading the campaign that will focus efforts on combating racist government official as well as racist policy.
"The people that work in the White House should not be white nationalists or white supremacists," Richmond said on a conference call with NBC News reporters Monday. "[Steve] Bannon is gone but you still have [Stephen] Miller and [Sebastian] Gorka and that still sends a horrible message and anyone else in the White House who shares those views."
Per Twitter updates, the following are the things the CBC is doing in what they call the @OfficialCBC presentation of #RootOutRacism:
Finally, reporters, constituents & former members of Congress have asked whether the CBC will call for @realDonaldTrump to be impeached.

— Black Caucus (@OfficialCBC) August 22, 2017
When members return to Congress in September, the CBC will have a robust discussion on #Impeachment.

— Black Caucus (@OfficialCBC) August 22, 2017
During the meeting, CBC members talked about how they were responding and/or wanted to respond to #Charlottesville. pic.twitter.com/zqOaMwOvgv

— Black Caucus (@OfficialCBC) August 22, 2017
Check out the rest of what the CBC is doing to root out racism in Washington:
After the meeting, the CBC decided to redouble its efforts to #RootOutRacism in regard to… pic.twitter.com/mIeydD4pf6

— Black Caucus (@OfficialCBC) August 22, 2017
…federal policy… pic.twitter.com/hk7LPanqIz

— Black Caucus (@OfficialCBC) August 22, 2017
…the @WhiteHouse… pic.twitter.com/BmIHNwqIPm

— Black Caucus (@OfficialCBC) August 22, 2017
…and federal property. pic.twitter.com/GmPbVtDi9j

— Black Caucus (@OfficialCBC) August 22, 2017
In regard to federal policy, CBC will continue to call @RealDonaldTrump's racist & discriminatory policies what they are. pic.twitter.com/pzoSat2aoz

— Black Caucus (@OfficialCBC) August 22, 2017
CBC members will also continue to introduce & sign on to legislation that helps folks that @RealDonaldTrump's policies hurt. pic.twitter.com/IbJdrZJDN6

— Black Caucus (@OfficialCBC) August 22, 2017
On 3/22, the CBC delivered a 130-page document to @RealDonaldTrump that included policy solutions for AAs. Link: https://t.co/M0QWJgzzmB pic.twitter.com/PNVP7R5YwB

— Black Caucus (@OfficialCBC) August 22, 2017
.@RealDonaldTrump & his Administration haven't responded to the policy document. They also haven't responded to multiple letters we've sent.

— Black Caucus (@OfficialCBC) August 22, 2017
A few months later, @RealDonaldTrump requested a follow-up meeting. We declined on 6/21 for these reasons: https://t.co/emjn81IDMK pic.twitter.com/SiGEgLJ9Rt

— Black Caucus (@OfficialCBC) August 22, 2017
In regard to the @WhiteHouse, the CBC called again on 8/15 for @RealDonaldTrump to fire Bannon, Miller & Gorka. LTR: https://t.co/z2bzqWwmop pic.twitter.com/BJ7Gc9dvPp

— Black Caucus (@OfficialCBC) August 22, 2017
Three days later @RealDonaldTrump fired Steve Bannon. #RootOutRacism pic.twitter.com/SyUEgY7mC4

— Black Caucus (@OfficialCBC) August 22, 2017
Steve Bannon is out of the @WhiteHouse. But is he out of @RealDonaldTrump's inner circle? pic.twitter.com/DLS2ORSKB9

— Black Caucus (@OfficialCBC) August 22, 2017
.@RepBonnie introduced a resolution w/ 2 other Democrats calling on Congress to censure @RealDonaldTrump for his #Charlottesville comments. pic.twitter.com/U2wwYCylZA

— Black Caucus (@OfficialCBC) August 22, 2017
CBC has also filed an amicus brief in a case before #SCOTUS on MS's inclusion of the Confederate emblem in its state flag. #RootOutRacism pic.twitter.com/tX41xRxHFh

— Black Caucus (@OfficialCBC) August 22, 2017
.@CoryBooker & @RepBarbaraLee are introducing a bill to remove Confederate statues from the U.S. Capitol. pic.twitter.com/36M9d34FTP

— Black Caucus (@OfficialCBC) August 22, 2017
.@RepYvetteClarke introduced a bill to remove Confederate names from 10 U.S. military bases & other property controlled by @DeptofDefense. pic.twitter.com/QGkTwjo6yo

— Black Caucus (@OfficialCBC) August 22, 2017
The bottom line is this: We shouldn't honor #Confederate traitors to our great nation. #RootOutRacism pic.twitter.com/75sw7w7w68

— Black Caucus (@OfficialCBC) August 22, 2017
After #Charlottesville, @BennieGThompson asked @RepMcCaul to hold an in-depth hearing on #WhiteSupremacist groups but @RepMcCaul refused to. pic.twitter.com/uboEY3DJve

— Black Caucus (@OfficialCBC) August 22, 2017