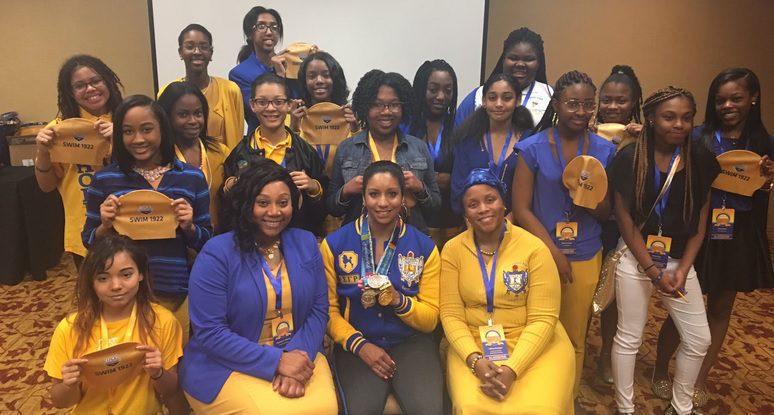 Maritza McClendon is a part of history once again.
In 2004, McClendon, then Correia, became the first Black woman to make the American swim team and medal at the Olympics. This weekend, her sorority Sigma Gamma Rho Sorority, Inc. becomes the first Black organization to sponsor an international swimming championship at the Federation Internationale de Natation (FINA) biennial World Junior Swimming Championships. The six-day meet that spans from Aug. 23-28 is on pace to host more than 1K swimmers from over 100 countries.
"When we started the partnership between USA Swimming and Sigma Gamma Rho Sorority in 2012, we really didn't know what to expect. It was one of those things where we saw a need to educate our community about water safety. Then we kind of just let the program build to see where it went from there," said McClendon in an exclusive interview with rolling out. 
Reportedly, 64 percent of Black and Hispanic children don't know how to swim. To combat this issue, five years ago, USA Swimming and Sigma Gamma Rho Sorority began hosting clinics and speaking events to raise awareness. That eventually grew into this groundbreaking sponsorship.
"It just shows the commitment that Sigma Gamma Rho has to this initiative of raising awareness [that] we can all swim. It doesn't matter the color of your skin, but you should definitely know how to swim. So again, I think this is just raising the bar and kudos to Sigma Gamma Rho Sorority for being so involved and wanting to take that another step further," McClendon said, who has given more than 2,500 swim lessons herself throughout her career.
Black swimming has evolved to the development of majority Black swim teams now. Every February in Washington D.C., there's a Black History Month Invitational Swim Meet. There's also the National Black Championship Heritage Meet on Memorial Day weekend in Cary, North Carolina.
Since her life-changing experience in Athens, Greece in the summer of 2004, McClendon has seen the sport and her life grow before her very eyes. After turning professional the same year she went to the Olympics, she retired six years later after hurting her shoulder. She later married former UGA Track & Field thrower Chad McClendon and the couple now has a 5-year-old son and a 3-year-old daughter. She now works as a full-time marketing manager at Carter's in the Atlanta area when she's not traveling the country for speaking engagements and clinics as an Olympic pioneer. Perhaps the greatest moment for McClendon witnessing the growth of the sport in the Black community, though, came in the 2016 Rio Games when Simone Manuel took home an individual gold.
"That was everything. I think that just watching her, I had tears in my eyes. Watching her complete a race and get a gold medal. With her reaction, I think everybody on the other side of the T.V. was just crying too with her because we shared the excitement from her expressions. The minute she mentioned my name, I think my jaw dropped to the floor, I couldn't believe it," McClendon said.
McClendon said she's been proud of Manuel since she met her in 2009 when the now 21-year-old would've been 12 or 13. Manuel posted on the Team USA Swimming social media accounts that she's in attendance at this weekend's meet, as well.
The world junior championships are being hosted at the Indiana University- Purdue University Indianapolis campus.