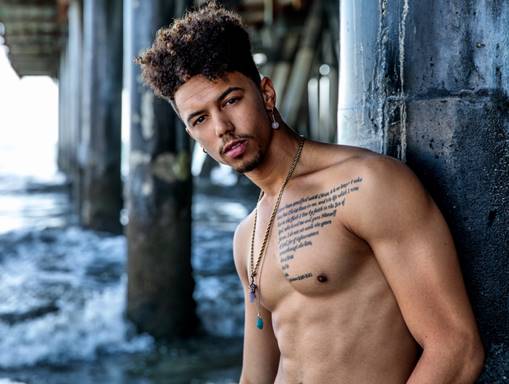 Dominique Columbus is one to watch. When he was 18 he decided to shift his focus from amateur boxing to building a career in television. He enrolled in a theater program and various acting classes and immersed himself in the world of film and television, both in front of and behind the camera. Almost two years after signing with his agent, Columbus booked a role in a Golden Globe Award-winning drama, "Ray Donovan."
Columbus stars in the Emmy nominated show, "Ray Donovan," which made its return on Showtime for its fifth season earlier this month.  Later this year, the California native can be seen opposite Johnny Depp and Forest Whitaker in the film, LAbyrinth, about the murders of Tupac Shakur and Notorious BIG.
Columbus recently sat down with rolling out to discuss his latest projects.
Tell us what your first day on set was like.
The first day on set was literally the best day ever. My first day on set was actually on my birthday. When I came to set, the way they welcomed me in, they had a birthday cake for me and it was just a "this is not real" type of feeling. The energy is absolutely amazing, I'm surrounded by these elite actors who have been doing this for a very long time so being around them only forced me to elevate my game. It was just amazing.
Clearly, you proved yourself last season because you're back this year for season five. What can we expect from your character, Damon, this season?
Without giving too much away, I would say to just expect a lot of growth. Damon is no longer the same kid that you guys were introduced to in season four. He's had a lot of growth this season and now he has something to fight for. 
Other than Damon's growth, what else are you excited for fans to see this season?
Honestly, I know the biggest thing fans are going to want to see this year is how Abby dies because nobody knows right now and [the viewers] are so shocked after watching the first episode, so I think that's one of the biggest things. In terms of my character, I know everybody's going to want to see what I'm going to do at this next level that I'm now at.
In addition to a recurring role on "Ray Donovan," you are sharing the screen with Johnny Depp and Forest Whitaker in the film, LAbyrinth, about the murders of Tupac Shakur and Notorious BIG. 
That film was a very interesting experience. The director, Brad Furman, he's been like a mentor of mine. My mom actually introduced me to him. Years down the line, he told me I have this new film I'm doing called LAbyrinth and I want to bring you in for an audition for one of the characters. [After auditioning and booking the role], being able to go on the set and work with Johnny, it was different than "Ray Donavan," just a whole other energy. Me and Johnny [while filming] one of our scenes, we had a lot of power talks. One of the greatest things about Johnny is [that he leads] by example in my eyes because of the way he treats everybody with respect and love, there was no ego. This is what people at this level are supposed to do. You're supposed to inspire, you're not supposed to have this ego or mistreat others. It was great to experience that on this set and "Ray Donovan."
The release date for Labyrinth has not been announced. Tune in to see Dominque Columbus on "Ray Donovan" Sunday nights on Showtime.