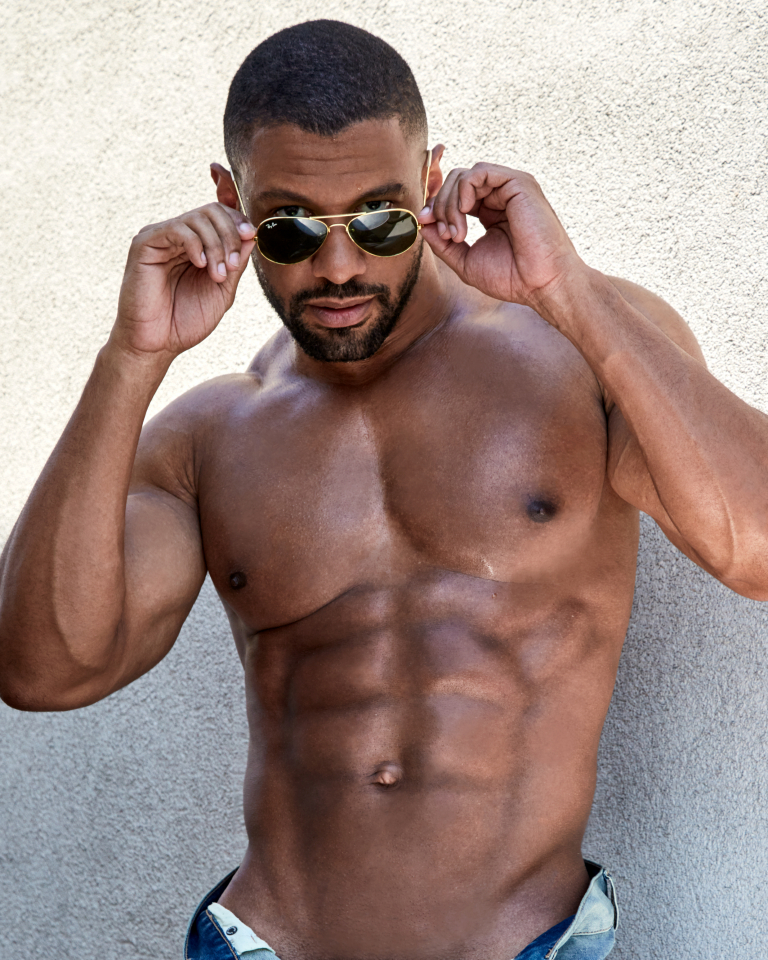 How did you get into the modeling business?
My interest in modeling piqued when I was in college. We had a campus organization called Mahogany Modeling Troupe in which we put on fashion runway shows twice a year. I enjoyed the rush of the catwalk so much that I began to seek other aspects of modeling such as photography and print work. In 2002 at age 22, I was signed to a modeling agency in Niagara Falls, Ontario, Canada. However, because I was living in Louisiana at the time, I was just a model on paper as I didn't get any booking opportunities. I opted not to renew my contract once it expired and I've been modeling freelance ever since. I chose to "retire" from modeling at age 30 because I didn't see the point in trying to compete with kids half my age. However, at age 35, I started getting the itch again and decided to come out of retirement to show these kids how it's done. And as you see from my photos, I'm not afraid to show skin. Why not? I'm in the best shape of my life. As long as everything I do remains tasteful, which is very important to me and to my personal brand, I have no problems with artistic, sexy images of myself. I think it's right on trend these days as we continue to shatter this idea that male nudity is taboo. It's okay for men to be sexy, too.
What is your educational background?
I graduated from Louisiana Tech University with a Bachelor of Science in computer information systems. However, I am a self-taught graphic designer and have been working in the design field for over 15 years. As of this interview, I work full time as a senior graphic designer for Bank of America, where I've been for seven years where I work primarily with confidential, branding materials.
What gives you the confidence and courage to follow your dreams?
Well, I guess you could say it all begins with a very low level of complacency. While I love what I do in graphic design and am very proud of my accomplishments, I feel there is more for me to do here. A higher purpose to be fulfilled. A bigger impact to be made in the world. I recognized at a very young age that I am an artist first. However, it took me a few years to really own that and realize that even at the ripe old age of 37, it's never too late to pursue one's dreams.
Tell us about your upcoming male revue gig.
That was quite the unexpected surprise. I attended a charity pool party event a few months ago and was scouted by one of the dancers in the show, unbeknownst to me at that time. This dancer reached out to me later on social media and asked me if I wanted to join the show he's in. I met with the owner of the show, Daniel Phillip, and there was an instant kinetic connection. Since, we've been in rehearsals for the last several weeks. The show, called "Secret: A Male Revue," is slated to start in NYC in late September. It is an upscale, Vegas-style production similar to Chippendales. But the best part of the entire venture is that it will benefit a number of charitable organizations that directly or indirectly affect women. Our motto is: We are not strippers. We are men of charity. More information about the show can be found at www.exploresecret.com.
Tell us more about your music and how you feel about the state of urban music.
I think I can pretty much sum up that very loaded question with one hashtag #SoulMusicMatters. Lately, I've been hearing all this talk about how r&b music is dead and gone forever. I refuse to subscribe to that. Yes, the music industry has changed dramatically over the years. So has the demographic of music lovers and music buyers. But to completely deny such a rich and passionate genre of music that allows people to deal with real, human emotions just because it isn't "pop" is a severe disservice to humanity. We need soul music. Especially in these days and times. Everyone seems so concerned with being "current" or "relevant," they forget that being "timeless" has longevity. And truth be told, most of the pop music coming out now all sounds the same to me – uninspiring and lacking in artistry and imagination. It is my mission to bring artistry back to music. My favorite band right now is a soul trio from L.A. called Moonchild. Look them up if you don't know. This is truly the purest soul music I've heard in a very long time, if ever. This is the type of music you can expect from me in the very near future. I call it "new age soul." I am currently working on an EP tentatively titled The New Age as an introduction of Freddy Rio to the #SoulMusicMatters movement. Then, I plan to go immediately into writing and recording my debut album. Stay tuned to www.freddyrio.com for future updates.
What advice would you give college students as it pertains to following their dreams?
That's another big question. My late grandmother used to always tell me to choose my friends wisely. Another wise friend once told me if I surround myself with 9 broke people, I'm sure to be number 10. The best advice I can give our youth is. The company we keep is a reflection of our own character. We are all products of our environments. Surround yourself with positive people, uplifting people, success people. Choose friends who support you, edify you, and push you to be your best self. Don't be afraid to hold your loved ones accountable for the energy they bring into your space. Always know your worth and honor it. If something (or someone) doesn't honor or empower you, discard it or distance yourself from it or them immediately. Finally, the difference between a goal and achievement is a strategy. Having goals and dreams is great, but if you don't have a strategic plan of action, dreams don't become reality. Do your homework. Learn the ins and outs of whatever field it is that you're passionate about. Always have a plan and whatever you set your mind to achieve, commit to it.
What has been the most challenging thing you had to overcome?
In 2013, I suffered from a severe depression. It was the lowest point of my life, truly my rock bottom. I voluntarily quit my job, against my better judgment at that time, to pursue other ventures. Things didn't quite go as expected. I didn't have a sound strategic plan. I was in dire straits financially and on the verge of losing my apartment and everything. There were days I didn't get out of bed despite not sleeping well at all. However, for a while, I was able to publicly masquerade what was really going on with me until my best friend finally called me out and intervened. He forced me to reconnect with my inner strength needed to scratch and claw my way out of the hole I was in. I did the work. I returned to my job and started over again. This time with a new mentality. Having come back from rock bottom, I truly felt like I could accomplish anything. It was on and ever upward from there.
What does success look like to you?
For me, there isn't a financial figure or title that defines success. Success isn't the destination. It's the journey there that defines the legacy we leave behind. Knowing that once I achieve a goal that I have the power, strength and tenacity to challenge myself to conquer the next higher goal is what success looks like to me.
Where do you see your career in the next five years?
In five years, I see myself just reaching the prime of my career. I see the aforementioned success going beyond my wildest dreams. In five years, I see myself long removed and evolved from the 9-to-5 job scenario. And, I see myself being financially free; wealthy even. In five years, I see the Freddy Rio brand as a successful model, singer, songwriter, producer, actor, activist, and entrepreneur.
What are the best ways that people can follow your career?
My official website is www.freddyrio.com. There you will find links to all my social media outlets. My preferred social media platform is Instagram (@freddyrio). Though I am also on Facebook (@freddyrio), Twitter (@TheFreddyRio) and Tumblr. For bookings or business inquires, please email [email protected]