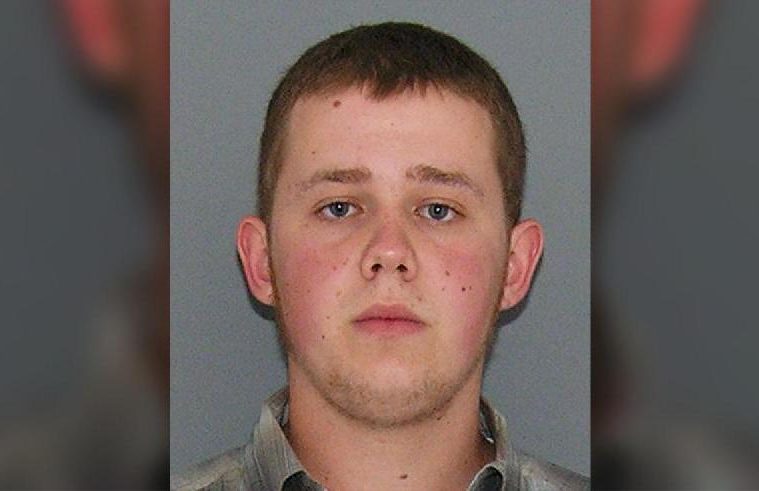 At last, there's some development in the case of Deandre Harris, the young Black male who was beaten senseless by a gang of White supremacist savages in Charlottesville, Virginia,  a couple of weekends ago.
A video captured a group of White men (including 18-year-old Daniel Borden) savagely pounding on Harris with metal flag poles, umbrellas and plastic shields, reports the Virginia Pilot.
The footage shows a bloodied Harris collapsing multiple times as he tries to scurry away from his racist attackers.
This is Harris' GoFundMe page, which shows the aftermath of his beating by the group of racists.
The baby-faced Borden, who was charged with malicious wounding in the assault on Harris, has a history of hate.
Earlier in a parking garage in #Charlottesville – white supremacists beat this black kid w/poles. [Photo for by @zdroberts @NationofChange] pic.twitter.com/LLPBPjb8si

— Zach D Roberts (@zdroberts) August 12, 2017
A classmate at Borden's Ohio middle school told authorities that in 2012, Borden held a knife against his face and called him "Jew Boy" because he had a big nose, and often drew swastikas, according to WCPO-TV in Cincinnati.
The classmate also reported to police that Borden had claimed to belong to a gang called Brothers of Confederacy.
WATCH: Man fired at another person in Charlottesville on Aug. 12. We handed 📹 to LE agencies. The man has been arrested & charged w a crime. pic.twitter.com/0vrXq4zNC0

— ACLU of Virginia (@ACLUVA) August 26, 2017
Richard Wilson Preston was charged with discharging a firearm within 1,000 feet of a school.
The arrests came amid heightened scrutiny of the police over its response to the violence in Charlottesville.
The violence two weeks ago culminated in a Nazi sympathizer plowing his car into a crowd of counter-protesters — killing Heather Heyer, 32, and wounding 19 others. The country continues to reel from that grim weekend, especially after President Donald Trump publicly sympathized with many of those who marched with the White supremacists.