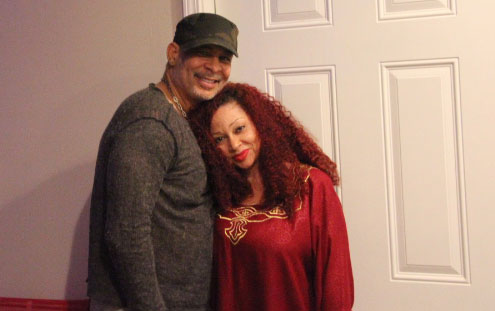 Jessica Holter, aka "The Head Doctor" is the creative genius behind the ensemble performance group known as the Punany Poets. The group was featured on the ground breaking HBO series "Real Sex" and continues to perform across the country. The "Punany Playhouse" is the latest project that Holter is working on that features not only performances of Black Erotica but also real talk about sex, relationships, and the Black community.
Rolling out was present at the private event "Dinner with the Head Doctor" as Holter led an adult conversation about sex. The gathering was intimate and dinner guests shared experiences, and beliefs that showed that when it comes to sexuality you can't judge the Black community by its cover. For some, it was a first time experience to talk in a group about intimacy, but everyone was comfortable and safe so the conversation flowed.   
The conversation then turned to women who have secret lesbian encounters in secret. The term "down low" lesbian was raised and brought out giggles and surprising confessions. One woman stated she had plenty of girlfriends in relationships and marriages that have female lovers that their husband knows about. but "He does not have an issue with it because they engage in threesomes together with the other woman."
Holter and the group were asked: "Does your current sexual partner define your sexuality for life?" The assembled guests responded "no" simultaneously, which then led Holter to talk about sexual exploration by young people. "From the ages of 12-15, many adolescents experiment sexually in some way. This is in part because of hormones and the developing adolescent mind and body. This sexual experimentation does not have to be necessarily same-sex, but it does happen," Holter said.
One guest in attendance agreed and reiterated that "A parent cannot choose the sexual identity or preference for their children," said Christopher Pearlman. His daughter came out very openly about her identification as a lesbian and he accepted her choice. Many people are familiar with his actress daughter, Raven-Symoné, from "The Cosby Show," "That's So Raven" and her stint as a co-host on the talk show "The View."