Best Buy faces $250K fine for selling $42 bottled water during Hurricane Harvey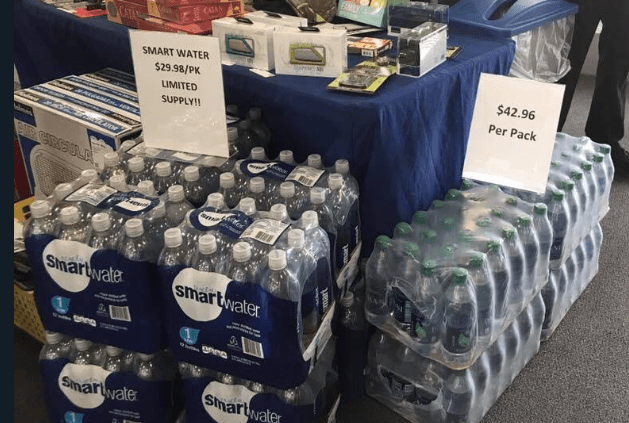 In a time of tragedy, employees at a Best Buy in Houston decided to exploit those in need. The Best Buy in Cypress, Texas decided to sell bottled water for $42 a pack. They would later lower the price to $29 per pack.
Photos of the price increase went viral and Best Buy's corporate offices was forced to respond. "The pricing was clearly a mistake on the part of a few employees at a single store."
However, Best Buy could be fined for their actions. In Texas, price-gouging is illegal during a natural disaster. Violators could face a fine of $250k.
The price-gouging by Best Buy is a horrible example of how a company can take advantage of people during a desperate situation. Best Buy continues to face backlash on social media.
Shame on "BEST BUY" for selling cases of water for $42.96. to Hurricane Harvey victims. I will NEVER shop at Best Buy ever again!

— Connie Aiple (@CAiple) August 30, 2017
The Best Buy price gouging thing just shows how much of a rip off individual bottled water prices are every single day.

— Brandon Florkey (@BrandonFlorkey) August 30, 2017
Aaaaand my crystal ball says Best Buy will be randomly donating a million to Harvey victims shortly. Just a guess. #MAGA

— Sea of Politics 🌊 (@seaofpolitics) August 30, 2017
Best Buy apologized after its Houston store raised the price of bottled water to $43 as Harvey hits the area. They proved geeks were losers.

— Lue Hunt (@huntlue) August 30, 2017
Best Buy sells water for $42 a case to Harvey victims in Houston! Thanks BB

— Tom Brown (@TominAustin) August 30, 2017
@bbfb_bestbuy employees sell cases of water for $42 in the aftermath of Hurricane Harvey amid fury at price gouging. #HarveyFlood

— Green Product Junkie (@GreenProdJunkie) August 30, 2017