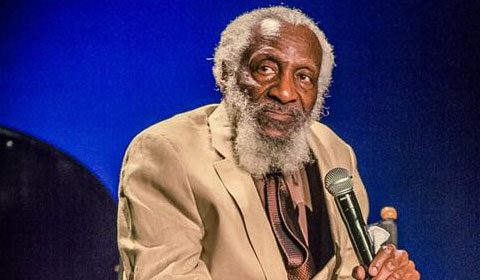 Dick Gregory will always be remembered for his impact on entertainment, civil rights, and Black health. But while the world got a chance to witness the impact of Gregory's greatness, his family knew him as a man who balanced his fight for justice with the love he gave to his family.
Gregory's son, Yohance Maqubela, recently spoke with rolling out to share the lessons he learned from his father and why he will be remembered for generations to come.
Being an observer of Dick Gregory's work, I know how his words have impacted us all. But what did you learn most from him, being that he was your father?
It's hard to pinpoint, because obviously as dynamic as my father was to the world, he was ten times that in the home. Because everything that he did in and for the world, he made sure it was front and center in the house. It wasn't just an act or opinion. This was how he lived his life and raised his children, but then on top of that, he was a dad. He was on the road an excessive amount to stand up for those causes that he believed in, but when he was home he was a dad. I would say that the thing that I learned the most is how the universe operates. That God is real. God is love and when you commit yourself to righteousness, everything else falls into place. No weapon formed against me shall prosper. We talked about Karma. We talked about everything happening for a reason. A lot of these things are just rhetoric to folks. We're told to have faith. We're told to believe. Every sacrifice that my father made whether it was financial in stepping away from the comedy and entertainment to support civil rights, whether it was in the business world where he was one of the leading entrepreneurs in the area of health and nutrition and not compromising his values. One of the things I talk about with my dad is that as much as he was battling on the front lines for human rights, his spiritual intelligence was through the roof. He wasn't about any particular religion. He was clear religion was man-made, but understanding how the one universal God operated and that we knew that was critical. So when he would get off the road he would come home and we would all get together in my parents' room and we would pray and meditate for hours. Every day on his birthday almost without fail he would fast for at least the entirety of his birthday. Often times not only would he not eat or drink, he wouldn't speak either because he was in deep meditation [or] spiritual reflection.
How did your father change how Black comedians were perceived?
It was his fame as a celebrity which had those in the civil rights movement to reach out to him to come on board for the rallies. When Dr. Martin Luther King Jr., and Medgar Evers, and Malcolm X reached out, he was one of the premier Black entertainers. When he started off as a comedian, he always included racially charged and politically astute comedy within his routines. He was the first black comedian to work in a club [filled with] white audiences and not be afraid of talking about segregation and the KKK. He used comedy as a way to open people up and then when you were wide open, he would go in there and target your mind with incredible knowledge about the advancement of not just our folks, but of humanity. Even when he left the stand-up routines of comedy, that's something that he kept with him when he moved into civil rights and would give lectures and rallies and demonstrations. So much so that you could go to a Dick Gregory lecture and go to a Dick Gregory comedy show later in the year and not be able to distinguish one from the other. Because it was always comedy in his lectures and it was always political astute within his comedy routines.
How did Dick Gregory's ground-breaking book Nigger reveal his truth and the realities of being Black in America?
It was critical, because obviously you're struck by the title. Just like his most recent book which he just finished about a month before he passed called Defining Moments in Black History: Reading Between the Lines. And on the cover 'Black' is crossed out, so it catches you just like the title of Nigger catches you. But at the end of the day, Nigger was his autobiography. He was telling his story of being a poor Black boy growing up in poverty and a single-family household. This is why that's important, even more so than the title. My father sacrificed everything. He didn't lose it, he gave it away in the stance of what's right. When he chose to join Dr. King and Medgar Evers, Hosea Williams, and James George, and so many others, he literally put his life on the line. Many people don't know this, but my father survived three assassination attempts. He was shot during the Watts Riots. There have been threats made against family members that had to be investigated by the police. He was right there at Medgar Evers' home days before he was murdered. So he constantly  put himself in the fire. He chose social justice over comedy, but we don't think about what comes along with that. Being the father of 10 children, he provided shelter, food, clothing, and college tuition. Many of my siblings also have advanced degrees. So within his autobiography, Nigger and then later Callus On My Soul, it really describes the inner workings of a man committed to human rights, social justice and the universal principle of love.
What should the future generation know about Dick Gregory's legacy?
He did so much work in the Black community because he realized that you can't help somebody else until you are whole and healthy yourself. So, that's where it began, but it didn't end there. My father was the first person to be arrested for demonstrating in front of the South African Embassy against the Apartheid. He also present during the 1980s when there was horrible famine in Ethiopia. He took his time, energy, and resources and spent months in Ethiopia working directly in release camps and also with the top medical directors in that country to take his nutritional knowledge and nutritional products to help in hunger relief. He also protested and spent a year fasting in Iran. Literally dropped to below 98 pounds in Iran in the late 1970s early '80s protesting. He was the person that was responsible for getting those hostages released. In the 80s, he also spent time in Northern Ireland at the request of those members fighting for the end of colonial rule of the British Imperialism. He also did incredible work fighting against the Vietnam War and standing up against imperial oppression around the world. So the important thing that young people should know today is that you should stand up for your beliefs. If you've ever been moved, touched, or motivated by the words of Dick Gregory, by the writing of Dick Gregory, by the albums of Dick Gregory, by the videos of Dick Gregory and you want to honor him, please take action. Please go forward in the areas that my father stood for and represented. Whether it's being a part of the national Black Lives Matter movement or volunteering your time at a local school or soup kitchen, just be involved. Continue that legacy which is lifting the human spirit and the human condition, and that's how you honor my father.