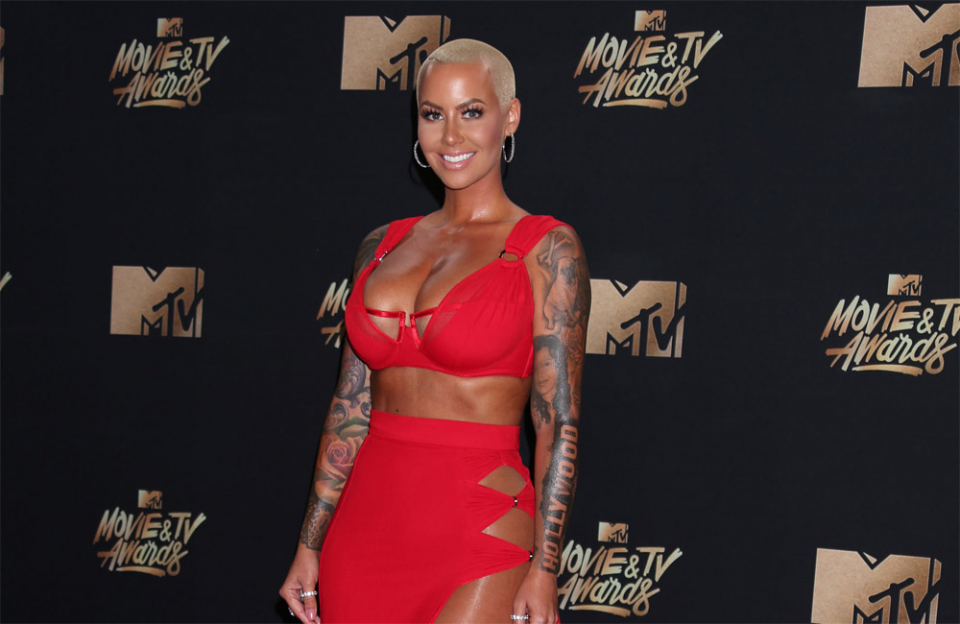 Amber Rose has forked out $50Kon an 18-karat promise ring for her rapper beau 21 Savage, which is full of white diamonds and red rubies.
The 33-year-old star purchased the gold eternity band for the 24-year-old rapper, which features white diamonds and red rubies that spell out "Loyalty 21."
According to TMZ, Ben Baller hand delivered the IF & Co. ring so that 21 Savage, whose real name is Shayaa Bin Abraham-Joseph, could wear it at the MTV Video Music Awards last Sunday, Aug. 27, 2017.
Amber and Savage appeared to have a great time at the ceremony at The Forum in Inglewood, California, and she posted a number of pictures of the happy couple embracing.
She captioned one image: "Get you someone that looks at you the way I look at him."
In another caption attached to a picture of Savage grabbing hold of her butt, Amber wrote: "It's all urs [sic] baby."
Amber also branded them "sweethearts" and admitted she couldn't wait to get home to have some alone time with her man.
She wrote: "Imma [sic] pounce on him as soon as we get home."
Last month, the star admitted she was "in love" with Savage and couldn't wait to marry him.
The model also previously gushed about how "perfect" Savage is.
She wrote: "It's pretty amazing waking up every morning feeling love like this. I've cried endlessly and been hurt a lot in my life, I've been abused, talked to like I wasn't s—, been gaslighted and s—shamed by men that I once loved and cared about.
"So I'm so thankful that God brought this amazing person in my life who genuinely has my back and is ready to 'pull up' to defend my honor by any means. Maybe he's just as broken as me and that's why we're perfect for each other but either way, he's not going anywhere and neither am I."