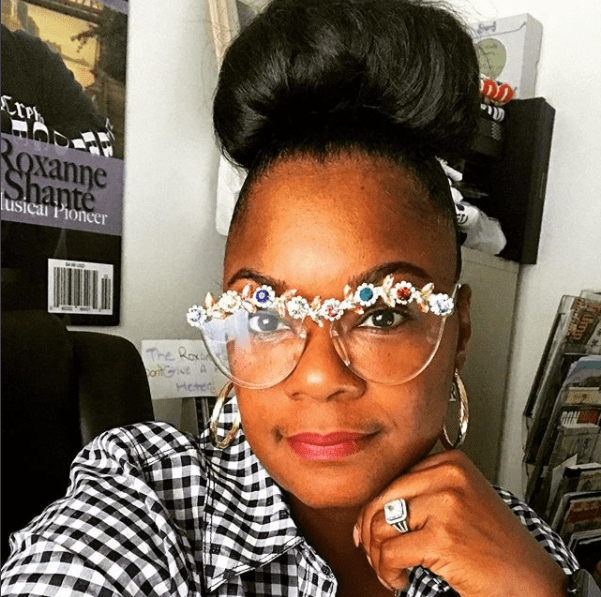 Roxanne Shante is a pioneering female rapper who rose to fame during a time when it was unheard of for women to be in the rap game. Hailing from Queensbridge, New York, she made her mark early on as a battle emcee, battling (and winning too) against all of the major rappers at the time. Starting as a preteen, she honed her skills at battle rap contests throughout the city and would also earn income for her family in the process. She became known for her brash and bold style, calling out more well-known rappers such as LL Kool J, RUN-D.M.C., and more. And, many may not know this, but she started the very first "hip-hop beef" when she started and ended the Roxanne wars (google it) with "Roxanne's Revenge."
Shante and her Juice Crew are bringing their talents back to the stage this Labor Day weekend at Chene Park in Detroit for the Return of the Legends, The Juice Crew Reunion. She's bringing along with her Kool Moe Dee, Craig G, Masta Ace, Kool G Rap, Big Daddy Kane, MC Shan, Marley Marl, and Biz Markie.
Rolling out got the chance to speak exclusively with Shante about her upcoming concert, the Roxanne wars, her newly released biopic that's coming to a big screen in December and also all of the good work she's currently doing in the community to give back. Check out the exclusive interview below.
Many people nowadays hear rap beefs and automatically think: here we go again. Not really giving it any thought to where the hip-hop beefs originated from. Some could say you invented hip-hop beef with the Roxanne Wars — give us a brief history of how it all went down.
I was a well-known battle rapper before I became a hip-hop artist, I started as a preteen. And they would actually have these battles in New York City where the whole hip-hop [scene] started. They would have battles from borough to borough and my mom and my aunt would actually take me around to these different battles. It started literally becoming a source of income for my household in terms of prize money. So, whenever we would find out there was a battle, then that's where I would go. By the time I became 14 years old, I was already well known throughout the city as a great battle rapper. The opportunity came for me to do "Roxanne's Revenge," which was just a simple record that I did for Marley Marl – I never thought that it was going to turn into a career or turn into this big Roxanne phenomenon. For me, it was just laying freestyle over some beats.
You were the inventor of hip-hop beef with the Roxanne Wars, is that correct?
Yes. Absolutely. A lot of people say "Shante, we find that you're truly humble," and I'm not one to say, "You know I'm the first, and I did this, and I did that," I kind of let history speak for itself even though sometimes history can be misquoted. But, yeah, as far as battle rap comes, people will say, you know what? I remember the Roxanne Shante wars, I remember the whole Roxanne Wars. Or they'll say, I remember she was the first female rapper that came out that was making all these different records about the fellas and people making different records about her.
We can see how it all plays out in your biopic that debuted during the Sundance 2017 Film Festival. Tell us what it was like reliving your experiences.
Some parts were a little difficult for me to relive because the Roxanne Shante story wasn't an easy one to be told. It wasn't easy to relive because I had [gone] through a lot. I was going through a lot off stage before I was even placed on-stage. So, for me, there were some days that were difficult, but there were some days that I took a lot of pride in being on set and watching it be replayed. The actress, Shante Adams did a wonderful job, she was phenomenal. Everyone who's in the movie, Nia Long, Mahershala Ali, I was surprised myself to see everyone who wanted to be involved in the project. Because everyone wanted to do it, it turned out to be great. Most people would say that their life is a movie. I can literally sit back and say, well mine really is a movie.
Is there any talk of the movie coming to the big screen? 
Yes. It gets a national release on December 1.
You're from Queensbridge and started your rap career at a very early age. There was no blueprint for what you were doing — you were it. How did you emerge so brave and bold and have the confidence to pull it off at such a young age?
I think what it was, was that I didn't come into the industry to be a female rapper, I came into the industry to be just a great rapper, not to be a great female rapper. So, I was just following the greats that came before me. I was looking at your Grandmaster Caz, your Furious 5, your Fearless 4, just looking at those who I considered to be great before me. So, I just wanted to be a great rapper. It wasn't until after me that they came up with the title great female rapper. Everybody else was just an extension of a group, there weren't any solo artists that you could say, 'You know what? That's who I want to be like.' There was no female that was on her own. So, I just wanted to be like the fellas. But I never wanted to be a fella. I wanted to be one of the boys, but I never wanted to be a boy. I took pride in still being a girl but wanting to be as hard as the fellas.
Now, everybody knows you were a part of the Juice Crew with Marley Marl, then you branched off on your own and eventually retired at age 25. You focused on education and went on to get a Ph.D. What have you been up to since then?
What I do now is I have a non-profit organization that I run out of Newark, New Jersey, which is actually called "The Mind Over Matter Program," where I take young girls that are having difficulty as far as high school — they're called your "at-risk" girls — and I make sure that they graduate. My program has now been responsible for over 528 high school graduates. We have 14 valedictorians. This year alone we had 131 graduates, 4 valedictorians, and 2 salutatorians, and these were girls that were at-risk. To go from at-risk to valedictorian is a phenomenal feat. That means that they weren't just good enough to graduate, they were good enough to represent their graduating class in every aspect. So, I take a lot of pride in that. I do it from a viewpoint of 'I've been through this. Let me let you see how this can be.' I took $6 worth of notebooks and turned it into $3.3M, and I still perform every weekend. And they [the girls] look at me and say "Oh, if Ms. Shante can do it, then I know I can do it too." I [also] do what's called "reintrification." A lot of people complain about gentrification going on in all these urban neighborhoods. But, I'm from the 'hood. So, when I move back, it's just called "reintrificaiton," that's like my own Roxanne Shante word for it. So, I moved into a "hot zone", that's where I live right now. And that means helicopters are flying, sometimes bodies are dropping, things are going on, but I live in that area so for those children who are struggling to get out they can identify with success living right around the corner from them.
Kudos to you for all you do in our communities. What about new music? Are you currently working on any new music projects?
No. I don't. And the reason being is that I enjoy being Roxanne Shante, and Roxanne Shante had her time and her era and that is all she chooses to represent.
You're in concert with the Juice Crew Reunion in Detroit this coming Sunday, Sept. 3, 2017, at Chene Park. What can fans expect from the show?
I make it my business to give that feel good feeling. And performing with my brothers is excellent for me mainly because everybody sets the bar so high in their performances. So, when we perform together, there is no true competition because everyone has a great show. Everyone delivers what they're supposed to deliver.  I show up, and I show out. Kane shows up, he shows out. Biz shows up, he shows out. Shan, Craig G, Masta Ace. Everybody does what they're supposed to do. So, that's the reason why when you come to a Juice Crew show, my main factor is saying you're going to hurt in the morning. I make sure I make it my business that you "wop" to the floor, so I know you're going to hurt in the morning. I tell people, "Before you see Roxanne Shante, you gotta rub in Ben Gay." So that they know that this is how it's going down.
That's what we're talking about! Now, tell our readers where we can find you?
So, my IG and my FB and Twitter is imRoxanneShante on everything.