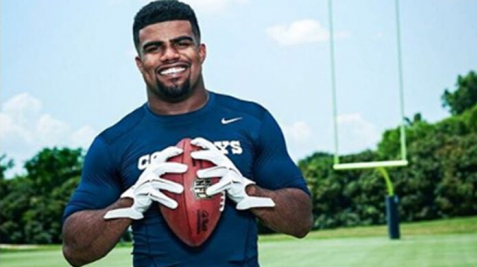 It was announced on Sept. 5 that the NFL was standing pat with its six-game suspension for Dallas Cowboys running back Ezekiel Elliott. The suspension won't begin until after the Cowboys' season opener against the New York Giants on Sept. 10. Elliott's representatives said they still plan to fight the league's decision.
Statement from attorneys of #Cowboys Zeke Elliott once again accuses #NFL of conspiring against him, vows to fight league in federal court. pic.twitter.com/Z9x9QcWDsy

— Charles Robinson (@CharlesRobinson) September 6, 2017
Elliott's allegedly been involved in a few domestic violence incidents but all of the cases were dismissed due to a lack of evidence. Two of the incidents involved a self-proclaimed ex-girlfriend. Elliott allegedly shoved the ex-girlfriend into a wall the February before he was drafted in April 2016. Police said that there were no visible signs of injury and also that there was no record of the ex-girlfriend pursuing charges.
In the current alleged domestic violence incident, Elliott was being investigated for, he allegedly assaulted the ex-girlfriend on the week of his birthday in July 2016. Elliott said he never dated the woman and the relationship between the two was exclusively sexual. On his birthday week in 2016 as well, Elliott's alleged ex-girlfriend was livid about not being able to attend his 21st birthday party and threatened to ruin his career.
"You are a Black male athlete. I'm a White girl. They are not going to believe you," Elliott claimed the victim said to him on July 22.
The league conducted its own investigation with professionals from law enforcement, judicial and public service, and other specialized subject areas. The league's investigation concluded that there was extensive evidence that Elliott engaged in physical violence against the alleged victim.
Despite not being arrested or charged with any crime, NFL policy allows the league to still discipline players. The rule was in headlines last offseason as well when New England Patriots quarterback Tom Brady wasn't found guilty of intentionally deflating footballs in court, but still served a four-game suspension.
The fight that Elliott's legal team is currently in isn't proving his innocence, but it's to convince the league the rule that allows the suspension should be overturned in this particular case. Much like Brady's case, the suspension is likely going to stand, but that doesn't mean the rule makes sense in Elliott's case.