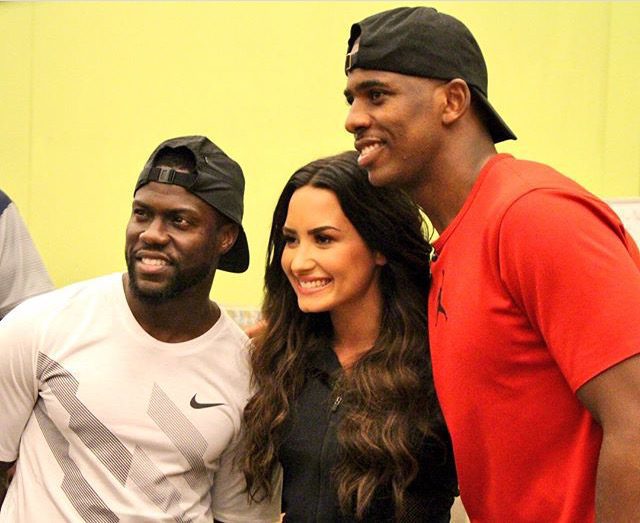 Kevin Hart partnered with Chris Paul to give back to those affected by Hurricane Harvey.
On Friday, Sept. 8, Hart, Paul and even former Disney star Demi Lovato were spotted lending a hand at the Houston Food Bank, where they packaged food to be distributed to the surrounding communities that were hit hard by the devastating flood, resulting in drownings, property damage and power outages.
https://www.instagram.com/p/BYyxs1kDSQy/
"We don't just talk, we put our words to action," the Jumanji: Welcome to the Jungle star said in a video clip via Instagram. "Me and my man C.P. we're out here, man, we're in it. We're in it with the people, handing out food, water, all needed materials. Making sure that the money that we raised is actually being given to the people. With the Red Cross, handing out food as well. When I say it's real, it's real. The love is real.
"Came to Houston & met up with my brother @cp3 & hit the Food Bank & helped unload trucks & package food to be distributed around the areas that were hit hard by Harvey," added Hart alongside a photo featuring the men hard at work. "I'm making sure that the money that was raised is being put to use. Thank you to everyone that is & has volunteered. You guys are real heroes #LiveLoveLaugh."
As previously reported, earlier this week, Hart called on stars including Jay-Z, his wife Beyoncé, The Rock, Steve Harvey, Chris Rock, Dave Chappelle, Justin Timberlake, and Jerry Seinfeld to fork over a minimum of $25,000, to benefit victims of the category 4 hurricane.
One day later, Hart doubled his donation and called out other famous friends, including T.I., Chris Brown and all of the Houston Rockets. A donation page set up by Hart also raised $207,424. Beyoncé and members of her family also answered the call, gathering together to serve meals at a local food bank.
For pics of Hart's most recent effort, check out the gallery below.