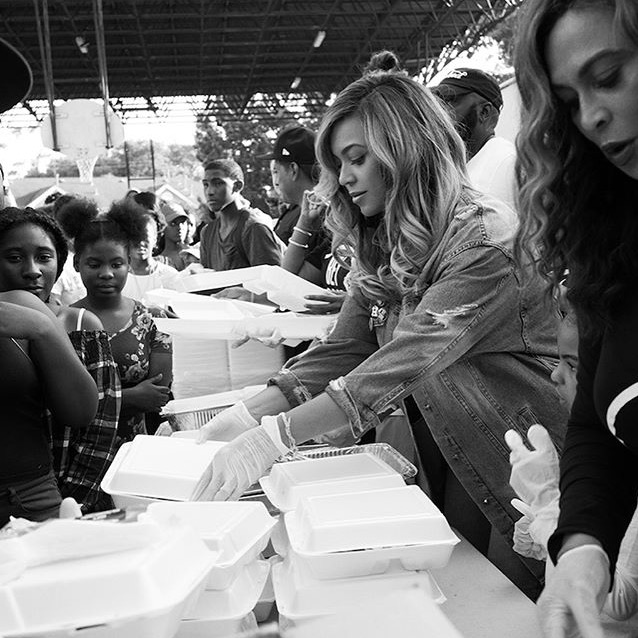 Beyoncé continues to support her hometown.
As previously reported, the 36-year-old singer arrived at St. Johns Church in Houston, Texas, on Friday, with her daughter, Blue Ivy, where she aided victims affected by Hurricane Harvey as well as delivered a message of hope to the congregation.
"I just wanna say that I'm home," the "Formation" singer said, taking to the stage. "This church is my home. I was maybe 9 or 10 years old the first time I sat there where my daughter is sitting. I sang my first solo here and I just wanna thank you for lifting my family up, for praying for me, and for being such an incredible example of what light and love is. This today is a celebration of survival. Ya'll are my family. Houston is my home. I thank God that you're safe, your children are safe. I think that really matters is your health and your children and your family. I just wanna say I love you. I've been blessed so that I can bless other people and I ask of God to continue to do that for other people."
Later on Instagram, she wrote, "Thanks to everyone who donated to BeyGOOD and contributed to helping so many families in Houston. Thank you Pastor Rudy, Michelle, Ingrid and all at St. John's Church. Thank you to Trae Tha Truth and your crew. Y'all are so consistently dedicated to our community. Thank you!! There is still work to do so please continue to donate and do all you can to restore our city."
Joined by her mom, Tina Knowles Lawson, her longtime pastor, Rudy Rasmus, former Destiny's Child bandmate Michelle Williams, and her BEYGOOD foundation, the group was later seen rolling up their sleeves to serve meals to over 400 flood victims.
In a new series of images shared by Bey, the singer can be seen right in the middle of the mix, serving up meals (with Blue by her side), giving out hugs and hanging out with children in attendance.
Go inside Beyoncé's visit to Houston to support Hurricane Harvey victims by checking out the gallery below.