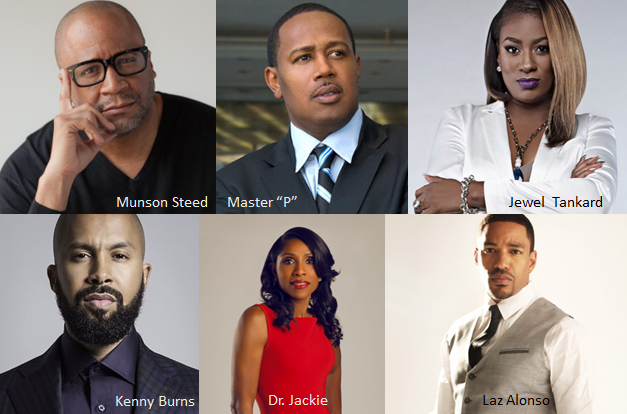 We've challenged ourselves to come up with the top seven reasons to attend this year's Rolling Out Innovation Digital Entertainment (RIDE) Conference and we did it with flying colors.
So, why should you join our award-winning, best-selling, CEO speakers and your tribe of forward-thinking thought-leaders, innovators, disruptors, and entrepreneurs from across the nation for RIDE in Atlanta Sept. 22-23? In addition to getting half off conference pricing (showing for a limited time) we have the answers:
Hear from a breadth of expert, celebrity and CEO speakers

Have you looked at our speaker line up lately? We have CEO's, celebrity experts, best-selling authors, media gurus and more. Keynote speakers include Munson Steed and Percy Miller also known as "Master P," while other speakers include Everette Taylor, Kenny Burns, Steve Canal, Dr. Jackie, Jewel Tankard and many more.

Customize your schedule

Tailor your schedule to fit your needs. This conference was designed just for you to get the most out of your transformative weekend.

Converge with like-minded disruptors, innovators and entrepreneurs 

Spend a weekend with your community and learn from the experts who have already paved the way. BLERDS, Afro-­Bohos, artists and artisans, moguls, authors and auteurs are converging on the ATL and taking over. Be a part of the movement.

Atlanta is the hub of the South

Come explore the Dirty South while you're here. There are plenty of things to do and see. Take in a museum or two, explore on the Martin Luther King Heritage Tour, or do like the locals do and partake in some good old down-home cooking at the plethora of restaurants. And if shopping suits you, Lenox Mall or the Underground are only an Uber away.

This conference was planned for you

We mean this when we say it. Whether you're a novice who's just learning the ropes, or a seasoned expert looking to hone your skills, we got what you need. From business, entertainment, thought-leadership and technology, we have the experts who know how to speak your language.

Network like a BOSS

In addition to networking with your peers, you'll have the opportunity to network with experts in their respective fields. Chances are you'll see the speakers, entertainers and the like walking around. Don't be shy. Have your 10 second intro down-pat and go for it. And don't be afraid to ask questions, that's what they're there for.

A time to focus on growth for you

Sometimes we need to be a little selfish. Especially when it comes to our growth and success. When was the last time you allotted an entire weekend to focus solely on you, your growth, success and your passion? Chances are it doesn't happen often. Break that cycle, and dedicate some time to grow you. Be deliberate about your success.
We have the tools, resources and the people you need to get you to the next level. All you have to do is join us in Atlanta on Sept. 22-23. Take a ride with us. We're sure you'll enjoy the journey!
Keep the conversation going by using #RIDEcon17.
Register today.  See you there!