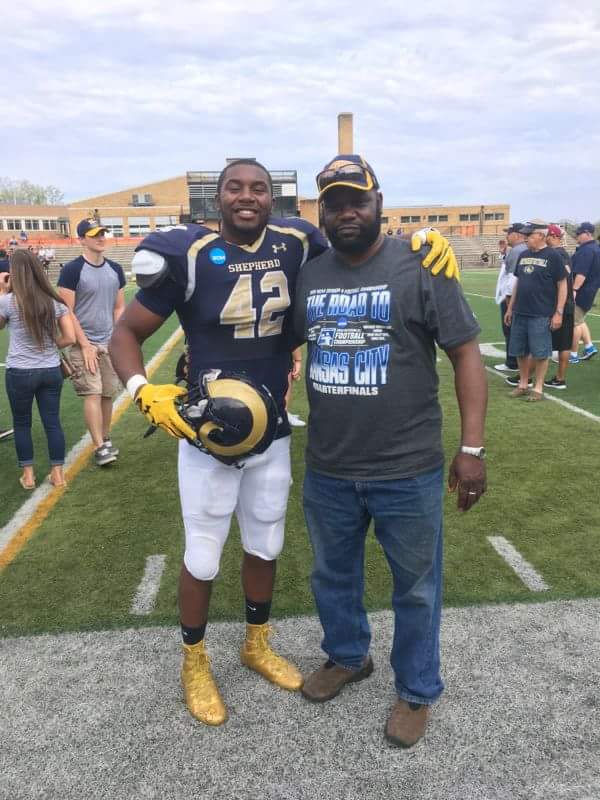 Myles Humphrey is not your ordinary college student or even football prospect. Rolling out spoke exclusively to the Shepherd Rams senior defensive end about his love of football, goals, and what he does to turn up before his games.
Queried about what he does before games to get ready., the NFL hopeful said, "I always read Psalm 27 and Matthew 5:16. Those are two of my favorite scriptures."
As a junior, Humphrey was selected for the All-MEC First Team and the All-MEC Academic Team. Some of his impressive stats included 13.5 sacks in 14 games, four forced fumbles, five fumble recoveries, and he even managed to block a kick.
But Humphrey is taking it to a higher level his senior season. In his season debut, he had 10 tackles and two sacks as the Rams upset Notre Dame College 54-49. "I felt like we did good against one of the best offensives," Myles shared about the big win. Regarding his big stat day, he said, "I didn't know the stats until after the game. I was just having fun out there."
Humphrey also discussed when he first fell in love with the game of football. "I was with my dad; he's a Washington Redskins season ticket holder. I was six years old. It looked like so much fun," he said. The on-field fun will hopefully continue for Humphrey in the NFL next season.
"It's always been a dream of mine to hear my name being called on that stage and see all of the hard work paying off," Humphrey said of the dream of being selected in the 2018 NFL Draft. But first there's more work left in his senior campaign.
"I'm super excited about the rest of the season. We have some good teams on the schedule. My ultimate goal is to win a national championship," he said.
Humphrey will keep preparing for games by reading scripture, listening to the gospel sounds of Travis Greene, and being the best Christian, student and football player he can be.