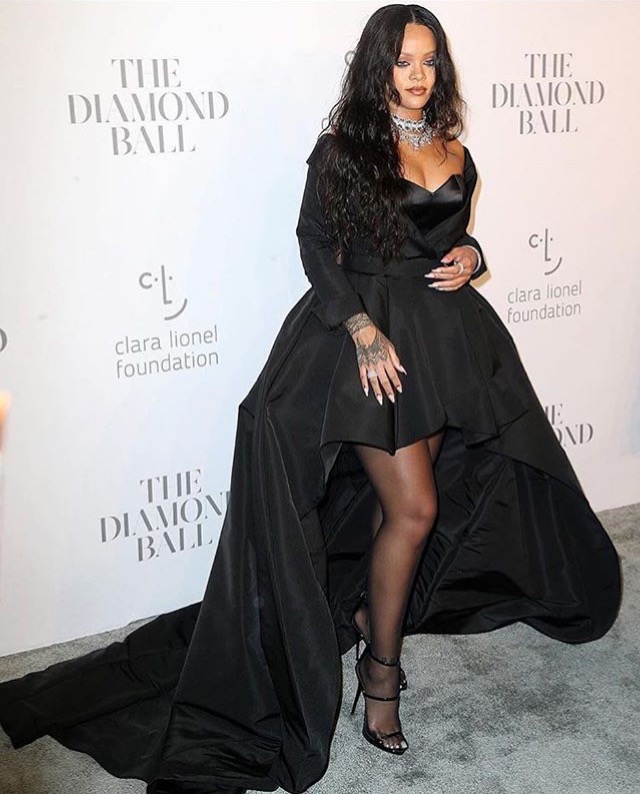 Believe it or not, Rihanna's iconic single "Umbrella" is officially 10 years old.
According to the singer, it feels just like yesterday that she dropped the track that launched her to super stardom.
The Barbadian beauty caught up with ET at her 3rd Annual Diamond Ball benefiting the Clara Lionel Foundation at Cipriani restaurant in New York City this week. She reflected on the single's success.
"I remember the UK blaming me for the rainiest summer in history," she recalled. "I legit remember that. They said every week that it was no. 1, they had rain."
The track, off her third studio album Good Girl Gone Bad, was Rih Rih's first chart-topping single in the U.K. It was released in May 2007. After sitting pretty at the top spot for 10-weeks, it was dubbed the United Kingdom's longest-running no. 1 track of the 21st century.
Oddly enough, at the time of release, the country was plagued by restless rainfall and flooding, leading many tabloids to jokingly refer to the coincidence as the "Rihanna Curse."
"I can take the blame," Rihanna quipped to the entertainment news source. "I was happy with the number ones."
Later on, Rihanna revealed how her grandparents, Clara and Lionel Braithwaite (specifically their willingness and desire to help others), inspired her charitable efforts by way of the Clara Lionel Foundation.
"I believe that as long as you have something you can help someone, you have enough to share, you have enough to help. It doesn't matter how small, how big, as long as you start somewhere. As long as you are there to lend a helping hand," she shared. "I think that's really important in our community and in our society these days."
That said, Rihanna launched the foundation's "$1 Campaign," which allowed interested parties to donate what they could, even if they weren't able to come up with the funds to purchase a table at the black-tie Diamond Ball gala.
"The Diamond Ball is so big and people buy these really big expensive tables to donate but my fans wanna feel like they're apart of it as well and maybe all they can offer is even a dollar," she said. "A dollar is so non intimidating and I feel like that's the reason its working and the reason I wanted to implement that into the foundation."