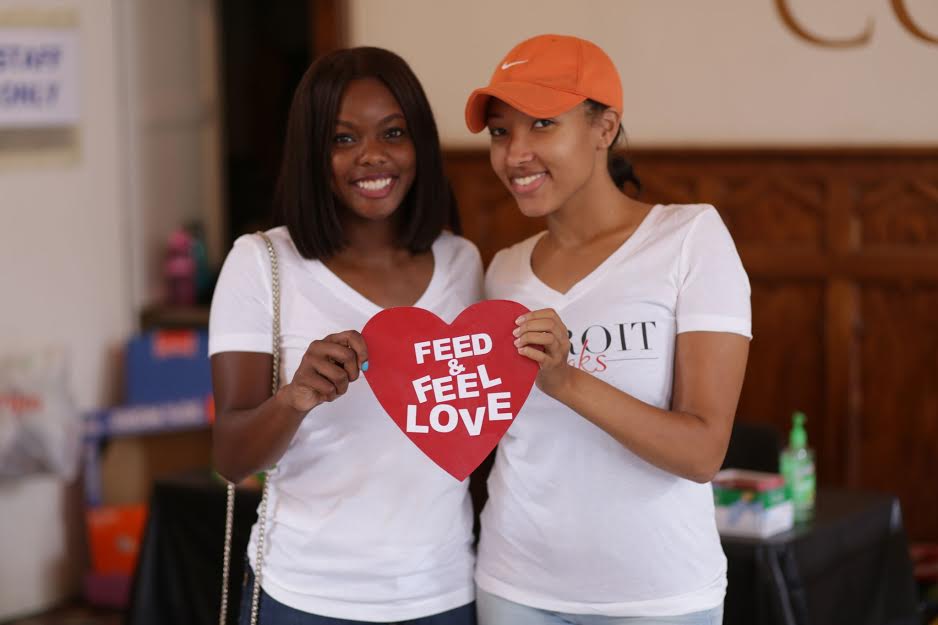 Two native Detroit women are on a mission to help end hunger and poverty in their city. Danielle Hughes and Brianna Alexander, founders of Detroit Speaks, recently teamed together with three major organizations to hold a Day of Impact to gather food to carry out this mission.
Rolling out was able to speak to these two millennials about the outcome of this day.
What is Detroit Speaks?
Danielle Hughes: Detroit Speaks Inc. is a rising nonprofit organization in metro Detroit that has a mission of equipping youth ages 13-18 with the necessary tools to increase their community involvement, their social awareness and help them achieve their dreams.
What is Day of Impact?
Brianna Alexander: Day of Impact is an opportunity for Detroiters to roll up their sleeves and volunteer. Detroit Speaks would like to see volunteerism become a norm in the community for individuals of all ages. There's no better way to stay connected to your community than through volunteering your time and learning about the issues and disparities that are occurring in our own backyards.
What three organizations did you choose for this event and why?
BA: Our theme for this year was Feeding Families and Fighting Hunger. With nearly 400,000 people in metro Detroit experiencing food insecurity, we found Day of Impact to be a great opportunity to shed light on nonprofit agencies that are in the forefront of fighting hunger in Detroit. We chose to partner with Forgotten Harvest, Earthworks Urban Farm and Gleaners Community Food Bank. Volunteer projects ranged from sorting fresh food and produce, packaging meals for distribution as well as community gardening.
What type of items did you collect and disperse?
DH: Our volunteers at Forgotten Harvest prepared over 8,000 pounds of food to be distributed to families across metro Detroit. Our volunteers at Earthworks Urban Farm harvested fresh fruits and vegetables to provide fresh, organic meal options to families as well.
What was the goal of the event?
BA: The goal of Day of Impact is to allow Detroiters to connect with the nonprofit agencies in the city that are making a major impact on those in need. There are hundreds of organizations in Detroit that are working tirelessly to end hunger, fight poverty and make life easier for us all, but these agencies need volunteers in order to keep their doors open. Our organization will continue to provide volunteer opportunities for the community to speak for Detroit.
Will this be an annual event? How can we learn more about Detroit Speaks, Day of Impact?
DH: Yes! We plan on hosting our next Day of Impact later this year during the holiday season. If you're interested in joining us, please contact us at [email protected]detroitspeaksout.com for more information.
Keep up with Detroit Speaks by following them on Facebook @Detroit Speaks, Inc., Instagram @detroitspeaksinc or emailing [email protected]
Photo Credit: Detroit Speaks (except where noted)