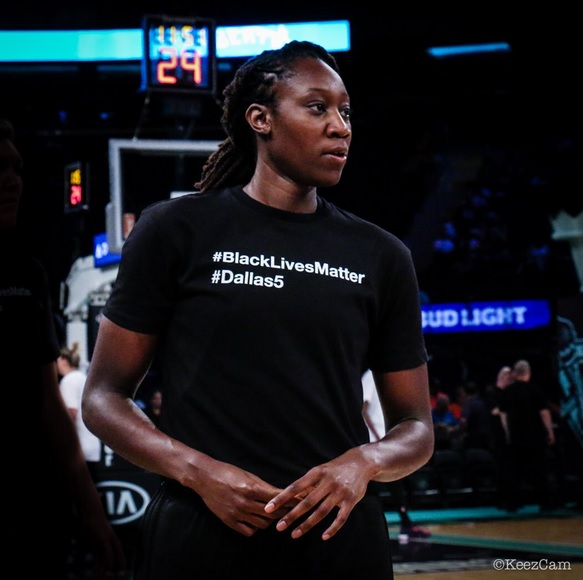 New York Liberty center Tina Charles' life purpose goes far beyond a basketball court. Around the time that her aunt Maureen "Hopey" Vaz passed away of multiple organ failure, the WNBA star read an article about a high school basketball player who died from sudden cardiac heart arrest. The school the player was with did not have Automated External Defibrillators (AEDs) accessible, which really intrigued Charles.
Shortly after her aunt's death in 2013, Charles decided to begin the Hopey's Heart Foundation with a name in honor of the woman with a "giving heart" and who was "a servant to others," as Charles recalled. The foundation raises awareness for sudden cardiac arrest through the placement of AEDs and CPR training.
"Sudden cardiac arrest is indiscriminate towards race, age, and gender," Charles said in an interview with rolling out. "You don't have to be active for your heart to slowly stop. You and I, you and your friends at work, you know your heart can just suddenly stop. So Hopey's Heart Foundation is open to all non-profit organizations, not only athletic teams."
Since 2013, the foundation has been able to place over 300 AEDs. Charles said some organizations might not have the funds for AEDs or even know the importance of them, and that's where her foundation steps in. That step turned out to be a life-saving one for the Marbridge Foundation in Austin, Texas. Dan Carlson collapsed as he went into sudden cardiac arrest shortly before a co-worker spotted him. Thanks to Hopey's Heart Foundation, co-workers knew the correct CPR methods to use and had the confidence to even use an AED.
"In school, you do fire drills," Charles said. "The same way I believe you do fire drills to make sure you guys are safe in an emergency, [that's] the same way you need to do an orientation on an AED in your school or in your institution, wherever it is, because growing up, I didn't have that. If I was in high school, college, you name it, if someone were to collapse next to me I wouldn't know the precautions or measures to take. So, I'm very thankful for the Marbridge Foundation just recognizing Hopey's Heart Foundation and reaching out to us to let us know that we did save a life and how much they appreciated the AED."
The foundation has also partnered with Safe Kids Worldwide to raise awareness on hydration, concussions, prescription awareness, emergency response, and staying fit. Charles said athletes aren't limited to taking the initiative only in their respective sports.
"I think it's really important to be a leader in your own right. Along the way, individuals had to help me. Whether mentally, physically, how to get through basketball, how to stay with the sport, how to stay dedicated. So I just try to be a leader and an example as much as I can and just pay it forward to the community," she said.