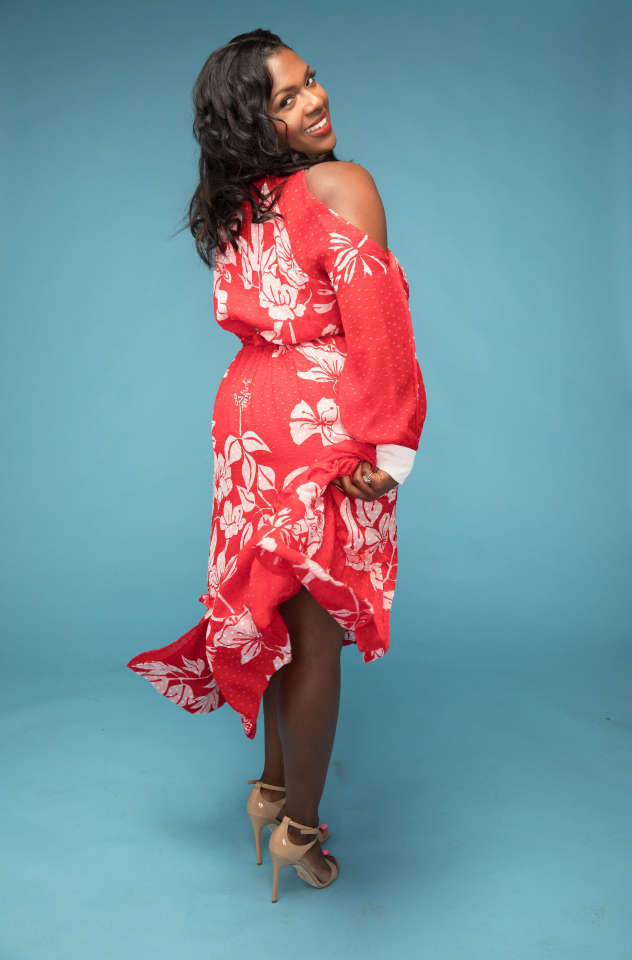 Detroit native Deborah Joy Winans is an amazing actress that portrays the sweet Charity Greenleaf-Satterlee on OWN's hit drama "Greenleaf." Winans' character, who is married on the show, deals with some tough situations in her marriage regarding her husband's sexuality. During this season, (spoiler alert), Charity's TV husband, Kevin Saterlee, confessed to having feelings for other men. You'll have to tune in to the show to see what her reaction was if you've missed it. However, luckily for Winans, she doesn't have to deal with "storylines" in real life. She is actually a thriving actress who is happily married to the love of her life and is living out her dreams on purpose.
Rolling out spoke with Winans about her journey into acting, how she landed her big break with Oprah, and also to discuss her being honored at the Drama Icon Award at the Full & Fabulous 35th Anniversary Gala and Image Awards on Friday, Sept. 22, 2017, in metro Detroit. Check out the interview below. Chime in on the comments. We want to know what you think.
You come from a very famous family: the famed, Grammy-Award winning Winans family. They're one of the most well-known musical family's in the gospel arena. But you ended up in acting, and not music. How did you choose acting over singing, with such a musical family and background?
I grew up around such talented, amazing, loving people and they never pushed their careers on us. My dad is Carvin Winans, and he and my mom thought it was very important that we discovered what it was that we wanted to do and not feel pushed into something that they were doing just because they were doing it. And so my thing, since we were young, was always going to the movies. My parents would take us to double features on the weekends and I just knew, deep down in my soul that that's what I wanted to do. I would tell my parents, "Oh, I could do that." I would just look at the screen and watch amazing actors doing what they were doing and I just felt in my heart that's what I wanted to do, and that's what I had a passion to do. But growing up, I really didn't have any outlets into that. I didn't have drama in high school. So when I graduated high school and started at Wayne State in Detroit, I told my parents I was going to major in theater. And they were like, "OK. Why? You've never done it." But, it was just what I wanted and they came to see my very first show, and from then, completely supported me.  So, it's been my one passion, my one love since I was a little girl and I decided that's what I was going to pursue no matter what. I got my BFA at Wayne State. Moved to LA and got my MFA from Cal Arts in acting and just worked hard.
So, with such a musical family background, do you sing as well?
[Acting] has just been my dream. I know that people don't typically know exactly what they want to do from a young age. But that's all I ever wanted to do. I actually never wanted to sing, and I thought that I was never going to sing, but I see that God had other plans. So, the two biggest things that I'm doing has a whole lot of singing involved. So, I think that's interesting. I laugh a lot, and I think, 'Really God? OK.' I only sing for the show though. I never had any plans to do a Deborah Joy Winans album ever. I sing for Greenleaf. That's the first time I recorded in a studio. And the play that I've been working on for the last two years, it's a musical, called "Born For This," and I sing in that. But that's all.
You've had some other acting work, but you're relatively new to the acting business. But you hit it big staring in an OWN show on "Greenleaf," where you play sweet Charity Greenleaf-Saterlee. How did you land such a huge role being so new?
I've traveled professionally with theater, but the only thing I did TV wise was the Lifetime Movie "Whitney", where I played my aunt CeCe in a very, very small role, I think I had maybe two lines. I'm still very grateful for it, but that was all I had. But, when we were doing a workshop of the musical that I'm currently in called Born For This, we did a workshop in NY in March of 2015, and Ms. Winfrey came to one of the presentations, and she remembered me from there. She reached out a couple months after that and asked for my headshot and my resume. Once I sent those out to her, she called. It was very shocking. I couldn't believe she called my phone. It was a moment that my husband and I will always remember. She called and said that she couldn't get me out of her mind for that particular role, and she mentioned it to the network, unfortunately no one knew who I was. And she said that was OK, because she believed in me and she felt like they would see what she saw when it was time for me to audition. I auditioned about a month and a half later. We put my deal together. Then I did one more audition in front of the writer/creator Craig Wright for the studio and the network and the next day I got the call.
That's such a great story! We know working with Oprah has got to be the best job ever. Now, you're coming home to Detroit and being honored with the Drama Icon Award for the work you do on "Greenleaf." Tell us about the foundation and your award.
I think it's an awesome charity. I always wanted to be able to give back to young women and to be an example, especially minorities who don't really get a chance to see themselves represented. So, this award is huge for me because of what Full & Fabulous does as a charity. So, to be a representation for young women and to show them that they can accomplish their dreams, no matter their size, no matter their color is an honor. I think my biggest thing is if you don't believe in you, then others are not going to believe in you. So, to be able to love yourself where you are, for whom you are, inside and out, that reflects on how other people will see you. So, I think that this charity does a good job of allowing women to embrace who they are, to love who they are, to promote a healthy lifestyle, but in the middle of living that healthy lifestyle, to be OK with who you are.
Where can we find you on social media?
You can find me on IG and FaceBook at Deborah Joy Winans.