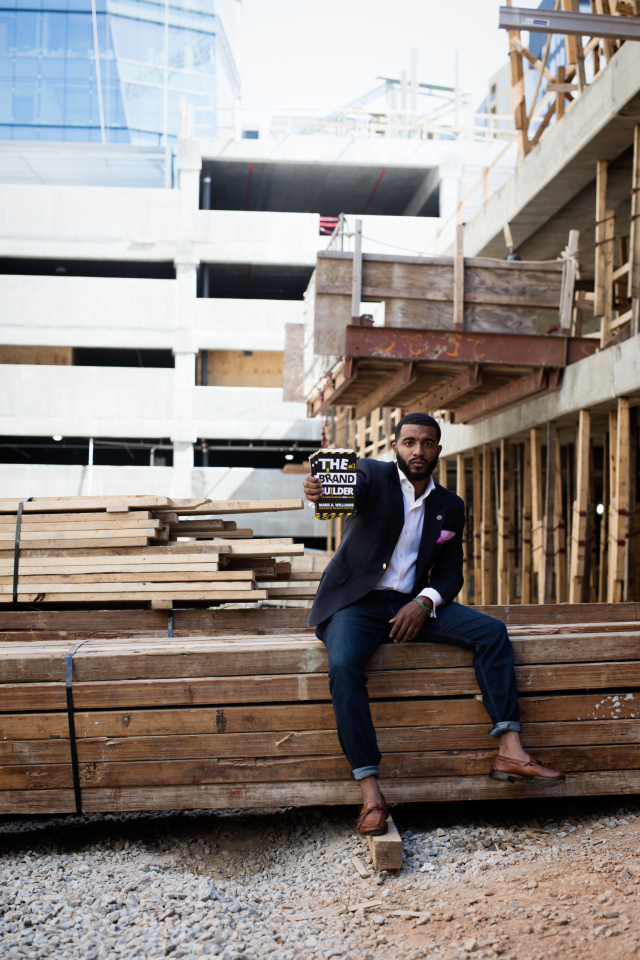 Rolling out had the pleasure of interviewing writer Mark A. Williams about the success of his recent publication, The Brand Builder Book.
When and how did the vision hit you to write your book?
Throughout my career, I've encountered [many] people who have already started their own business or are in the process of starting it but aren't sure how to grow it. I decided to write The Brand Builder Book to give many of those like-minded individuals a glimpse of the strategies I've used working with Fortune 500 companies and some of the world's most recognizable brands over the years, and how they can apply similar strategies to building their own business.
Working directly with brands we all know like Sharpie, Elmer's, Calphalon, and Cox Communications and several more, you learn how to penetrate and speak to different audiences in order to drive them toward your desired outcome, whether it be to purchase your new product or engage with your content. With that experience, I grew extremely passionate about helping small-business owners and entrepreneurs as they look to expand and build there own brands and business.

What other industries did you work in before this? Do you think that experience helps in your current business?
Before writing The Brand Builder Book, I worked seven years in corporate America for several nonprofits and Fortune 500s in Accenture and Newell brands, formally Rubbermaid. During my career in those corporate companies, I learned that many of the brands we know and recognize today have yet to take that digital turn in their marketing and many still rely on print and television ads to get through to their consumers.
My role in those companies was to help brands across the world navigate through to the digital age. That experience has helped me tremendously in my efforts not only as an author but as I've built my own digital brand marketing consulting firm, Brigital. Brigital picks up right where The Brand Builder Book leaves off, in aiding clients as they look to grow their businesses by building relationships with their current customers and turning repeat customers into brand advocates on all channels, that eventually help your business expand over time. 
Name three business people you admire for their business acumen. 
In a world where your personal brand can literally be your business, how can you not admire what Steve Harvey has done with his career from a business standpoint? He went from a kid in Cleveland to becoming everything from a stand-up comedian, hosting The Apollo, an actor, an author to now hosting Miss Universe pageants. Another would be Shaq. Random, I know. But Shaq never let his role as a basketball player define him. He's done everything from rapping, to starring in movies, being a sharif, owning a portion of PepsiCo and others, all on top of being a Hall of Fame basketball player and hosting NBA on TNT. Two serious renaissance men. Lastly, I know you're thinking Diddy or Jay-Z, but how can you not respect what Dr. Dre has been able to accomplish. He's the epitome of B.Y.O.S (building your own s—*) by any means necessary, even with his life on the line. Leaving Death Row to start Aftermath was probably not only the most challenging thing he did but could also be considered borderline suicide. From there he pioneered the ultimate "Built to Sell" move with Beats By Dre cashing in over $3B for selling a brand he created.

Names three books that changed how you saw life that you would recommend to others.
Most people believe that in order to write a book, you have to love reading. Interesting enough I don't actually believe that's the case. However, during the second half of my twenties, I've grown fond of picking up books that related to my direction and aspirations of something bigger. My three favorite books of all time are still: The Wealth Cure by Hill Harper. Having met Mr. Harper in person, his word's inspired me to help others as I grow more successful in my career, but while still educating people I don't have to lose my humor. The Defining Decade by Meg Jay; is the perfect novel to read right before you turn 25. It explains exactly how the decisions you make now, in your 20s, set the trend for the rest of your life. The Outliers by Malcolm Gladwell with Good to GREAT by James C. Collins not far behind. Both of these books explain to their readers the foundational differences people and companies alike have and how those foundations make a difference for the people who become more successful than others and the companies that set themselves apart from their competition in their industry. Each of these books directly impacted the style of my writing and the tone I believe my readers hear when reading The Brand Builder Book.
Describe the voice of success that you hear in your head.
I often call the voice in my head "Pops," after my mom's dad/grandfather. Throughout his life, he's probably worked more than 100 jobs, but each at one of those jobs he learned something that he applied to the next up until now even owning his own business. Growing up I would always wonder how he could take two weeks for Thanksgiving, then turn around and take another two weeks for Christmas, while traveling around the country at a moment's notice. As I grew up he helped me understand the value entrepreneurship can bring to your life, and the importance of friendships along the way, but by no means did he ever make me believe it was easy.
During my transition into entrepreneurship, I found myself reflecting on many of those conversations and I'm reminded that anything worth having is completely worth grinding for. The late nights, the early mornings, all a part of a quote I have in my home as soon as you walk in, "Greatness Comes to Those Who GRIND." Writing The Brand Builder Book, I was more motivated to finish the book not because it would be completed, but more so because I looked at it as my journey to starting something new and building something from scratch in route this journey of success. I believe success is immeasurable and its only value is what you believe it to be and what you internally believe is truly successful. At this point, I'm just humbled and thankful for the many blessings and lessons God's given me to this point of my career, and I'm still hungry for many more monuments of success in the future.
Mark A. Williams is the author of The Brand Builder Book, and an award-winning digital marketing strategy consultant. Throughout his career he has lead countless marketing projects as the Founder of Brigital; a Digital Marketing and Campaign Management Consultant with Accenture; and Digital Brand Marketing Manager with Newell Brands (Rubbermaid). In the Brand Builder Book, Mark highlights some of the projects he's worked on with corporate Fortune 500 brands, and includes case studies for how some of these brand strategies apply to small business and entrepreneurs as they look to expand their brands both digitally and in print. Within he highlights strategies from some of the world's most recognizable domestic and global brands; including L'Oreal Cosmetics, AstraZeneca, Calphalon, Contigo, Cox Communications, Sharpie, Elmer's Glue, Parker Pen, and rOtring.
Mark is also one of the Chairmen of Social Events for the Emerging 100 of Atlanta, a member of Alpha Phi Alpha Fraternity, Incorporated; and a graduate of Hampton University where he received a degree in Marketing, while also minoring Business Management and Sports Management. Outside of this occupational focus, he dedicates his time to fundraising and philanthropic efforts for the Toys for Tots Foundation, and scholarship opportunities through the Emerging 100's initiatives.
You can find your copy of The Brand Builder Book at TheBrandBuilderBook.com and here on Amazon.