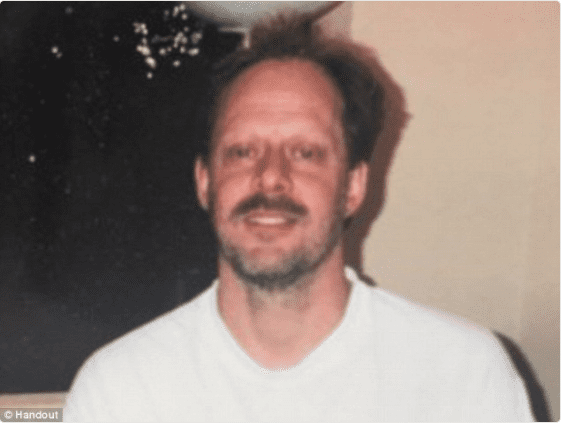 Stephen Paddock, 64, opened fire on Sunday, Oct. 1, 2017 and shot into a crowd of 30K concert goers at the sold out Route 91 Harvest Festival concert on the Las Vegas strip from his room on 32nd floor at the Mandalay Resort and Casino. Paddock's weapon of mass destruction was semi automatics illegally converted to fully automatics, military style machine guns. Twenty-three fire arms were found in his hotel room and 19 were found at his Mesquite, Vegas home. At the time of this writing, there are 59 confirmed dead and 527 injured from gunshot, stampede and more. This is the deadliest mass shooting in U.S. history lasted 4.5 minutes and started shortly after 10:08 PT.
Las Vegas Metropolitan Police Department Undersheriff Kevin McMahill reports Paddock was found dead of a self-inflicted gunshot wound just as the SWAT team burst their way into the room.
The deceased shooter's brother, Eric Paddock, tells a CNN reporter, "This is like an asteroid fell out of the sky. The last time I talked to him, he texted me to ask how our mom was doing after we didn't have power for five days. He talked to her a week or two ago and then sent her a walker because she is having trouble walking." The Florida resident was brought to tears during the interview as he knows what lies ahead including caring for his 90-year-old mother who will learn she has a son who committed this mass murder. He also told reporters their father was Patrick Benjamin Paddock, a bank robber who he says was on FBI Most Wanted list.
The Las Vegas massacre is the deadliest of the U.S. mass shooting. Here's how they now rank.
Pulse Night Club in Orlando, Florida (49 killed; 58 injured):
On June 12, 2016, Omar Mateen, a 29-year-old security guard, killed 49 people and wounded 58 others.
Virginia Tech shooting (32 killed; 23 injured):
Twenty-three year old Seung-Hui Cho killed 32 people on the Virginia Polytechnic Institute and State University campus in Blacksburg, Virginia on April 16, 2007.
Sandy Hook Elementary shooting (27 killed; 2 injured):
On December 14, 2012, in Newtown, Connecticut, 20-year-old Adam Lanza fatally shot 20 children between six and seven years old, as well as six adult staff members. He also killed his mother.
Luby's Cafeteria massacre (23 killed; 27 injured):
On October 16, 1991, George Hennard opened fire at Luby's Cafeteria in Killeen, Texas leaving 23 people dead and 20 more wounded. Ten of his victims were killed with single shots to the head. He then killed himself in a restroom.