Lynda Lee Osborne, Melissa Monroe, Alysia Long and Athena W. Hernandez are the co-founders of Chocolate Cupcake®, a character-driven, story-supported lifestyle brand centered on the lives and interactions of five animated, diverse African American girl characters.
According to Osborne, "Chocolate Cupcake's stories reflect the triumphs and challenges of American tween/teen girls navigating interactions with their families, neighborhood, schools, friends, and communities using the "5-C Living" qualities — Courage, Confidence, Creativity, Compassion and Character — as their guiding principles. They express themselves and their adventures through their musical band called SWIRL, which provides a collective artistic outlet for the Chocolate Cupcake characters, and for the brand's target audience. Through an extensive family of products and services, it is the vision of Chocolate Cupcake® to create a media-driven marketplace placing a significant focus on representational diversity, real-world interactions (rather than fantasy) and personal character development to offer African-American girls an option for situating themselves in a context of positivity."
Chocolate Cupcake® produces brand-inspired books, music, clothing, live social events, website/blog, online store, social media presence (Facebook, Twitter, YouTube), and an animated cartoon series currently in development.
Our brand also has its acclaimed 5-C Lifestyle identity development and character education curriculum, an interactive 6-session program designed to aid young girls ages 8-14 in developing a positive sense of self, using exercises in critical analysis and self-reflection. The curriculum features activities that help girls to better define who they are as individuals, and in relationship to their communities and society-at-large.
Here, Osborne shares more about the origin, purpose and vision for Chocolate Cupcake and the Cupcake RUN! 5K, which takes place later this month.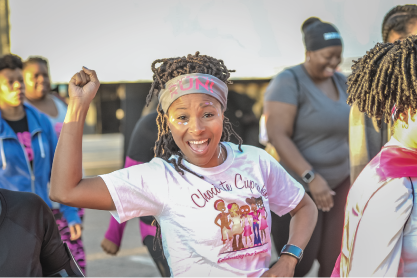 Why did you start this project?
Back in 2008, I was an elementary school teacher and had just begun my doctoral program in educational psychology. I've always had an entrepreneurial spirit and had a marketing business helping startups establish their brands, which I operated in addition to teaching elementary school. That school year, two of my classroom parents, Cheryl Reed and Melissa Monroe, came to me asking for my help with a project, a burgeoning concept that they wanted to know if I was interested in developing. I agreed and so began the journey to build the Chocolate Cupcake brand. The brand was essentially borne out of a frustration with a commercial marketplace that didn't adequately represent girls of color in a way that spoke to our vast diversity. Realizing that there were plenty of parents who felt the same way, the seeds of Chocolate Cupcake were planted.
In 2009, Cheryl passed away due to a rare and aggressive form of cancer, which was a devastating blow to all of us. Months afterward, and once the dust settled, Melissa decided to assemble a team in order to continue Cheryl's legacy. We formed Chocolate Cupcake as an LLC with Melissa, Lynda Lee, Alysia and Athena as founding partners.
We went on to take the Chocolate Cupcake characters and live experience on the road, market testing the concept with enthusiastic groups of girls and parents from Atlanta, Charlotte, Washington, DC, and Los Angeles. During the ensuing years, Chocolate Cupcake solidified the vision to become a producer of media content, retail products and fashion, and popular live events all designed to celebrate our girls, placing them at the center of our marketing imagery, products, services and events. As we continue to grow, we hope to see the Chocolate Cupcake characters and ideals featured in books, television series, films and products that resound with the voices and interests of tween girls.
What keeps you inspired and motivated to keep going?
It's ironic that the decision to start a business can be so easy, but owning and running a business can be so hard. I suppose what keeps me inspired is the great passion we have for girls and the desire we have to change the commercial marketplace to better reflect our place in it. In nine years of incubating and evolving this brand, we have not seen anyone doing what we do, in the unique way that we do it. We're confident in what we have to offer our audience and feel that it's our calling to get it done.
How important is networking?
Networking is super important. Honestly, we'd be nowhere without the people we've met that have lent ideas and support for moving us along our business trajectory. We have a very high regard for strategic partnerships and are consistently looking to align ourselves with individuals and brands that match with our core values. We want to be a national, and even worldwide, phenomenon. That type of vision requires an open-minded approach to building alliances that will help to expose our offerings locally and internationally.
What kind of partnerships have you made?
For Chocolate Cupcake
We're in need of investors to help execute our vision for Chocolate Cupcake and the Cupcake RUN! We're glad to announce a new partnership with Yolanda Owens of Iwi Fresh Garden Day Spa, who we'll partner with to produce our introductory tween body care line, Chocolate Cupcake Body for Tweens. We've also partnered with Tess Vismale of iSocialExecution, event planning and execution, to help grow our brand and events. Other amazing partners include also Los Angeles writer/producer/director Jeanine Daniels of nine27 Entertainment who will work with us on our animated and live action media content. We're also very proud of our partnership with Big City Entertainment, a top-flight Atlanta-based animation and entertainment studio who will help to develop the animation for our pilot for our cartoon.
For the Cupcake RUN! 5K
We've been fortunate to partner with great nonprofits such as Girls on the Run, Georgia Favor Track Club, and I Am Arts Community Partnership. This year we're partnering with a hand-selected group of women entrepreneurs who believe in our brand and who want to see us win – so much so that they've volunteered their time and services to make our 3rd annual event bigger and better than ever. Our powerhouse lineup includes: Jeanine Daniels, Tess Vismale, Yolanda Owens, Dawn Belisle, Tamara Johnson-Shealey, Venetria Benitez and Khadesia Beam. We hope to pull in firms and brands with women at the helm. Ultimately we want to inspire girls to live their dreams and to know that all fields and possibilities are open to them – in life and in business.
What are three tips you can provide someone who is starting a business?
Tip 1: Make a plan! Our business plan has been an excellent source of stability for our development process, and has acted as a blueprint for our growth. The plan writing process is therapeutic for your brand and helps to keep all parties on track toward realizing your vision and goals. If you're not sure how to write a business plan, the SBDC (Small Business Development Corporation) has helpful tools on their website to help you write a business plan step by step.
Tip 2: If you're entering into a business with partners, make sure that roles are clear, and that each of you are willing to support each other in the execution of the business' overall vision.
Tip 3: Be prepared to work harder on your business than you may have worked for anyone else. The fruit of the business is generally felt years after starting it. Don't be discouraged by all that you will have to put into your business in order to feel successful. You will have to walk through the fires to get to the other side.
What information can you pass on that if you'd only known nine years ago when you started?
I'd say one jewel of wisdom would be to beat the pavement for your business. There's no such thing as overnight success in the real world. I remember how we all thought Disney or Mattel would come knocking at our door as soon as we introduced our characters. We thought, "Who could resist these adorable girls and concept?" That was about seven years ago, and after a marketing event in Los Angeles that didn't lead to the development and distribution deal that we'd hoped for, we realized that maybe this was going to take a bit longer than we initially thought. So the lesson is, work hard, be consistent, and don't give up. If you have a passion for your product or service, keep at it and remain faithful – your efforts will pay off.
Why do you say you are a not only for profit?
We describe ourselves as a socially conscious "not-only-for-profit" brand because of our focus on ensuring that our products, services and events are designed with integrity, and with an eye for positively impacting our audience.
At the heart of the Chocolate Cupcake brand is an emphasis on the wealth of diversity, talent, personalities and all-around amazingness that defines the aesthetic of our girls. Our brand was born of a desire to provide alternative images for girls of color in a global marketplace and media context that often overlooks, misrepresents and devalues them. We address this problem by placing our girls at the center of our marketing and showcasing them as the "girls next door" standard.
Everything that we produce is focused on helping girls to appreciate themselves and their own brand of awesome. Our animated characters, clothing, stories, shows and events are all created to help every girl to feel comfortable in her own skin – being exactly who SHE is. A girl that's more confident in herself can be a better friend to others, and a better contributor to our communities – and to the world.
We want people who engage with Chocolate Cupcake and the Cupcake RUN! to feel better, and be better for the experience. We know that media and commerce play a significant role in how girls perceive themselves, and in how others come to perceive them. So, it's important to us that we support positive identity development in the types of characters, stories, media, products and events that we produce. To do that, we have to be committed to our vision and to embody that vision in everything we do.
What is the vision for Chocolate Cupcake over the course of the next two to five years?
Over the next two to five years, we want to build Chocolate Cupcake into a household name. In the short term, we need two things – sponsors for our popular 5K, and significant investor financing to execute several parts of our strategic plan to produce our animated cartoon pilot, and to secure large-scale manufacturing and distribution of our books and retail product lines. We want to ally with school systems to make our books available to students without paywall barriers.
In the same way that other brands have become staples in the lives of American consumers, we want Chocolate Cupcake to reach those same levels of exposure and demand. As a lifestyle brand, we have three core verticals: media/entertainment; retail products/licensing; and social entrepreneurship.
We envision our cartoon series and books widely distributed and enjoyed by girls everywhere; our product lines being sold in popular retail chains; our characters licensed to manufacturers in several areas including apparel, party supplies, bedding. We see our Cupcake RUN! 5K produced in multiple cities as some other popular runs now enjoy. We've even had requests to bring the run to other countries, so we know the demand is there and that this dream will come to fruition within the next five years.
What resources does your business need right now?
First, we still want event sponsors for the Cupcake RUN! 5K. We want brands who want to be involved with a positive brand with a dedicated following, and who want to grow with us. We also need as many folks to register for the run as possible. We want to break records with our numbers this year, so it will be important for folks to register and come on out to support the effort on Oct. 21.
We need serious investors to help us get our animated teaser and the marketing and promotion to get it picked up by a distributor. Animation is pretty pricey, so we need about $50-$60K to get our teaser done with high production values.
We also need investment capital to execute other actions in our business plan.
They answer a need …
In a media-rich society wrought with images that fail to adequately represent the dynamic diversity of girls of color, many young people develop notions of identity (self and group) that are limiting and detrimental to the psychological self. Juxtaposed against European standards of beauty and cultural norms, far too often pre-teen and teenage girls of color find themselves portrayed in media as caricatured "others", rather than omnipresent and powerful central figures in representations of life, goodness, power, and desirability. Many U.S. schools are not proactively concerned with the psychosocial development of girls as a function of the formal curriculum. There exists, therefore, a continuing need in educational and commercial sectors for programs and products that promote positive self-concept in African-American and other girls of color.
Parents of children of color are acutely aware that there are still relatively few images of our girls in the mass media that are both positive and compelling, and even fewer stories where they are the central figures. The Chocolate Cupcake animated characters provide a lens through which girls in our target market can experience real-life stories from the perspective of girls of color in the 8-14 year age group. Positive role modeling and identity development is supported through our brand's commitment to ensure that real girls with real stories are reflected in and featured alongside the Chocolate Cupcake fictional characters.
Founders' background:
Lynda Lee Osborne is an award-winning educator, researcher and entrepreneur with a penchant for organizational development and branding.
Melissa Monroe is a business leader with a keen vision and talent for sales, product and people development.
Alysia Long is a communications lawyer practicing in Atlanta with a primary focus on cable and broadband regulatory and policy matters.
Athena W. Hernandez is a communications professional in the Metropolitan Washington, D.C., market with more than two decades of experience.