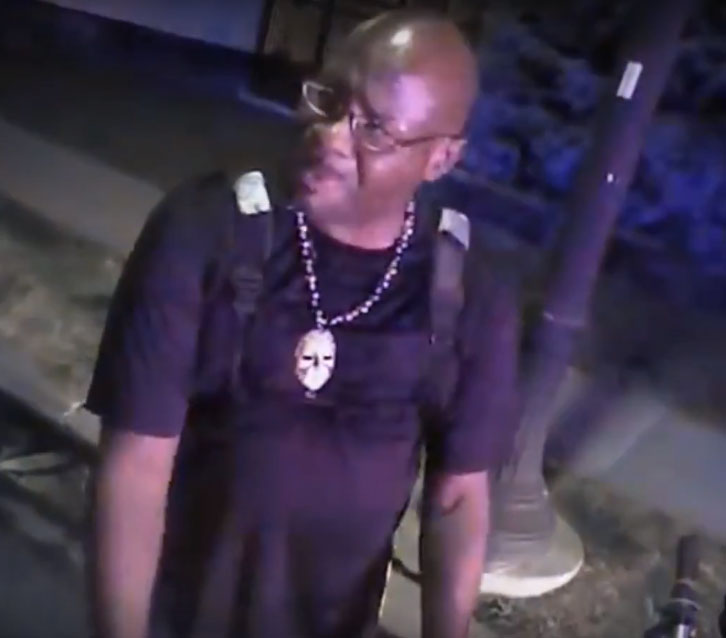 On Aug. 13, 2017, Patrick Harmon, 50, was riding his bicycle erratically in Salt Lake City, Utah. A police officer responded after seeing Harmon ride across six lanes of traffic without a rear red taillight on his bike. According to the Salt Lake Tribune, when questioned, Harmon gave multiple names in an attempt to hide the fact that he had felony warrants for aggravated assault and drug possession.
Two officers arrived on the scene as the backup to assist the original responding officer. Harmon was told he was going to jail on his outstanding warrants and pleaded with the officers not to arrest him. As Harmon is being handcuffed, he suddenly bolts away from the cops and takes off running. According to the officers on the scene, while he was running Harmon pulled a knife on the cops and stated, "I'll f****** stab you."
The officer who originally contacted Harmon drew his stun gun, and another, Clinton Fox, drew his gun. As Fox begins to pursue Harmon, he yelled that he would  "f—ing shoot him" and then fires his gun three times fatally striking the fleeing suspect. A knife was reportedly found next to Harmon's body by police investigators.
This week, Salt Lake City District Attorney Sim Gil announced that the shooting was justified and he would not seek charges against Fox or the other officers involved in the arrest. In his findings, Gil states that the killing of Harmon was justified because he "threatened to stab or cut the officers as they tried to arrest him…While the officers were in very close proximity to Mr. Harmon, he presented an opened knife as he turned towards the officers who were running at him. Officer Fox reasonably believed deadly force was necessary to prevent death or serious bodily injury to himself and/or others and therefore his use of deadly force was "justified" under Utah State law."
Police have released body cam video of the shooting to the public, which can be seen below. Warning: the video is graphic.
https://www.youtube.com/watch?v=ApekJcTEb04&has_verified=1